LGBT students are more out today and vocal than ever before, but there is a need for LGBT students to know which institutions will respect them for who they are.
It's important to clearly and continuously communicate LGBT students value to the community at-large and to validate their experiences.
Why?
Students are trying to survive when they first arrive to college (Maslow's first level of needs) and will thrive knowing they belong throughout their experience. Students who are questioning their sexual orientation or gender identity need an environment where they feel safe discussing their identity without fear of repercussion from peers, staff, and faculty.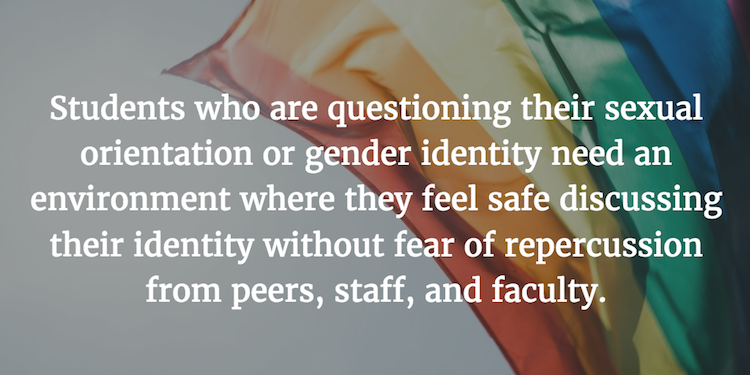 Roper (2005) notes that it's essential that all senior student affairs officers (SSAOs) demonstrate,
"…that LGBT students, faculty, and staff are valued colleagues and community members" (p. 85).
By supporting, for instance, Safe Zone or Ally Trainings, and getting trained themselves, SSAOs move campus discussions about supporting LGBTQ students from simple tolerance to well-designed actions that demonstrate inclusivity.
The people who are 'on the ground' interacting with students everyday also have responsibility to create environments where students feel free to express themselves.
Hosting and creating LGBT inclusive and friendly events is not just the right thing to do, it promotes spaces where students feel they can safely connect with each other.
We decided to put together well-designed actions you can utilize to create programs that are inclusive to students, staff, and faculty in the LGBT community on campus.
Intentional Messaging & Marketing Across Campus
From inclusive language to the types of images you're choosing to represent specific campus events, what you decide to include (or exclude) from your campus marketing sends a message to students.
Whether a student leader, student activities professional, or someone who advises student organizations, it's important to consider inclusivity at each step of the planning process.
Ultimately, when LGBT students are deciding and looking to attend an event, they are ultimately answering the question,
"Do I belong here? Can I be my authentic self?"
How 'out' and open they can be about their identity will determine their level of engagement.
Here are marketing and messaging ideas you can start implementing today:
Run messages and marketing before a few sets of eyes before putting it on display to the community, reach out to a diverse audience to gain feedback.
Where is your message or marketing materials being placed? Think about the spaces that the people you will trying to reach will see, hear and will be informed about.
Evaluate your administrative forms and communications for campus programming and events. Do you use gender-neutral language or provide an opportunity for students to communicate their gender identity?
What type of images are you including in marketing materials? For example, do you only include pictures of only heterosexual couples in marketing for campus events?
Before choosing a space to hold an event on campus, consider if gender neutral or gender inclusive bathrooms are available for students. One way to promote knowledge about where bathrooms are located includes adding it to your institution's website for all students, faculty, and staff – it can then be referenced when planning events and programs.
Explore ways to creatively weave LGBT values and welcoming messaging into the marketing for a student organization or committee. For any programming or organization meeting, you could add a statement about have a culture of openness or include a non-discrimination statement.
Example:
Greek life programming and recruiting is often seen as further supporting a gender binary, and in recent years sororities and fraternities have been more welcoming to trans* and LGB students on campuses.
Campus Pride recently released a national trans* inclusive policy which will hopefully move the dial on providing safe environments for trans* students during the Greek Life recruitment and involvement process. Ultimately, it communicates that each Greek life organization should include a trans* policy for students recognizing these four guiding principles.
Additionally, at campus programming and events, it's important we are mindful of taking photos of students without fear of where they are posted. For example, The University of California at Los Angeles provides students at campus events (right now, specifically at LGBT events) with 'no photo' stickers that they can wear if they are not out to the digital communities they are apart of. Students feel more safe knowing their pictures won't be posted online in fear of, for example, friends and family from back home finding out about their identity via social media. All they have to do is take a 'no photo' sticker at the beginning of the event. This process makes it a lot easier for student leaders and staff who may be taking photos for university or departmental marketing.
LGBT Concerns, Ideas, and Questions When On-Boarding Technology
While looking at new software for your student affairs division to manage, track and assess programming and events on campus, make sure the software (and company values) align with your needs and institutional values. Come prepared to a demo with a software solution of all of your needs, including those of your students.
For example, University of North Carolina at Asheville utilizes various gender identities and provides students the option to select a from a variety (at least 10 or so) sexual orientations in the beginning of their college experience. The way UNC Asheville collects demographic information on students from events with Presence makes their overall assessment more inclusive. In order to move the entire industry forward in terms of inclusivity, software companies need to be thinking about end-users of software solutions and how each campus will interact with software in different ways. How does the software you utilize now track factors like sex, sexual orientation, gender identity and gender, or making sure the question is optional (or providing multiple options that are inclusive)? Providing these documents, forms, and ways to collect data with students will ultimately communicate your priorities when they interact with technologies on campus.
What if students don't want to use student engagement software/tech in fear of being outed? Presence software utilizes anonymous data when collecting data at events, so gender identity or gender, and sexual orientation is not able to be tracked back to a specific student. If using another software program, make sure you take all measures to not 'out' students.
If you're collecting sex or gender specifically on an event form or waiver, include an opt-out option, additional choices, or an opportunity for them to fill in space themselves. Ensuring confidentiality to all staff and students is important because not everyone is always out. Confidentiality is usually about safety rather than privacy. And even if they are, they may only be out in particular safe spaces (or with safe people). For example, if you're booking something that is gender specific (men/women), make sure you leave a blank space for those who don't identify as a man or a woman.
What if your fellow colleagues don't believe we need to include particular demographic information (specifically LGBT) at campus events? Try to get to the root of the issue – is demographic information not included because your Student Information System is limiting? Or is it something else?
What happens when a student's name in a roster, banner, e-mail, etc. does not match their preferred name at an event? Not only is it respectful for you to understand and use their correct pronouns, it's also a safety issue. Many students choose to hide if their transition (male to female, or female to male) or don't want people knowing they are trans* (also called stealthing). It's okay to ask students in private what name they prefer to be called in public. Provide name tags at events to make people feel included.
Encourage and, if needed, assign staff members to analyze LGBT demographic and student engagement trends at campus programs with Presence software. Utilizing real-time analytics paired with LGBT resources to determine how LGBT students are involved and engaged on campus will only help you, your office, and institution create a better campus environment.
Creating An Inclusive LGBT Campus Culture
Of course, hosting campus events and programs is only one piece of supporting and creating an accepting and inclusive culture at-large.
Administrators have the choice to create more inclusive policies and educate themselves on how to create a safer campus for LGBT students. All colleges and universities have LGBT students, whether they are staff, faculty, or administrators, and it's up to those high-level administrators to be involved and understand the climate on their campuses to make lasting change.
How are the events across campus inclusive to LGBT students?
When was the last time you thought about how to be more inclusive to the LGBT population on campus (students, staff, faculty)?
What can you individually do to create a more inclusive campus community for LGBT students?
Let us know your thoughts and we'd love to continue this conversation about creating inclusive environments for LGBT students through programming. Tweet us at @hellopresence & @kayleyrobsham. Thanks for reading!
LGBT Resources in the Community
Have you identified gaps in which you may have missed opportunities for LGBT students to get involved on campus for Pride Month? Consider incorporating LGBT events into your campus programming strategy and planning even more programs for LGBT history month in October, honoring the anniversary of the Stonewall riots – and October 11th is National Coming Out Day. This provides space for conversations to happen, especially if your campus has not planned a number of LGBT specific events in the past.
Check out more resources to move forward events and programs with the LGBT Architect, The Consortium of Higher Education LGBT Resource Professionals, PFLAG, and the Campus Pride Index.
References:
Meriwether, J. L. (2015). Celebrating digitally engaged #lgbt campus communities. https://socialnomics.net/2015/06/03/celebrating-digitally-engaged-lgbt-campus-communities/
Roper, L. D. (2005). The role of senior student affairs officers in supporting LGBT students: Exploring the landscape of one's life. In R. L. Sanlo (Ed.), Special issue: Gender identity and sexual orientation: Research, policy, and personal perspectives (New Directions for Student Services, No. 111, pp. 81–88). San Francisco, CA: Jossey-Bass.