LGBTQ students are arriving on campus with more confidence in their identities than ever before.
This is unsurprising since societal attitudes are shifting to more affirming of diverse identities.
Overall acceptance of LGBTQ people by people in the United States has been steadily rising over the last few decades, and religious groups are no exception to this trend. Research is consistently seeing an increase in people who believe that homosexuality should be accepted by society.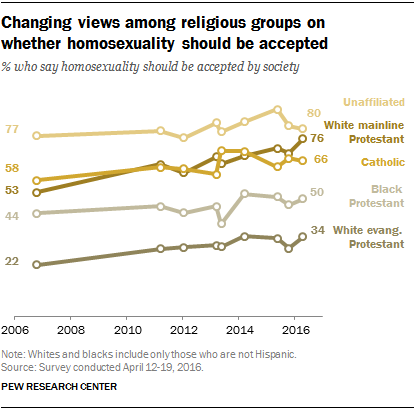 For most colleges, this is business as usual. But for faith-based colleges, there is building pressure to start responding to this changing societal landscape. Religious leaders and college presidents are feeling the pressure to make sure their policies on LGBTQ issues are up-to-date.
We took this opportunity to take a look at the current climate on faith-based campuses and asked some of our campus partners what advice they would give student affairs professionals on this topic.
During these conversations, it became clear that the most useful tool a student affairs professional can have is clear guidance on what the institution's values are, what programming they are allowed to have, and how they can support students when they need it.
Here's what we learned.
Multiple Manifestations
The conflict between sexuality and religion manifests itself in higher ed in two ways: religious institutions of higher education are struggling to manage potential conflict between their values and policies when it comes to LGBTQ students, while secular colleges are struggling to support the values of religious groups on campus when they conflict with affirming LGBTQ identities.
For example, students at Spring Arbor University, a Christian school in Michigan, organized a protest after a pastor praised the "conversion" of one lesbian student and compared LGBT people to murderers and drug dealers. On the flip side, conflict arose at Harvard when the leader of Harvard College Faith & Action came out as bisexual and was subsequently asked to resign.
Arguments have been made that secular institutions are hypocritical in their approach to affirming identities; that while they say they want to support marginalized students, they often have a hidden narrative that equates being religious with being discriminatory. Some have spoken out to ask that the narrative be changed to also reflect the positive forces that religion provides when it comes to supporting others.
Pressure Inside & Out
Faith-based colleges and universities are managing pressure from two sides. The first is the immediately surrounding environment of the institution (including physical location as well as the social context) and the second source of pressure comes from faith leaders.
The strength of the connection between the institution and the religion's leadership will be a big factor in determining the climate on campus. Some colleges are more closely monitored by their bishops/elders and will typically be less affirming if the religion strongly disapproves of same-gender relationships.
Some colleges have developed ways to navigate around this by developing programming that is less explicit about its purpose.
Marsh-Allen Smith, Dean of Students at Notre Dame de Namur, a Catholic institution in San Francisco, CA, recounted a time when their LGBTQ student organization wanted to have a health week which would include free STI testing and a drag show. In order to do this without drawing too much attention (which could have resulted in the event not being allowed to happen), they used word-of-mouth advertising to promote the event rather than flyers and found a place to park the STI testing van that wasn't as front-and-center as a place like the quad. "The key is to find a balance between empowering students to put programming on that they want, but not rocking the boat too much."
The college also utilizes coded language to help students understand the purpose of their work without being explicit about any controversial topics. Instead of a sexual health awareness week, they would call it a "holistic health week," focusing on the biblical value of treating your body like a temple (which includes sexual health).
Eastern Nazarene College hasn't taken the same approach. In fact, Keri Lewis, Assistant Dean for Community Life, says the college struggles to talk about these issues at all:
"Our campus has been really bad at talking about sexuality in general…sexual health, healthy relationships, alcohol. Just any topics that the Church has perceived as taboo for a long time. We're not doing our students any favors by not dialoguing about it because we're afraid. As an institution, we need to recognize the reality for our students and be brave enough to engage with them in dialogue and conversation and be brave enough to say 'I don't know, but I want to talk and I want to learn more and better understand.'"
Keeping a close watch on the respective faith's stance on sexuality will be a good indicator of which direction your campus' policies might end up moving toward. If their guidance and language is shifting, it might be a good opportunity to use that as a springboard to shift language on your own campus.
Safety First
Whether a college is religiously affiliated or not, LGBTQ students will exist on their campus. Some students will arrive knowing who they are and feeling confident in their identity. For others, it might take more time and be a real struggle.
There are different levels of how "out" someone might be. LGBTQ people have always found ways to navigate the world without having to out themselves to those around them. Different surroundings require different tactics. Those principles still apply to students. Students will identify which staff and faculty members they perceive to be more accepting of LGBTQ identities and will be more open when in their company.
The additional challenge for students of faith is how to reconcile what can often seem like two conflicting identities. As children, religious beliefs are often just a reflection of our parents' faith. But by the time we reach college age, we are in the process of figuring out what we want to believe. For those who attend a faith-based college, there's a strong chance that they're fully committed to their faith and want to practice it in line with the respective religion's values. To struggle with your sexuality after having built your identity around your faith can feel like a huge wrench has been put into everything you've been working toward.
But regardless of how confident an LGBTQ student is personally with their identity, they still represent a very vulnerable group that needs the support of those around them. A study by the West Virginia University Injury Control Research Center found that LGBTQ youth are much more likely to consider suicide than heterosexual youth. And for those who consider religion important to them, they are 32% more likely to consider suicide than those who don't.
This is why having clear support mechanisms in place are important — they really do save lives. This poses an enormous challenge for some religious colleges whose missions are to help and protect their students, and yet may have values and a campus climate that work against those who identify as LGBTQ.
Challenges for SAPros
Front-line staff will always be the first to know if a student identifies as LGBTQ. They see them on a day-to-day basis, form close bonds with them, and ultimately become someone whom students can trust. This means they might be the first person that someone comes out to. This is a big deal. The first time you come out to someone can often be a dealmaker or a dealbreaker. If you have an unexpected or bad reaction, it can force people back into the closet and send someone's mental health into a downward spiral.
That means front-line staff needs to be prepared on how to respond. Lewis, at Eastern Nazarene College, says she shifts the focus away from the college and places it on the individual's needs:
"In the moment, it's about supporting the student. It's about being thankful that they are open to talk to me, even if they know that at the end of the day we may disagree. Or they may know where the college stands and what I represent as an employee of the college. But in the moment, I want to be able to support the student and thank them for sharing that with me and making the campus a safe place for them."
Smith, though, keeps in mind the whole campus experience. For example, when he was approached by a trans student who wanted to live on campus, he worked hard to find a room with a private bathroom: "Who am I to deny them the right to experience living on campus? … Happy students stay … [I ask myself] how can I create an experience for my students to make them want to stay?"
What's Next?
The issue of LGBTQ students and faith-based colleges is not going to go away anytime soon. Now is the time that these institutions should be having conversations about what they can do to support students, no matter how they identify. To help those who may want to tackle these issues on their campus, we pulled together a list of ideas to get started:
1. Start the conversation
Smith described it as peeling an onion: we need to start these conversations one layer at a time if we are going to make progress. By opening a dialogue we can start challenging ignorance (from both sides) and begin to work towards safer environments for all students.
Language is important here. Many policies and handbooks use out-of-date or offensive language when discussing LGBTQ issues. Intentional use of language can help better reflect conversations that students are having without excluding alumni or college donors. Educating staff and rewriting policies to use the accurate language will make a big difference in creating a hospitable environment.
2. Invite others on campus to assess the LGBTQ policies
We know it can be difficult to be the person who points out all the problems, especially on sensitive topics. Sometimes, it is easier when the news comes from someone outside the institution. Consider asking other student affairs professionals, experts, or agencies to audit the policies of the institution and provide recommendations for improvement. This will help loop you into the conversation without being seen as undermining the institutions' values.
3. Training
There's a lot to learn when it comes to LGBTQ issues. It will take time and a delicate approach to bring all types of stakeholders up to speed. Consider bringing in people who are experts in this area to train staff and have these types of conversations.
Attending student affairs conferences could be daunting when your institution holds values contrary to those of many who attend, but that doesn't mean there isn't a benefit to attending. Try to use the opportunity to find other religious institutions and talk about how they're navigating these conversations.
4. Provide mental health programming
Students' mental health should be a priority. If your college feels like it is not ready to have direct conversations about helping LGBTQ students, at least make sure there is space to openly talk about mental health. Consider hosting events like "Fresh Check Day" with booths focusing on certain aspects of mental health and wellness, including LGBTQ identities.
5. Do your own research
Lewis suggested spending time doing your own research on the subject:
"I recommend that Christians in higher ed read perspectives they agree with and some perspectives that they find more challenging. One of the books I recommend is The End of Sexual Identity by Jenell Williams Paris, an anthropology professor at Messiah College. She does an excellent job of breaking down "the practical problem with heterosexuality", challenging gender norms and stereotypes, and raising many of the questions Christians have as we attempt to develop a sexual ethic. Dennis Hollinger's The Meaning of Sex, Matthew Vines' God and the Gay Christian, and Debra Hirsch's Redeeming Sex are challenging, but I would encourage Christians to explore these as they may provide an alternate narrative."
6. Bring students in on the conversation
Let's not forget to focus on the reason why we do what we do — to help students. When having these discussions or making changes to policy, make sure to bring students in. They will help give a perspective of not only what current students want, but your future ones too.
Let's keep this conversation going by tweeting at us (@themoderncampus) — let us know what ideas or initiatives you have on your campus, or what challenges you're facing that others might be able to help you with.