We built Presence with a focus on solving real-world problems.
And right now, we recognize that your top challenges are probably different from usual thanks to COVID-19. Many institutions across the country are moving their classes online, canceling group gatherings (aka our beloved campus programs), and asking students to move out of their residence halls. Even if your institution hasn't taken those measures (yet), campus life probably isn't business as usual.
So, how can we solve these real-world problems? Sadly, I'm not here to announce that I've developed a vaccine. (As with most SA pros, I have many skill sets, but virology isn't one of them.) But, there are some actions that you — as someone who deeply cares for your students' wellbeing and success — can take to support your students right now.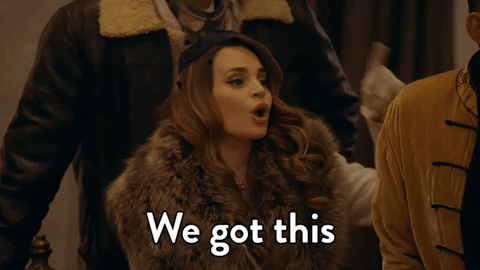 Here are our top ideas, sourced with help from institutions and professionals across the country.
9 Action Steps
1. Help students adjust to online learning
Learning through a screen will require a major adjustment for most students, especially those who have never taken an online course before.
Although the majority of your students are probably digital natives who find navigating the internet as natural as blinking, they may struggle in other ways — such as concentrating on virtual lectures, developing a new time management routine, and processing information through a screen.
So, you should pass along tips to set them up for success.
Here are some excellent nuggets of online-learning wisdom to get you started:
In addition to emailing these tips out to students and making them available on your website or social media accounts, consider how you can facilitate your advised actions.
For example, connect students with accountability buddies, create a directory of faculty contact information, give out free binders and notebooks, and provide students with email templates for contacting their professors in a clear, professional manner.
2. Connect with faculty
You can also help faculty improve their online teaching skills, which, in turn, will help your students.
Here are some great resources you can pass along:
You might even be able to use your stellar engagement skills to give individual faculty members feedback. If you have a strong relationship with a professor, reach out to see if you can lend a hand in building a lesson or two.
3. Don't leave students with disabilities behind
Some faculty members may forget to factor in accessibility, which can make online learning not just challenging — but impossible — for students with disabilities. Long lectures may be troublesome for students with ADHD, blind and visual impaired won't be able to learn from presentations that rely solely on visual elements, and highlighted text can be confusing to colorblind students.
Fortunately, The University of Washington and Faculty Focus offer tips that any faculty member should be able to implement.
Work with your accessibility services office to get tips like these out to faculty and connect individually with students you know well to see how you can help them out.
4. Consider technology access.
Online learning requires a laptop or computer along with reliable internet service. Think every single one of your students has these at home? That's unlikely.
Some of your students probably rely on library computers to complete their course assignments. But, due to COVID-19, campus and local public libraries may be closed. What then?

Consider working with your campus library, IT department, or a local organization to rent out laptops to students, free of charge, for the length of their online course enrollment.
If you don't get a chance to establish a rental program before your library temporarily closes, see if some of the library staff can open up for limited hours solely for this purpose — or better yet, enlist volunteers to deliver laptops to students in need of them.
As for internet access, research local cafes, community centers, and other public spaces that offer free WiFi near campus or close to where commuter students live. Share this list with students, so that they'll know of spots where they can bring their rental laptops to learn and study. Better yet, see if a local cafe or community center will allocate a private room in which students can use the WiFi, sans distractions.
Addition, as of March 13: Comcast announced that it will be making its Internet Essentials package free for new low-income customers for their first 60 days, after which it'll cost $9.95 per month. You can direct students to learn more and apply here.
And don't forget about other necessary tech tools! Headphones, microphones, web cameras, and speakers all might be necessary for students to fully participate in certain classes. Look into rental programs for these items, too.
Finally, keep in mind that students may be dealing with additional responsibilities due to COVID-19. Some of your students may be caring for children whose schools are closed or working additional part-time hours due to a sick family member needing to take unpaid leave.
These added tasks can make success in online courses extremely difficult. It can't be easy to focus on a virtual class session while young kids are running around nor make time to complete an assignment when you're caring for a sick family member.
So, encourage faculty members to be patient and to anticipate students' concerns. Perhaps faculty can be flexible with assignment deadlines and record all lectures so that students can watch them at their convenience, rather than at a single designated time.
4. Continue to engage students in campus life
Although campus life may look different, it doesn't need to be non-existent while your institution weathers this crisis. Consider social programs that can be done in small groups, within the confines of your residence halls, or virtually.
Here are some great ideas that I've compiled from student affairs professionals. (Shout-out to the Student Affairs Professionals Facebook group!)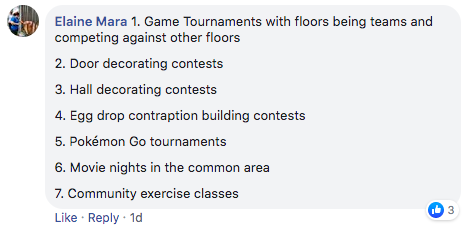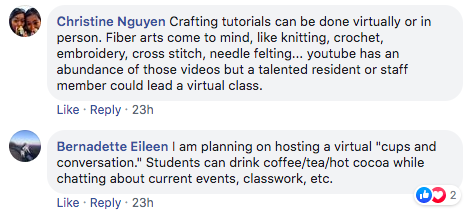 I also suggest connecting with SA pros at your institution who work with online or commuter students. Many of the tactics they use to engage such students will now work perfectly for your residential students, too!
Students who are used to seeing their friends and classmates in person every day may especially have trouble adjusting to classes being moved online and group gatherings being canceled. Help them out by building online communities, offering outlets for their energy and creativity, and fostering a sense of campus comradery.
And be sure to make your online extracurricular activities accessible. Students with disabilities shouldn't be cut off from participating. To do this, you can follow many of the online learning tips from tip #3.
5. Support students emotionally
It's easy to make jokes about COVID-19. In fact, humor can be a healthy way of coping with stress.
But the epidemic is not purely a laughing matter. Many of your students likely feel scared, anxious, and otherwise distressed — both about the disruptions to their usual routine and about the virus itself. Even if they're young and healthy, they probably have loved ones who are elderly and immune-comprised.
And please realize that you likely know at least a few students with weakened immune systems — even if they've never disclosed this to you. Not all illnesses and disabilities are visible, and the virus is a very real threat to them.
So, in addition to the logistical and academic resources you provide, consider how you can support your students emotionally. Work with your counseling or wellness center to learn of any special resources they may be offering, such as counseling groups, reading materials, or self-care activities. If they haven't planned such resources yet, ask if you can support their creation, including virtual versions.
Plus, reach out individually to the students with whom you've built strong relationships. Let them know that you're thinking of them, and that, even if you're unable to see them in person, you'll still be available and happy to connect virtually.
Don't know what mental distresses folx may be facing? The Center for Disease Control and Psychology Today offer insights into the mental challenges that people may confront as a result of an epidemic, along with suggestions for managing them.
6. Check in with your international students
International students may be especially worried, as they likely haven't been able to see their friends and family back home for several weeks or months. Ditto American students who have loved ones living abroad.
Be sensitive to that. Connect with your international student services office to see how you might be able to support your students and your colleagues in these offices.
And when you learn of new outbreaks and deaths across the world, think of your students. Remember that each COVID-19 news story isn't just another piece of media content; it may have real, direct consequences on your students' loved ones. Let your students know that you care, that you take their mental health seriously, and that you'll be there to support them in any way they may wish.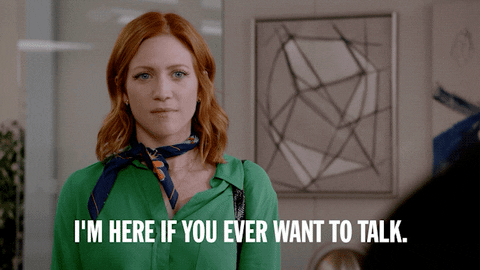 7. Communicate!
Yes, emergency email messages can be scary. Frequent text alerts can be jarring. But a lack of communication would be worse.
Even if you're not in charge of institution-wide communication, your students might still appreciate hearing directly from you. A message from someone they know and trust can be a welcome contrast to impersonal press releases.
In addition to resharing institutional updates, you can talk about your office's specific plans and resources. You can highlight the virtual social programs you're planning, share advice for mental health management, offer daily tips for online learning, and more.
Even humor and links to lighthearted news stories might be appreciated by some students. (Know a dog-obsessed student? Send them a video of your pooch or an adorable meme; it might make their day.)
And don't forget to be in touch with student leaders about programs you may have to cancel, postpone, or reformulate. With everything else going on, a bagel brunch or pool party may be one of the last things on your mind right now. But to a student leader who has been planning the program for weeks, it can mean the world.
Check in with them. As soon as you have information pertaining to whether or not the event can still take place, let them know. Or better yet, empower them to appropriately reformulate the program to suit a smaller group or an virtual event.
Finally, don't forget about your students' families! If you think families worry on days when things are proceeding as usual, imagine how they must be feeling now. So, do your students a favor by communicating with their families directly or at least creating a thorough (and continually updated) COVID-19 website for students to direct family members toward for the latest news affecting campus and classes. (You can find examples from institutions here, under "comprehensive websites.")
Many of these general tips for fostering family support year-round can also be useful, as students may be seeking extra comfort and help from their families during this time.
And for students living at homes with their families — whether because they're commuter students who always live there or they're residential students whose halls have closed — consider sending along tips about online learning. If families read the articles I linked to in tip #1, they can be better equipped to help students learn and study at home.
8. Let student staff work remotely.
Don't assume that all of your student employees will be relieved to be reprieved of their duties upon office closures. Many rely on the hourly income or simply enjoy the challenges that come with their work.
So, consider allowing them to work remotely, with the same pay rate. Their tasks may need to be adjusted or changed completely but I imagine that you can at least find something helpful for them to complete. (One of the actions suggested in this post, perhaps? Enlist them to help build online communities or communicate resources to their peers!)
Remote work could be a great learning opportunity while allowing your student staff to maintain their mental connection with your office and earn a paycheck.
As for Federal Work-Study programs, this article from the American Association of Community Colleges breaks it down:
"[The U.S. Department of Education] is also allowing more flexibility in the Federal Work-Study program if the campus or employer closes as a result of COVID-19. The institution may continue paying the student federal work-study wages during that closure if it occurred after the beginning of the term, the institution is continuing to pay its other employees (including faculty and staff), and the institution continues to meet its institutional wage share requirement."
9. Counter myths and prejudices
Anti-Asian discrimination is on the rise, although:
"There is no indication that the virus selectively targets anyone of any particular sociodemographic group. Once the virus has reached your location and is spreading, anyone there can be carrying the virus." — Bruce Y. Lee, writing for Forbes
It's vital for you to dissuade all of your students of inaccurate information about the ways in which the virus is spread and to support students who are potential victims of racist sentiments.
The CDC offers tips on countering stigmas here. Many of them are applicable to student affairs professionals including:
Speak out against negative behaviors, including negative statements on social media about groups of people, or exclusion of people who pose no risk from regular activities.

Be cautious about the images that are shared. Make sure they do not reinforce stereotypes.

Engage with stigmatized groups in person and through media channels including news media and social media.
A great example of pro-active communication comes for Arizona State University's President Michael M.Crow, who issued this statement emphasizing the institution's community values.
If your institution hasn't yet made a public statement on this issue, look into whom you can implore to do so. And don't hesitate to send out your own messages of support to Asian students, through your office's website or social media accounts, as well as your personal social media pages.
Finally, do not call COVID-19 "the Wuhan virus" or "the China virus." These are scientifically inaccurate microaggressions. The correct name for the virus is "severe acute respiratory syndrome coronavirus 2" (or SARS-CoV-2) and the disease it causes is "the coronavirus disease (or COVID-19). The World Health Organization explains the names.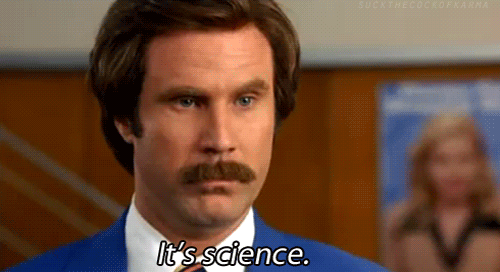 What immediate actions have you taken to support your students during the outbreak? What questions do you still have? Connect with us @themoderncampus. We'll continue to share resources on Twitter and through our blog.
Another resource I recommend comes from Marci Walton of Xavier University. She created a COVID-19 Planning Doc for student affairs professionals to continually share concerns and brainstorm solutions. You can view and contribute to the document here.