"Yay" or "yikes" — which should you proclaim if your campus is planning to welcome students back soon?
Probably a bit off both.
You're excited to see your students away from a screen, offering them incredible engagement and support in line with your student affairs dreams. Yet, you understand that there are health risks involved.
So, how do you consolidate the two concerns: Keeping students engaged and keeping them safe? One way is through on-campus programs that allow students to come together… but not too close.
Don't have any such programs in your Rolodex of ideas? No problem. My Presence teammates and I brainstormed 22 ideas for you. Each of these lighthearted programs allows for students to enjoy each other's energy and company while staying six feet apart.
Enjoy, and don't forget to wash your hands! (Oh and check out our explainer on contact tracing to help mitigate the virus's spread, too.)
Games
1. Zip Zap Zop
This group game is simple to learn but challenging to master. The flexibility in its rules and the comedic energy it fosters make it a popular activity for camps, conferences, orientations, and more. And it's COVID-19 ready, as participants are already required to stand or sit apart from one another.
Learn how to play and get zipping, zapping, and zopping!
2. Selfie scavenger hunt
Motivate students to explore campus by gamifying the experience!
You could write short riddles to guide them toward certain spots ("roses are red, violets are blue, this is where RAs welcome you"), then have students offer proof that they've been there by sharing a selfie. Award bonus points for striking certain poses, recording videos, or reciting institutional history.
Remember to make the scavenger hunt accessible, only selecting locations that students who use wheelchairs or other mobility aids can easily reach. And consider offering disposable cameras for students who don't have cell phones.
3. Mad Libs
This childhood favorite can be so (adverb) (adjective)! You can design your own stories to reference campus traditions, vital facts for orientation, or the interests of a student org.
Students might have fun creating their own prompts, too! Now, doesn't that sound (adjective)?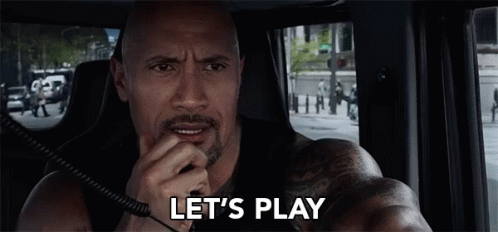 4. E-Sports
Students don't even need to be in the same room as one another to enjoy this one. But make no mistake; e-sports extends beyond mere solitaire video gaming. They can provide incredible opportunities for connection and learning.
Learn all about e-sports, and how you can bring them to your campus, through our previous post all about it here.
5. Charades
Alright, this next idea is one word, two syllables, and rhymes with parades.
Yup, it's charades!
Charades is a longstanding classic for many good reasons: It's fun, customizable, and nearly guaranteed to solicit laughter, along with friendly competition.
Before facilitating a round or two (or a hundred), brush up on the rules here and drum up some words to act out here.
To avoid the germy mess of having students all stick their hands in the same hat or bowl, fumbling around for a slip of paper, simply point out their assigned word from a printed list or invite students to come up with their own ideas.
You can also play the game using a mobile charade app — though you'll need each student to download the game ahead of time.
5. Jackbox Games
For this one, you'll need a game console or Smart TV plus a Jackbox game — but just one of each; the whole group share. Each player can use their phone or another web-enabled device as their personal controller.
And that's it! Congrats; you're ready to battle each other out in games of wit, memory, creativity, trivia, and more.
6. We're Not Really Strangers
We're Not Really Strangers is essentially a heart-to-heart in a box. CEO Koreen Odiney launched the card pack in November 2018 (when she was 25) with a goal to "empower people to make meaningful connections."
The standard pack features three levels of questions and wildcards, guiding participants towards building relationships and deepening existing ones. It's a great way to encourage emotional closeness while retaining physical distance.
7. Four Square
Whether or not students remember playing this game during childhood recesses, they'll likely enjoy the friendly competition as adults.
All you need is a ball and a court — which you can DIY outdoors with chalk or indoors with tape. Brush up on the rules and setup here.
Outdoor

Exploration
8. Yoga
Is it a program? Is it a physical challenge? Is it an act of personal reflection?
Well, yoga can be all three. In addition to advanced classes for students who are already yoga devotees, you can offer beginner sessions, stressing exploration without judgment.
Check out this article for creative ideas on enhancing your yoga class further. You could even lighten it up by playing unexpected music, encouraging students to arrive in costume or pajamas, or giving the poses new names related to your institution. Namaste engaged.
9. Bike race
Got a campus or local bike rental program? Set up a race or leisurely path for students to enjoy together! Non-riders can cheer along from the sidelines, blast music, or even design bicycle decorations for a mini parade.
9. Fishing
Go fish. No, really, consider going fishing — ideally at a spot on or close to campus.
It can be a fun and relaxing new skill for students to learn. They can listen to music, read, or simply chat while waiting for something to take the bait.
10. Gardening
Gardening can be super relaxing and rewarding while encouraging students to learn about agriculture and sustainability. Talk about growth!
11. Rock climbing
Empower students to reach new heights! Consider visiting a local rock climbing gym (which should have health measures in place) or renting a portable wall. You can time students' ascent for a bit of competition… or just let them savor a leisurely climb.
12. Zorbing
You might be familiar with zorbing without recognizing the term. Does the image below look familiar?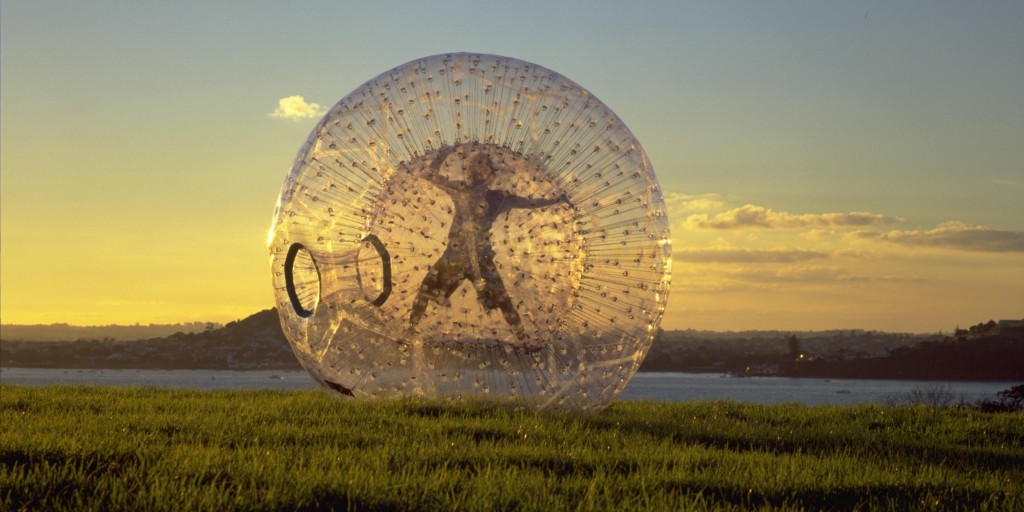 Zorbing involves rolling around inside an orb, typically made of transparent plastic. Students will literally be in a bubble, so as long as you sanitize each orb between runs, it should be the perfect ball to get rolling despite the pandemic.
Extra

Fun
13. Book, movie, or podcast club
Students are likely passing their free time away by devouring some books, movies, tv shows, or podcasts anyway. So, encourage them to meet (either in person or online) to chat all about it.
It's simple but a great opportunity for exploring common interests, learning about other people's perspectives, and prompting reflection on issues.
14. Career fashion show
Get students ready to hit the catwalk… and the job market.
Instead of having students gather in person to watch the show, simply film the student-models showing off their interview-ready wear.
You can either livestream a show in which the student-models wander down the same area, without an audience, or you can go virtual — asking students to film their parts individually (including from home, if they'd like) before editing it all together for a cohesive video.
15. Adult coloring
Who says coloring has to just be an elementary school activity?! It's easy, relaxing, and perfect for staying physically distant — making now a perfect time for a higher education coloring revival!
Thousands of free designs are available to download and print here. Just be sure to give each student their own pack of crayons to avoid touching the same shared surfaces.
16. Karaoke
Make karaoke sing to a coronavirus-friendly tune by streaming the performances live or editing it all together after students film their parts individually.
You'll even save the costs of a karaoke machine by using free karaoke videos and apps instead. A simple Google or Youtube search will bring up endless song options.
You could also make karaoke into a competition! Think College Idol: Coronavirus Edition.
17. Open mic night
Like the idea of karaoke but want to be inclusive of students who are, er, less musically included? (AKA horrible singers like myself?)
Invite them to read poetry, act out monologues, perform standup comedy, or anything else they'd like to showcase during their turn with the open mic.
19. Mobile film festival
Forget Cannes or Sundance; your institution can have this year's best film festival. Challenge students to submit short films, shot on their phones or tablets. You can set a time limit for each submission, along with other rules — such as a theme to adhere to or a song to include.
Then, collect the films on your department's website or YouTube account, and ask all viewers to or a select judge's panel to vote on the winner. You could even have categories for multiple winners (such as best acting, best costumes, best writing, and best cinematography) and give away prizes.
Consider consulting with your intuition's drama or film program to advertise the festival or advise students on making stellar short films.
20. Silent disco
You'll need a wide, open venue for this one — either indoors or outdoors. Create a playlist of songs to send to students beforehand, instructing them not to listen to it until the event.
Then, to start the party off, instruct students to all hit play on their mobile devices at the same time, listening in via headphones. (Be sure to have some free pairs on hand to give out.) Everyone will enjoy their own little dance party, as their peers have the same rockin' experience a few feet away.
21. Chalkfest
Chalk it up to your students. Invite budding artists to beautify a concrete or paved campus area, with each student assigned a square to decorate however they'd like.
You can host this challenge over a few days, so that students can work their chalking magic at their own paces. Or, to liven up the energy, set aside a prime time or two for the majority of participants to all design their squares together, while blasting some fun tunes or simply chatting.

What other physically distanced program ideas do you have? We'll love to learn more! Connect with us @themoderncampus.
And if you're looking for programs that can be run 100% virtually, we've got 53 suggestions right here. We hope you'll stay happy, engaged, and healthy!