June is Pride Month, but programming that celebrates the LGBTQIA+ community should take place all year long!
The LGBTQIA+ community is full of people who represent a multitude of sexual orientations and gender identities. Each person has a unique story that is a part of the community's larger narrative.
Hosting LGBTQIA+ programs on campus is an opportunity to celebrate the entire community, while also emphasizing that the people within it are not a monolith. Every person has unique struggles and triumphs connected to their specific sexual orientation and/or gender identity.
An example where inclusion practices could be fine-tuned is sex education curriculum in high school. Classes might do a good job at covering sexual relationships between same-sex partners but miss the mark in ignoring topics related to transgender, asexual, and intersex identities.
There are so many possible program ideas to celebrate the LGBTQIA+ community that I won't attempt to cover it in a single blog post; this is a two-parter! Throughout both posts, I'll share program ideas that you can adapt to your campus.
This first post will feature some time-tested programs that are implemented on many campuses already, such as lavender graduations, and some that may be new to you, such as Ace Week. The second one focuses on programs that support transgender members of your campus community.
National Coming Out Day
History & Significance
National Coming Out Day (NCOD) is on October 11 every year.
NCOD celebrates the process of coming out, a metaphor used to describe LGBTQIA+ individuals' self-disclosure of their sexual orientation and/or gender identity.
There is no one "right way" for someone to come out. In fact, people who are LGBTQIA+ don't just come out once. They have to choose if and how to come out every time they start a new job, attend a family gathering, and engage in a variety of other social situations.
Each decision is complicated by how safe, both emotionally and physically, it is to do so.
Fortunately, student affairs professionals are in a unique position to create programs and advising relationships to support students on their coming out journeys.
Coming out can benefit LGBTQIA+ individuals, as well as their communities.
Firstly, coming out is an important part of an LGBTQIA+ person's identity development. Embracing their identity and learning to not feel ashamed because of it can lead to better mental health and a stronger connection with their fellow members of the LGBTQIA+ community.
Secondly, a greater awareness of LGBTQIA+ people and the full, complex spectrum of sexual and gender identities can lead to a more inclusive and equitable community. Through education and exposure, people should begin to question heteronormativity and cisnormativity, as well as dispel myths and stereotypes related to LQBTQIA+ identities.
Programming Ideas
In honor of NCOD, consider making the metaphor of "coming out" more powerful through a program featuring a physical door, like the one pictured below, for students to come out of.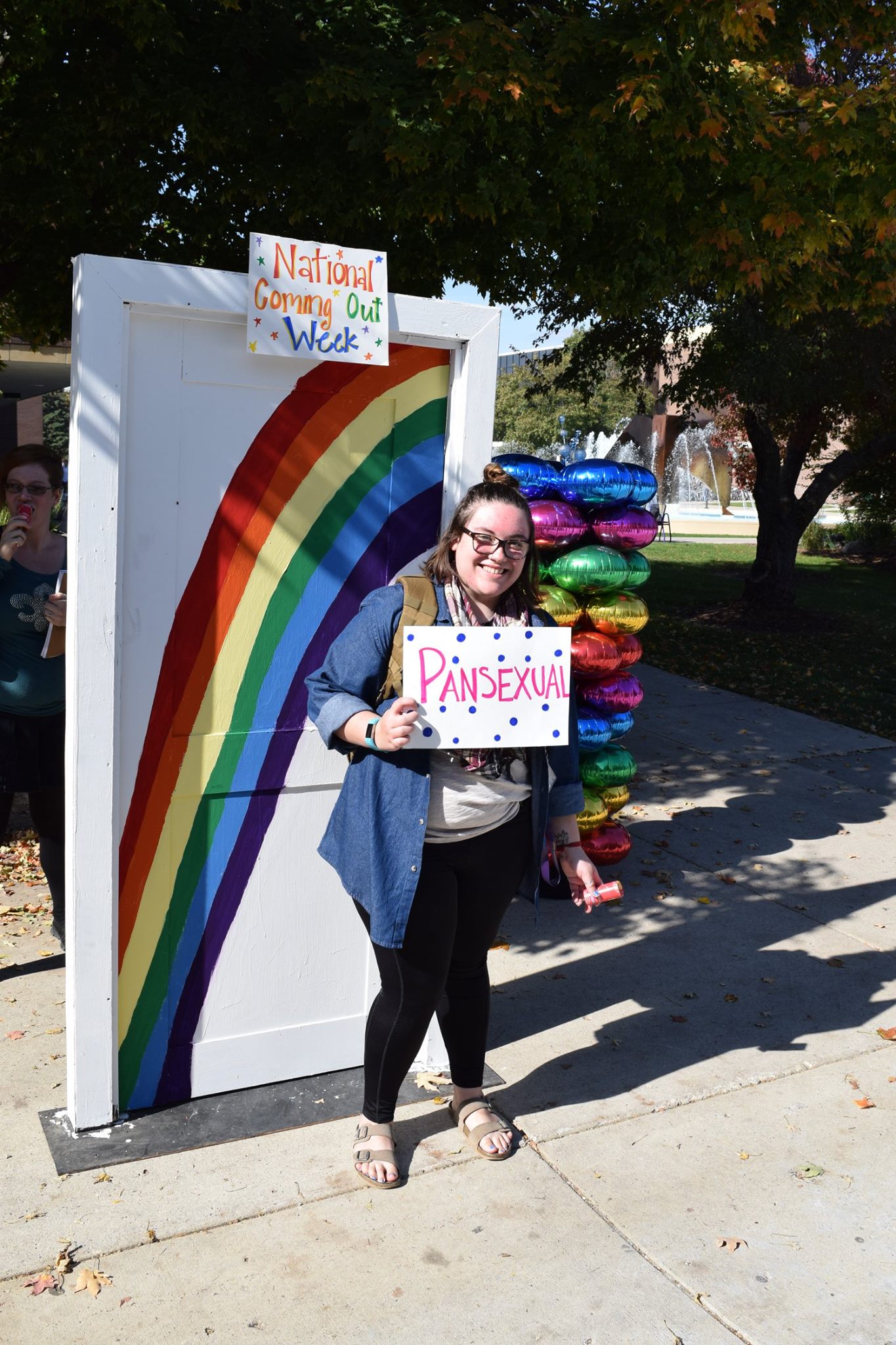 photo from Minnesota State University, Mankato's Coming Out Day celebration
Program planners should set up the door in high-traffic campus areas and invite anyone to "come out" as any label(s) that they desire. They'll write their label(s) on a small whiteboard (or alternatively, choose from a selection of premade signs) and pose to have their picture taken.
They could choose a label related to their sexuality and/or gender identity (coming out in the traditional sense) or they could use a different label that is important to them. As you can see from this Minnesota State University photo album of their NCOD door, students were able to identify themselves as allies, Muslims, vegans, and other identities, while also respecting the significance of coming out to LGBTQIA+ students.
Make it clear to participants what will happen to any photos that they agree to have shared. Will they be uploaded to social media or created into a physical collage for display on campus? If participants opt-out of having their photo shared, you could print it or email it to them instead.
If you partner with your office of diversity programs or multicultural affairs, they will probably be able to provide students with resources about the process of coming out. Or, here are a few external resources to consider:
Information about on-campus clubs and off-campus LGBTQIA+ organizations would also be useful to have available during your NCOD events. You can find more ways to honor NCOD here.
Lavender Graduation
History & Significance
A Lavender Graduation is an annual ceremony held at many schools nationwide to honor LGBTQIA+ students for their achievements and contributions to their institutions. These celebrations take place in addition to commencement, not in place of it.
The color lavender is a combination of the pink triangle that gay men were forced to wear in concentration camps and the black triangle that designated lesbians in Nazi Germany. LGBTQIA+ advocates later took these symbols of hatred and transformed them into a color that signified pride and community.
Programming Ideas
Ceremonies typically last an hour or two and take place within a few weeks leading up to commencement. Lavender Graduations include many elements of traditional commencement ceremonies, along with some special features.
Your Lavender Graduation could include:
A

land acknowledgment

, which

recognizes the Indigenous peoples who have been dispossessed from their homelands and territories upon which the institution was built

A keynote address, perhaps given by an LGBTQIA+ alum of the institution or someone else who can speak about LGBTQIA+ issues

Speeches given by graduating students and professionals who work closely with LGBTQIA+ students

A presentation of awards for academic, student leadership, advocacy, and community service achievements

A slideshow of photos and quotes from students

A post-ceremony reception with food and photo opportunities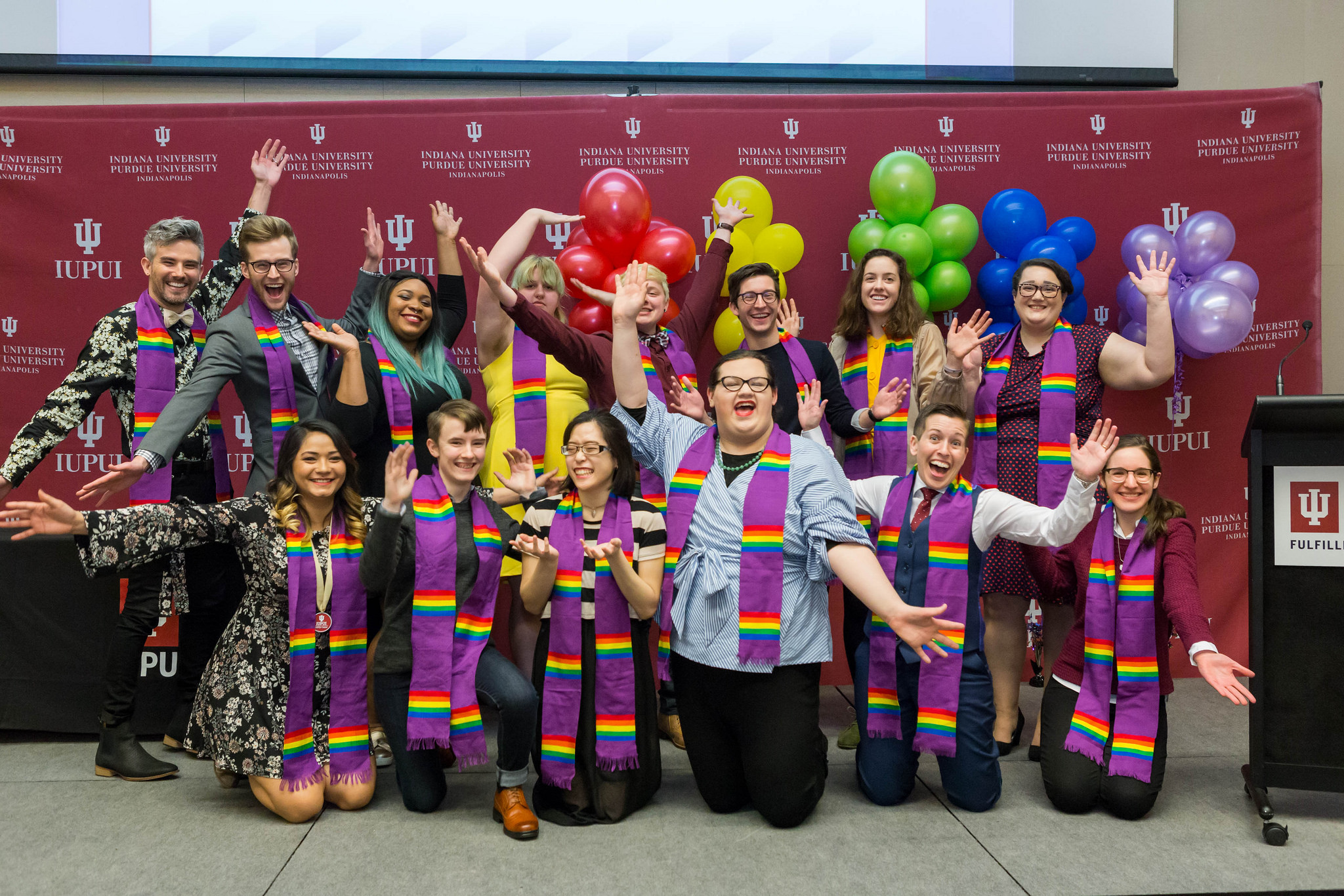 Indiana University–Purdue University Indianapolis's Lavender Graduation
If you have the budget, you could purchase lavender or rainbow-colored stoles or cords to be given out at the ceremony. Ask your institution's commencement organizers if students will be allowed to wear these accessories at the university's main commencement as well.
The organization Campus Pride has a guide for planning a Lavender Graduation here.
Ace Week
History & Significance
Ace Week, which will take place October 24 through 31 this year, raises awareness about asexuality. It celebrates the asexual community, AKA aces.
An asexual person experiences little to no sexual attraction. Asexuality is sometimes referred to as the "invisible" sexual orientation because many people don't realize that it exists; they wrongfully assume that every person must experience sexual attraction.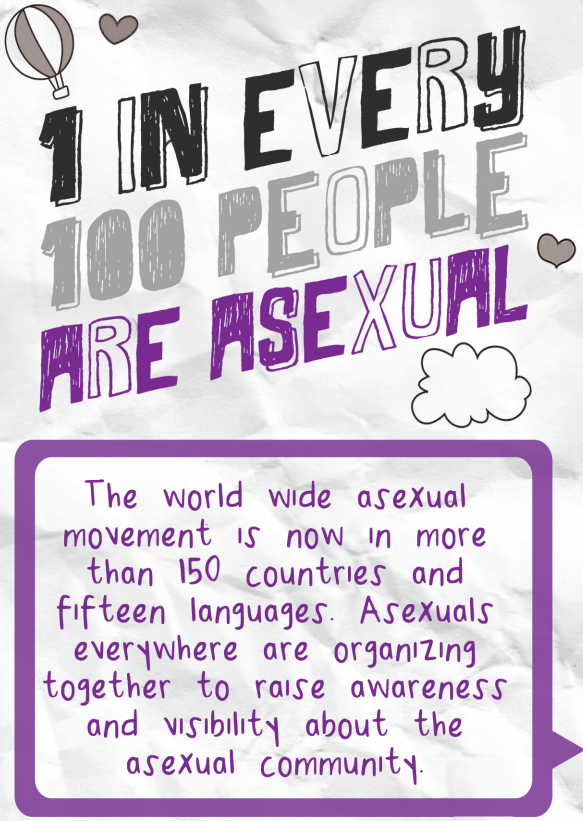 printable resource from acesandaros.org
But asexuality is not to be confused with aromanticism, AKA aros — someone who experiences little to no romantic attraction. Not all asexual people are aromantic, and not all aromantic people are asexual.
Programming Ideas
Asexual and aromantic identities are sometimes left out of LGBTQIA+ programming. But you can make sure that they are included through programs like Ace Week, which takes place during the last full week of October, and Aromantic Spectrum Awareness Week, which takes place the first full week following Valentine's Day.
There are ready-made presentations on asexuality and aromaticity that you or a colleague can present on your campus, or you could bring in an outside speaker.
You can find handouts and other sources of information to distribute during Ace Week and Aromantic Awareness Week at these websites:
You might also help students consider ways that they can become involved in activism, such as contacting their elected officials or writing op-eds in the local newspaper. This article provides an overview of opportunities for advocacy around legal, medical, and other issues affecting the ace community.
Your civic engagement department should also have additional guidance on activism tactics.
LGBT History Month
History & Significance
October is LGBT History Month. Celebrating it an opportunity to educate students about LGBTQIA+ role models and bring attention to significant milestones in the community's fight for civil rights.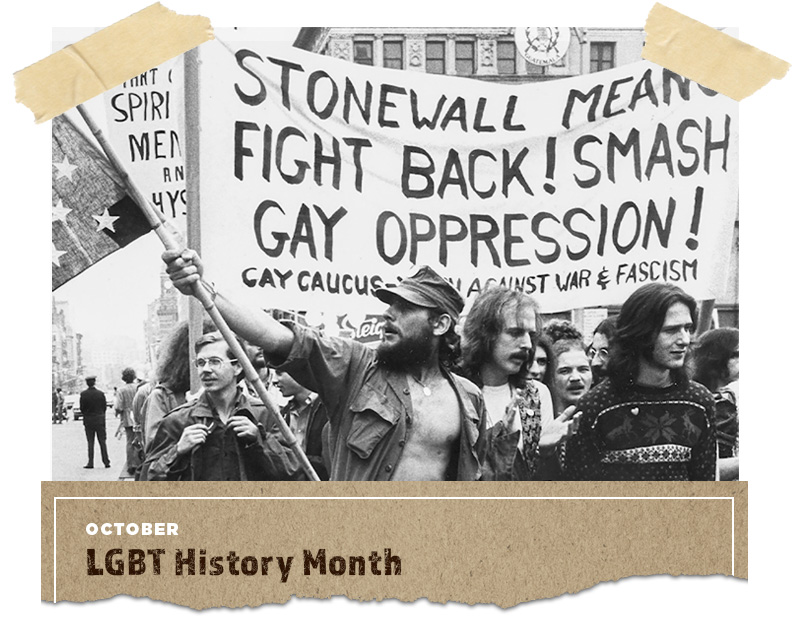 photo from Michigan State University
Programming Ideas
One idea is to share information about LGBTQIA+ role models using bulletin boards around campus and on social media. You could feature different role models every week; GLSEN has more than 50 biographies of historical LGBTQIA+ figures.
LGBTQIA+ history is a rich source of trivia material. You can create your own trivia games using Kahoot or JeopardyLabs with information from these websites:
Art can inspire action, which is why a film screening, combined with a discussion, can be an excellent program. Here are some articles with tips for planning an in-person or virtual event. Also, check out this list of discussion questions from the website Teach With Movies. You can find suitable documentary titles here, here, and here.
If the licensing fee makes a film screening infeasible, then a TED Circle may be a great alternative. With a TED Circle, you watch one or multiple TED Talks together and discuss them afterward. TED even provides questions for many of its talks. You could use a video from this playlist curated by the TED staff or find dozens of videos by searching "LGBT" on the TED website.
Spirit Day
History & Significance
Spirit Day takes place on the third Thursday of October. Participants wear purple (usually as their clothing, a ribbon, or a button) to show solidarity against anti-LGBTQIA+ bullying.
Besides calling attention to the negative effects that bullying has on LGBTQIA+ students, Spirit Day is also a way to show students that bias incidents are taken seriously by the school administration. Ideally, the outpouring of support on Spirit Day will encourage more campus community members to report anti-LGBTQIA+ bias incidents to your institution's bias response team whenever they witness them.
Programming Ideas
Spirit Day is more about raising awareness than holding an event, so all you really need is a high-traffic area for tabling. You can distribute purple ribbons or buttons plus ask students to sign an anti-bullying pledge card. The pledge cards can be displayed somewhere in your student center or other high-traffic areas to continually remind students of their commitment.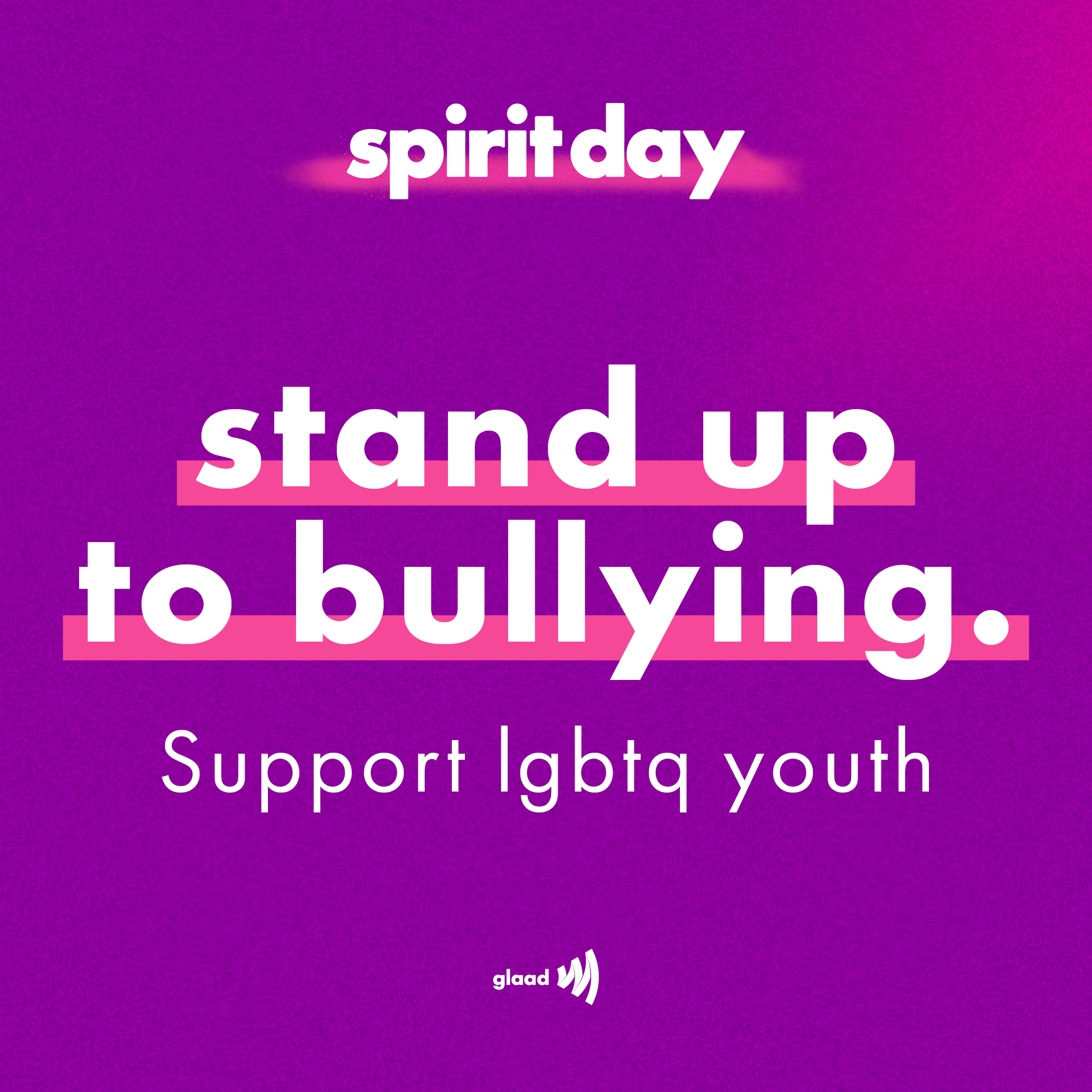 free social graphic resource from GLAAD
Check out Spirit Day website for a planning guide, statistics, and pledge card templates.
Solidarity Week
History & Significance
Solidarity Week is a time in October for non-LGBTQIA+ people to explore how they can be in solidarity with the LGBTQIA+ community. GLSEN, the organization that sponsors this initiative, changed the name from Ally Week to Solidarity Week in 2020 to better reflect the greater commitment that solidarity requires.
GLSEN offers the following definition of solidarity to illustrate its importance:
"Solidarity is a voluntary collective action by different people based on finding common objectives and solutions. Solidarity work happens when you show up to help and support others experiencing some form of harm by centering their leadership, decisions, needs, requests, and ideas."
Solidarity reflects a commitment to others, out of the recognition that we all have a shared responsibility toward achieving collective freedom.
Lilla Watson, an artist and activist working in Australia, shares this motto that she and other aboriginal rights activists came up with in the 1970s:
"If you have come here to help me, you are wasting your time. But if you have come because your liberation is bound up with mine, then let us work together."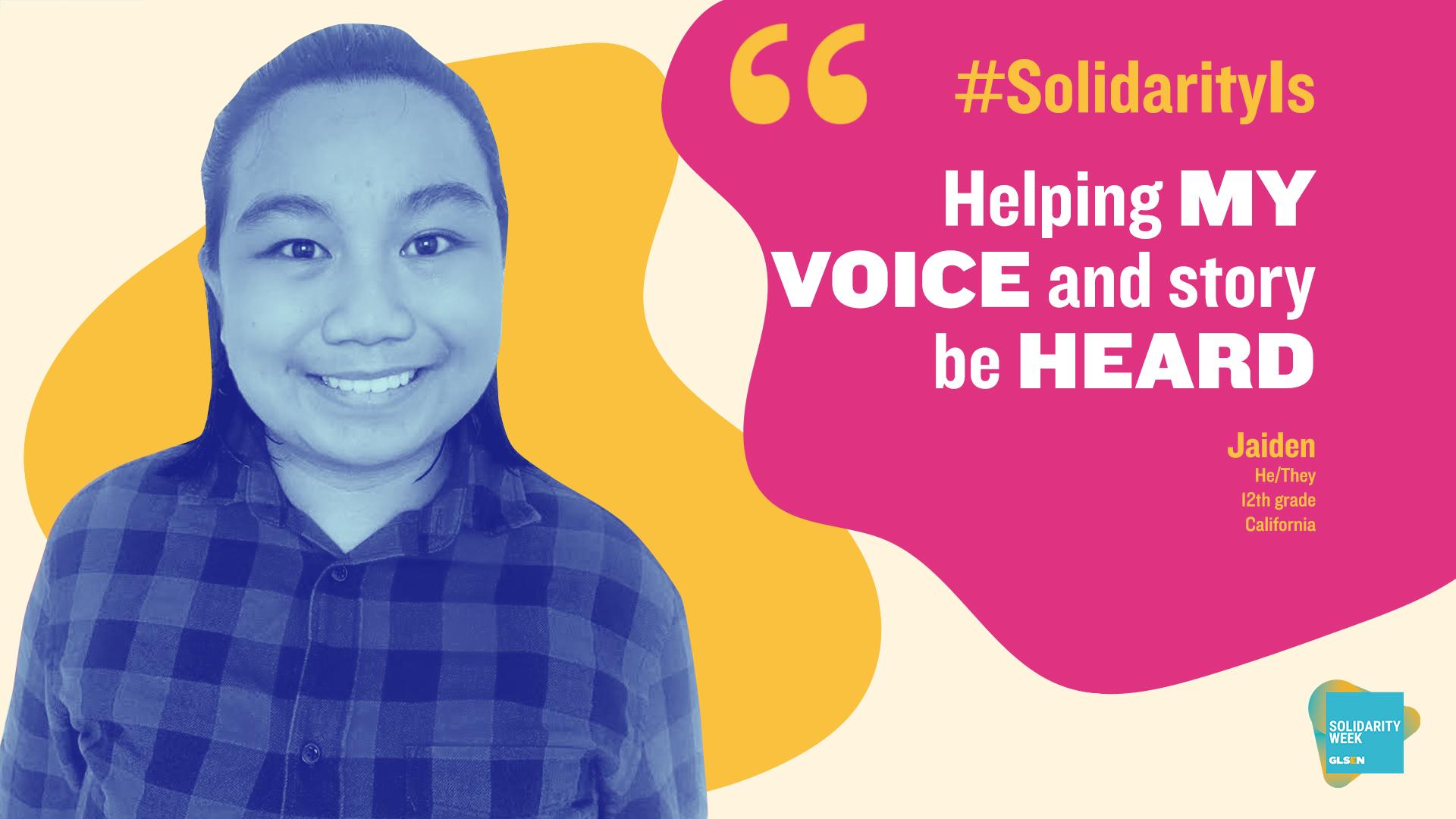 photo from GLSEN
Programming Ideas
GLSEN provides suggestions for different intersectional identities to focus on during each day of Solidarity Week. In 2020, days focused on LGBTQIA+ people who identify as Black, disabled, intersex, Native American, or immigrant.
Solidarity Week is also a great time to hold Safe Zones trainings. Safe Zone trainings are excellent opportunities to learn about LGBTQIA+ identities and how individuals can support LGBTQIA+ members within their own communities.
If your students are interested in getting involved in advocacy, here are some places where they can start learning more about specific issues:
Day of Silence
History & Significance
On the Day of Silence, which is typically held on the second Friday of April, students take a vow of silence to represent the silencing, othering, marginalization, and erasure of LGBTQIA+ people, especially students.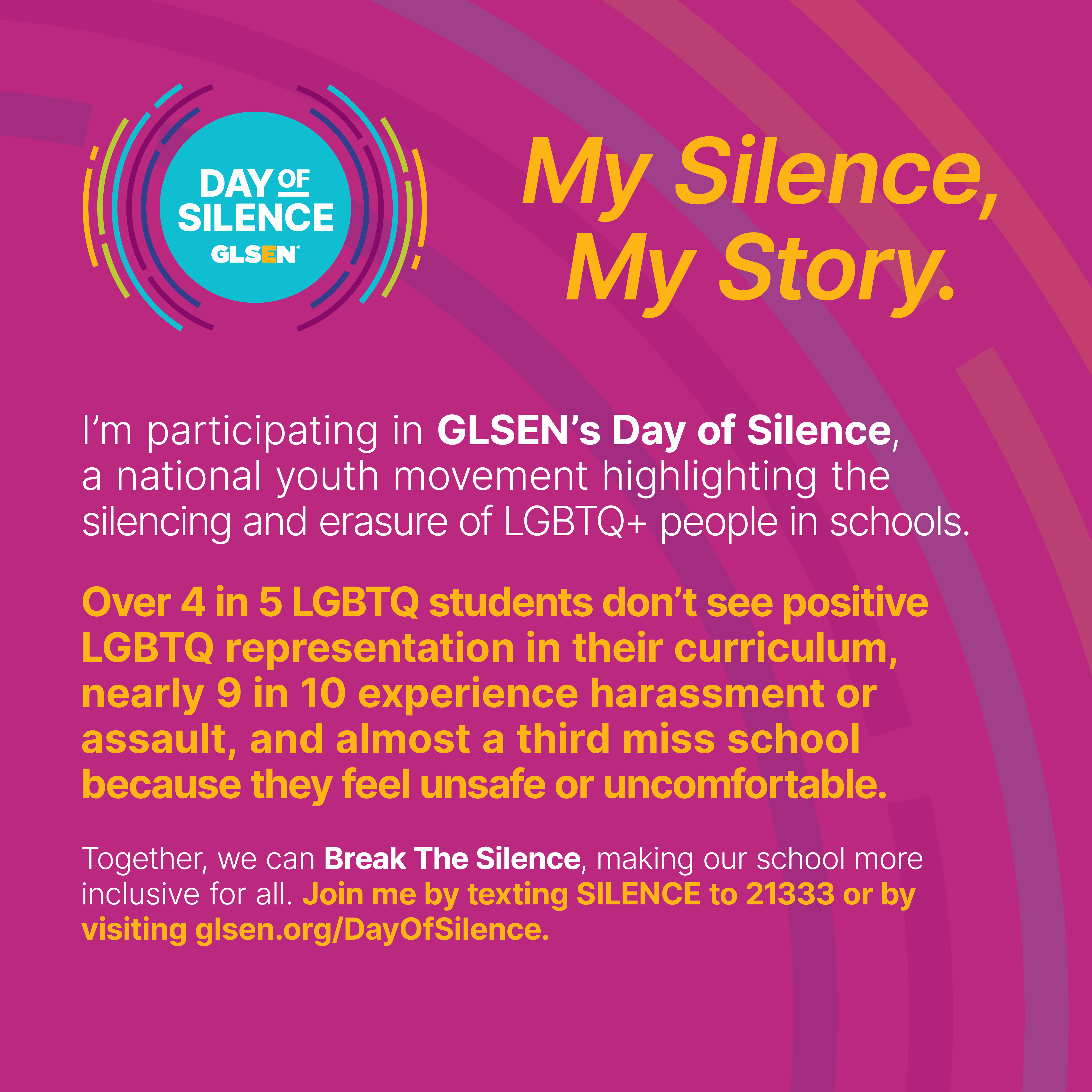 shareable graphic from GLSEN
Before you get too far ahead in planning, it's important to notify faculty and staff about the program well before it occurs. It would be problematic if, for example, a faculty member sanctioned a student for not speaking up during a class discussion while participating in the Day of Silence. Instead, faculty members could be encouraged to offer in-class written assignments to students who are silent for the day.
You could work with the heads of your academic and student affairs divisions to craft emails that ask faculty and staff to honor students' vows of silence.
It should be made clear to faculty, staff, and students that reasonable exceptions can be made. Students might need to speak for an in-class assignment that doesn't have an alternative. And, students may need to speak during academic advising meetings or other types of essential appointments.
Programming Ideas
In the weeks leading up to the Day of Silence, have ample marketing on social media and around campus so that students understand what the day is all about, including where they can sign the pledge. You could table in a high-traffic area and give students who sign the pledge a sticker or button to signify their participation. Alternatively, students could sign the pledge using a virtual form and pick up their items at an arranged location.
At the end of the day, hold a Break the Silence Rally to drive home the issue of LGBTQIA+ silencing. It could include LGBTQIA+ speakers, spoken word performances, coming out monologues, and/or a panel discussion. You could also incorporate discussion groups into the rally with these sample questions:
Why was it important to you to take action and participate in the Day of Silence?

How are LGBTQIA+ students at this school experiencing silencing and erasure?

What is your vision for a liberated school environment? How is this vision different from your current reality?
The Day of Silence website has a guide that offers planning tips for the rally.
---
Holding LGBTQIA+ programming all year long is essential for affirming that queer students belong in our campus communities.
Be sure to also take a look at the second part of this blog series, in which I focus on programs that are geared toward supporting transgender students.
And we'd love to stay connected! Follow us on Twitter @themoderncampus and @JustinTerlisner.