Students who feel engaged in their campus jobs are more likely to bring their full, authentic selves to every shift.
Supervising students is a major time commitment, on top of everything else that professionals have to cram into their daily schedule. You probably already know that being a great supervisor can make a positive impact on a student's college experience, so how can you find the time to engage your student employees?
Passive engagement opportunities are one great solution. Passive engagement refers to the low amount of energy that students need to put into the interaction. Using passive engagement techniques does not mean that you lack interest in your students' success; it shows that you can maximize engagement with what resources you have!
The ideas that follow don't require a lot of time or other resources, yet they can go a long way in helping to build community within your department.
12 Ideas
1. Question of the Week
Put up a different question each week on a large whiteboard and invite students to answer it during their shift. Or if you are working remotely, you can use online whiteboards like Miro, Mural, and Lucidchart.
You could even ask a different student each week to pick the question. Here are 100 questions to get you started.
2. Trivia
Write a trivia question on a whiteboard and have students submit their answers via slips of paper they'll put it into a box or submit via an online form. Students who answered correctly could be rewarded with a small prize.
Here are some great places to find trivia questions and brainteasers:
3. "Get To Know Me" Charts
On a large whiteboard or easel paper, create a chart that has the name of each student employee at the top. On the left side of the chart, write in the names of different personality assessments.
Using the resources below, invite students to learn about each "get to know me" category on the vertical axis of the chart and to take the corresponding assessments. You can invite students to try a different assessment each week and write in their results on the chart.
An online spreadsheet program (like Microsoft Excel or Google Sheets) will allow you to run this passive program remotely. Most institutions use Microsoft or Google for their operating systems, email, and productivity apps, so you most likely already have access to one of these spreadsheet programs.
4. Contests
A little competition can be good for team morale.
One fun competition involves filling a mason jar with small items (such as M&Ms or jelly beans) and having students guess how many of that item is in the jar. You could have students write their guess on a piece of paper that they'll put into a box, then give the winner — the student with the closest guess — the jar and everything inside of it as a prize.
To do this online, simply email students a picture of the filled jar. Then, offer to ship or personally deliver the item to the winning student if they can't pick it up from your office.
5. Kudos Board
It's important to appreciate your student employees' hard work.
A kudos board is a space to display affirmations that students write for one other. Using slips of paper (AKA "kudos"), students and staff write out specific reasons why they appreciate someone else. They then tack the paper to the corkboard. Trainers Warehouse has a selection of kudos notepads for purchase, or you could make your own template.
To create the effect of a kudos board virtually, invite students to put virtual notes on an online whiteboard or Trello board.

6. "How Full Is Your Bucket?" Bulletin Board
Instead of the public affirmation of a kudos board, you could offer something more private using the theory of the dipper and the bucket.
The theory of the dipper and the bucket comes from the book How Full Is Your Bucket? by Tom Rath and Donald Clifton. Every person has a metaphorical bucket (representing their morale) and a dipper (actions that affect others' morale). With each interaction, you can choose to use your dipper to fill up someone else's bucket (lift up their morale) or take away from it (bring down their morale).
During employee training, present the theory of the dipper and the bucket to students. Then, they can have them decorate their own "buckets" by painting mason jars or other small containers. Through the year, students and staff can write affirmations on water droplet-shaped pieces of paper and drop them in each other's buckets.
To continually remind students to fill each other's buckets, you could design a bulletin board with the essential facts of the theory of the dipper and the bucket. Templates for the cutouts can be found here.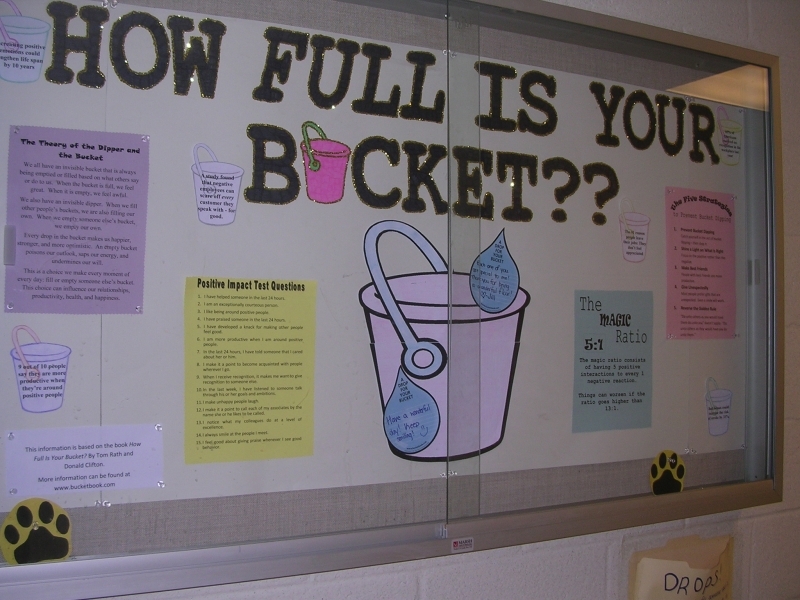 a great example of a "How Full is Your Bucket?" bulletin board
7. Self-Care Activities
It's no secret that students face a lot of stress. Having some easily accessible self-care activities could boost employee morale whenever they need it. Some examples include adult coloring books, fidget toys, and stress balls.
These self-care activities should be a part of your broader effort to create a safe space and inclusive culture within your department.
Students can fill out this workbook to be more conscientious about their self-care routines, plus you can read these articles to learn more about self-care:
8. World Gratitude Day Cards
World Gratitude Day is celebrated every September 21. In the spirit of gratitude, provide students with thank-you cards to write on World Gratitude Day or around Thanksgiving time.
If you want to avoid incurring postage costs, you can focus on having students write to people who live or work on campus. Interdepartmental letters usually just need a recipient's name, a department name, and an office/mailbox number, all written on the envelope.
If doing this activity virtually, it's as simple as instructing students to send out emails of gratitude.
9. Community Mural
The rules of creating a community mural are simple. On a large whiteboard or easel paper, students are allowed to draw one character, background, prop, or symbol per day. It can be whatever they want, as long as it's appropriate to be displayed in public. A new mural can be started at the beginning of each week or month, depending on how quickly the students fill up the canvas.
Producing community art can reduce stress and inspire conversations between employees. To get the mural started, you can provide a prompt each week that sparks students' imaginations.
10. Signed Birthday Card
Nothing's more motivating than when your supervisor remembers your birthday. In the days before a student's birthday, have everyone in the department sign a card. Present the student with the card, along with some fun novelty gift items.
For birthdays during the summer or other school breaks, you can celebrate multiple birthdays before or after each break. Keep birthdates on your email calendar so that you don't miss any.
11. LinkedIn Profile Tune-up
If someone isn't actively searching for a job, chances are it's been a while since they updated their LinkedIn profile. Students can set themselves up for success by reviewing their profile before their job search begins.
Encourage them to review this comprehensive LinkedIn cheat sheet and fine-tune their profile if they have some downtime during their shift.
The summary portion of their profile can tricky to write, so if students need some extra help, they can reach out to the career services office and review these resources:
12. Punch Card Challenges
Punch card challenges are great goal-setting exercises for students. Students who want to take part in a challenge receive a card that's about the size of a business card and get a mark or stamp on it every time they perform an action.
For example, it could be a fitness challenge that will earn them a mark for every day that they reach a certain step count or drink a certain amount of water. Or it could be work-related, wherein they get a mark for every week that they submit their timesheet on time or remember to complete all of their shift logs.
You can also use student engagement software to automate your gamification and awards!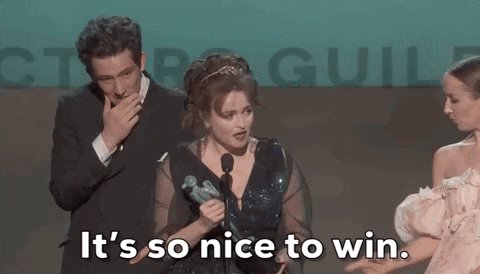 Research, such as Astin's theory of student involvement, has long pointed to the importance of having multiple ways of engaging students throughout their college journeys. Student employment must not be overlooked as an important touchpoint, as even passive engagement lends itself to student growth.
What office activities have you tried with your student staff? We'd love to hear your stories! Connect with us on Twitter @themoderncampus and @JustinTerlisner.