At Presence, one of the top challenges we hope to solve for institutions nationwide is event attendance tracking.
We've long understood the importance of… well, checking students in. Knowing which students are attending which events is vital to the noble student affairs mission of engaging each and every learner. We can't improve our programs and innovate our strategies without understanding who is — and isn't — showing up in the first place.
That's why we pioneered mobile check-in technology in the industry. We want student affairs professionals to be able to focus on making each event a stellar experience, rather than on fumbling with time-consuming, often-inaccurate paper check-ins, complicated logistics, and data integrity.
But 2020 has brought in a new challenge that mobile check-in technology doesn't account for: Virtual programming. Due to the COVID-19 pandemic, hundreds of institutions are now relying on Presence to engage students virtually — far outside the traditional bounds of ivy-covered buildings, open quads, and residence halls.
The internet is, by and large, where students connect, learn, and spend the majority of their days now. Most of Presence's solutions were already perfectly set up for virtual engagement! Our campus partners enjoy digital forms, branded web portals, online orientation tools, virtual involvement fairs, and so much more.
Introducing…
We're thrilled to yet again be pioneering check-in technology — This time, meeting one of 2020's biggest programmatic challenges with a big solution. Introducing… Zoom and Microsoft Teams Integration!

All About Our New Feature
We've heard of student affairs professionals scrambling to manually input the names of each attendee, scrolling through long lists of live participants. It's time-consuming and frustrating.
Other companies have offered up complex "solutions" that sadly lead to inaccurate data. They're suggesting QR codes, which students can scan during meetings, or special links for students to copy and paste in order to check themselves in.
Although these workarounds may be well-intentioned, they come with a major cost: Additional hurdles to engagement and assessment. They rely upon student action and universal buy-in, mistakenly assuming that most students grasp that check-ins are important and will understand the action steps being asked of them.
Our integration feature bypasses all that. Every single student will be checked into your virtual events simply by entering them! Easy peasy… and accurate.
You'll capture everyone, automatically.
All students need to do to check in to an event is…. enter it! Clicking on the usual Zoom or Teams invite will generate check-in magic without anyone having to click an additional button. Your Zoom and Teams links embed directly into the meeting locations!

Setting up this integration also requires extremely little effort on your part. With just a few clicks, all your events will be integrated. Yup, all. There's nothing (nada! zilch!) you have to repeat for each event. Integration is a one-and-done, setting you up for your entire virtual programming future.
What's more, once your Zoom or Teams account is hooked up to Presence, any meetings or programs your student-leaders hold will also be automatically tracked through Presence. There's no need for additional training or procedures to distract them from what's most important.
Finally, as with our mobile check-ins, these virtual check-ins will automatically pull in student demographic data. You'll be able to assess how engaged first-gen students are with virtual programming, if transfer students are attending webinars meant for them, and, well — you name it. You've got assessment questions? Our data will reveal the answers via the sophisticated Presence dashboards you're already acquainted with.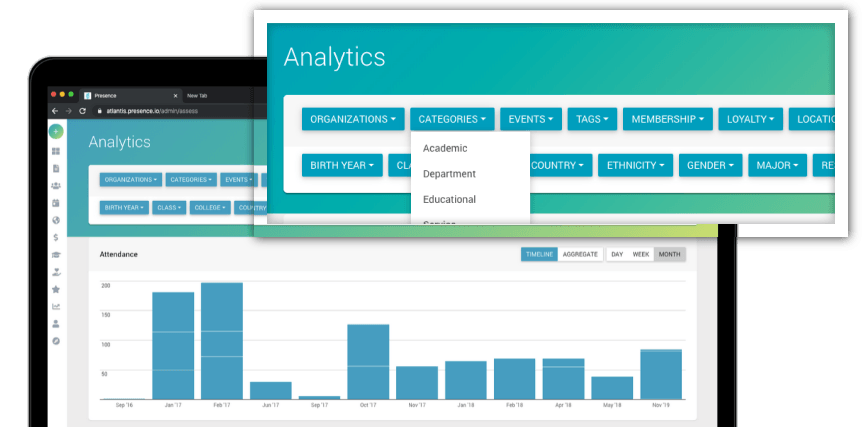 We know these times are (forgive us for the cliche word) unprecedented. But they've also been a great opportunity for Presence to live up to its mission. We're excited to constantly innovate, think boldly, and act creatively to solve the biggest problems in higher education — no matter how unexpected the problems may be.
Virtual learning and engagement is the new way forward, and we hope that this new feature will be one of many valuable tools to help guide you there.
Are you as excited as we are? Reach out to us today to learn how your institution can get integrated with Zoom and/or Microsoft Teams!