Student success in college can be a broad, varied metric to work towards for student affairs professionals.
Academic progress, campus involvement, or leadership roles, can all be considered, and even within those areas there is a lot of depth and diversity. Nevertheless, there are generally beneficial efforts that can be made by professionals to help their students along the way to graduation.
I got to thinking about this topic of effective student support after listening to this podcast episode titled "Community" from NPR's Planet Money. They discuss that what we need in terms of student success often goes deeper than the concept of "free college" that is popular in today's political zeitgeist. Students need more than just financial support (which is important, and if you want to hear more about that, listen to this Student Affairs Collective podcast on college affordability with the nationally renowned author Sara Goldrick-Rab).
Students need someone looking out for them, coaching them, and helping pick them up when they falter. Being able to afford higher education gets you in the door, but succeeding while attending an institution involves a lot more. It takes a lot of time and effort, and as with much in life, it is easier if people have folks around to lean on.
This was eye-opening to me, since I'm in support of making college more affordable and investing in as a public good to make it as free or low-cost as possible. Doing that alone though would be a fallacy; challenges student face at their respective institutions could still contribute to student retention and persistence.
Being Proactive About Showing Student Support
What gets in the way of students succeeding in their academic lives?
Hunger, housing, jobs, transportation, bills, and generally just having the things they need.
Institutions across the country have come up with innovative ways to remedy these issues for students, here are some highlights:
Campus Food Pantries
Last year, Montclair State University surveyed students and found there was a population of students on campus in need of affordable, nutritious food.
And it's not just food.
Often, campus food pantries offer things like shampoo, soap, and other items that when added up, are often expensive to purchase along with paying for tuition and other student needs.
In this article, Fatima DeCarvalho Associate Dean of Students of Montclair states,
"Do I think there's always been a need? I would say yes. But students are being more vocal about it."
Additionally, last May the University of Washington announced the first of three campus food pantries opening in result of student needs.
Erica Weisman, who speaks about the stigma of food insecurity and co-manager of the Food Cooperative at UWashington states,
"Food is very personal to everyone on this planet in some way. Joking about someone's food intake and teasing someone for what they eat is detrimental to someone's identity. We don't want anyone to be ashamed of what they eat and what they're not able to eat."
Emergency Funds
More and more institutions are realizing the need to support students by paying for bills (etc) that come up unexpectedly in life. It seems like most schools would offer financial assistance to students who are going through hardships or need help, yet there's still a large majority of institutions who have a comprehensive program to provide emergency funds in place.
The University of North Carolina at Chapel Hill offers an emergency fund available to students through an application that covers things like:
• Medications and other costs related to medical care

• Books and other essential academic expenses

• Safety needs (i.e. changing a lock)

• Replacement of essential personal belongings due to fire, theft, or natural disaster

• Travel costs related to a death or illness in the immediate family
Additionally, higher education organizations like NASPA are continuing research on how to best support students to remove challenges around finances and empowering them to graduate on time.
Professional Clothing Donations
An excerpt from Bridgewater State University's recent Bridgewater Magazine showcase a new BEAR Essentials program based out of their university internship office for students looking for professional clothing for free.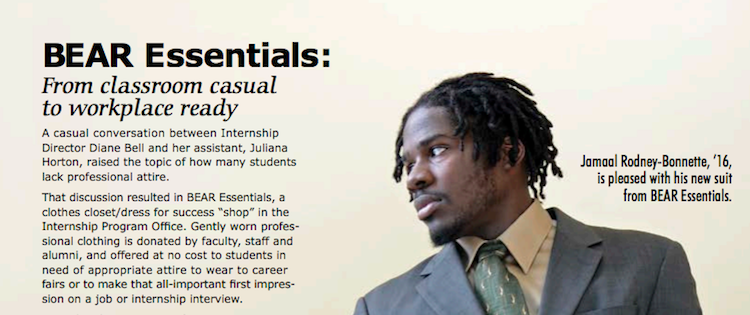 For students who pay for school mostly on their own, this program relieves the need to pay an exorbitant amount for new professional clothing. Other institutions are also starting to offer 'career closets' where students can find clothing accessible to them like briefcases to bowties and trousers and blazers.
Offering a Lending Hand
Life for students attending college is a complex array of processes, procedures, and needs. Campuses are a network of several offices working collaboratively to support students but simply being passive doesn't cut it anymore. We need the array of departments serving students to share information and proactively reach out to look out for students. This presentation on using social media for advising dives into the various ways (see notes) of how academic advisors can approach advising in dynamic ways. A change of perspective to something more akin to design thinking can go a long way here.
Knowing someone cares and notices when things get tough can make a world of difference for a student.
Offering help can open the door and reach out a hand to someone who might feel uneasy asking for assistance. Especially for students who are first-generation or come from traditionally underserved and underrepresented backgrounds, this proactive approach to student support is invaluable when it comes to engagement, involvement, and retention on campus.
Viewing Technology as an Asset
In order to provide the sort of genuine, caring support and service all of our students deserve and need to succeed, we need to utilize technology to maximize our efforts and outreach. Everything from tools for social media monitoring and scheduling, to databases that play well with each other, to mobile student engagement smartphone applications.
Students help us reflect upon how to better manage our teams in ways that streamline collaboration efforts as well as get projects off the ground of any shape or size. Whatever tools you decide to use, stick with them, and keep continuously improving how you work to support your students each day.
Your Thoughts!
We need to take an active (and proactive) role in our student's academic lives. Our institutions and our students can't afford for us to always wait around until something bad happens. There are a multitude of ways for us to provide positive interventions to prevent issues from derailing our students on their long, arduous but amazing and transformative path towards college success. It could be as simple as inviting new voices to the conversation.
How do you work towards providing comprehensive support to students?
Let us know your thoughts and opinions @themoderncampus and @HigherEd_Geek!