Creating the ultimate college student experience is your number one priority.
From getting involved, to potentially becoming a student leader, student affairs professionals and educators have the ability to transform the college student experience.
Providing touch points with students in high traffic or unique areas starts to build a student-focused campus to fully understand which student populations and demographics of students you're engaging most.
Much of the theory of micro experiences is, "meeting the students where they're at" which has been a mantra of student affairs for some time. Additionally, micro experiences focus on quality of student interaction and student engagement rather than quantity or simply put, student attendance.
What Are Micro Experiences?
Offering micro experiences to students often looks like smaller programming, more affordability, and high impact engagement efforts in a short amount of time. They are easy to join in for students and should be free (it shouldn't take much for students to join on-the-fly).
Micro experiences are smaller-scale interactions among staff, student leaders, and students and are created with the intention to engage with them on a deeper level. All it takes is the necessary mindset, tools, and team (student leaders, staff, and of course audience).
What is not a micro experience? Giving away a t-shirt. Sure, they may offer a perceived value at the time of the giveaway, yet there is no memory or tangible experience attached to it. Sometimes they seem like they're a micro experience (i.e. a raffle or repeated for every student) rather than a genuine interaction (i.e. personalized card, interaction).
What is a great example of a micro experience? A time and space that feels like a natural opportunity to engage students and for them to connect freely with their peers and with you! SoulPancake offers some great example on their website of how to do this – and you could TOTALLY adapt these programs on a smaller scale version to your campus (dependent upon resources).
When planning a micro experience, something to focus on is providing a 7-10 minute experience during a known student break (i.e. between classes or during a university hour). This type of programming allows staff to become more student-centric and you're able to observe engagement in real-time.
Here, Whitney Cummings utilizes smoothies on a college campus to have meaningful conversations about STDs and why it's important to get tested.
Have you ever been to Starbucks and received your cup with your name handwritten on it? That's an example of a micro experience too. And it's something small that resonates with people who drink Starbucks.
Academic advisors at Florida Atlantic University took providing experiences to a whole new level. They decided to offer academic advising in two of the university's parking booths to reach students in a new and fun way. Not only was it a unique engagement opportunity, but it elevated academic advising to more than just course scheduling. Although it was planned out more in advance with institutional legalities, it worked as providing a way to reach specific student populations: off-campus student life.
More examples of micro experiences include: pop-up talks about nature on the quad or a grassy area, hosting a coffee station (with chairs and tables) on the way to classes and bring mugs that have been donated (they'll be more likely to stay and chat), snapping a picture of their favorite place on campus, or having them answer an interactive wall with them completing the sentence: "Before I die…"
At Presence, we created our our engageable moment cards to pass around conferences and events that encourage building meaningful connections. They each hold a meaningful question and can be easily passed around at an event (hint: you can also use these as a social media engagement idea). This can be particularly helpful to boost engagement during new student orientation or, really, any event where you may need help facilitating student interactions.
Here's an example of an engageable moment card: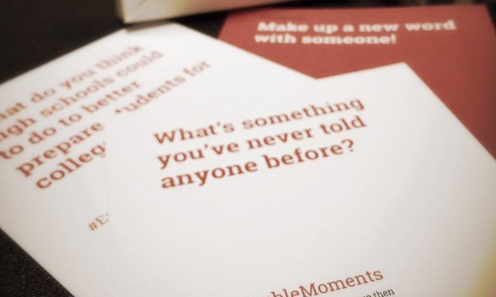 So how do you create micro experiences as part of your strategy? Here are some ideas on how to incorporate them in a quick and efficient way:
1. Marketing Events in Real-Time
Most students utilize a smartphone where they are consistently checking Twitter, Facebook, Instagram or some type of social media outlet. When you're thinking about incorporating micro experiences, think about how you can get in front of students faces (looking down) most often at their phone while traveling across campus. On-board a mobile-friendly student engagement software platform so students can easily access the next interesting event.
Have you experimented with Facebook live or Instagram live yet? That may be a good place to start.
2. Preparing For the Micro Experience
For students on college campuses, immediacy and how relevant the event is trumps how loyal they are to your organization, club or office. So it's tough to plan too far in advance for a micro experience.
There's been a fundamental shift in how students interact with and expect programming efforts. The 'old days' of marketing with flyers and preparing days or weeks for a program is becoming less and less. Now, short bursts of programming that is both meaningful and relevant are replacing those to increase engagement. Micro experiences are a relatable to a bite-sized moment: students want experiences from functional areas all over campuses, and they expect them to deliver on-the-spot.
Being Involved In The Present Moment
Creating micro experiences can be particularly helpful for students who feel overwhelmed at large-scale events. As we're mindful of the continuum of temperaments of students who show up to events, we must adjust our programming to fit the needs of them. In this way, we can be more inclusive while understanding a better formula for engagement efforts on campus.
Micro experiences is one way you can do that.
Typically students need to focus in the present moment to fully experience the micro event or program. It encourages them to engage in a different way and it will resonate for minutes, hours, and days after the moment has passed.
Your Thoughts!
Have you planned micro experiences or events on-campus? Online?
How would you incorporate micro experiences into a new programming model for your office, department or functional area?
Thanks for reading! If you want to continue the conversation or share with a friend, give us a shout @themoderncampus.