As student affairs professionals, our job is not to just make sure students have a good college experience.
It's our job to make sure that when our students cross the stage at graduation, they enter the workforce as the next generation of leaders.
This is something we've been doing for years. But with more people than ever starting and graduating college, the increasing cost of higher education, and the perceived skills or "awareness gap," there is more pressure than ever before to formalize these strategies.
Creating well-rounded leaders requires a holistic approach to learning.
That holistic approach captures all the touchpoints where leadership skills can be developed. This could be opportunities like formalized training, experiences like internships and tutoring, or roles like being the president of a student organization.
The end goal is to develop a clear pathway that students can understand and traverse for themselves.
Just like hiking a trail, there are often multiple ways to get to the same destination. Creating clear pathways allows the students to pick the route best suited to them.
Understanding Leadership
Theories of Leadership
There's no simple answer to the question, "What makes a good leader?" People have been theorizing the answer to that for decades, and it has led to many different perspectives.
According to NACE, a competent leader is someone who can:
"Leverage the strengths of others to achieve common goals, and use interpersonal skills to coach and develop others. The individual is able to assess and manage [their] emotions and those of others; use empathetic skills to guide and motivate; and organize, prioritize, and delegate work."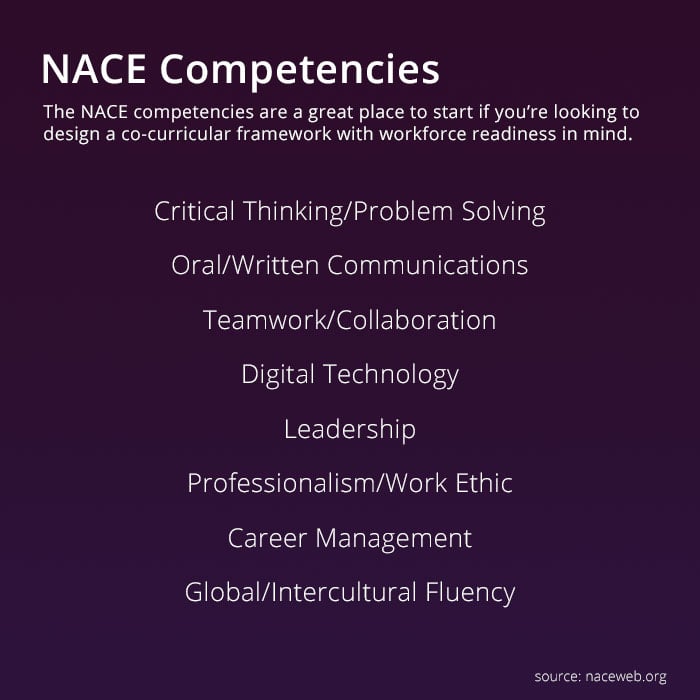 Mindtools separated the major leadership theories into four distinct categories: trait theories, behavioral, situational, and power and influence theories.
Trait theories look at specific skills and characteristics that leaders should possess, such as decision-making, flexibility, and ability to listen. This is absolutely true, although no one combination of these skills will guarantee someone to be a good leader, as we often need to adapt to each circumstance when leadership is required.
Behavioral theories look at the ways leaders approach decision-making with their teams. For instance, some leaders are very hands-off, letting their staff make independent decisions. Whereas others prefer more democratic decision making as a group, leading discussions and voting on a course of action.
Contingency theories examine how leaders behave when confronted with different scenarios. When an emergency happens, how does the leader respond? Are they able to make quick decisions, or do they rely on their team for support?
Power and influence theories look at the ways leaders can use their position to leverage action from their teams. For instance, do they use rewards or coercion to motivate people, or do they rely on personal power such as charm or expertise?
As we can see, leadership is not clear cut or a result of one single innate quality, so we can't just deliver communication and decision-making workshops and assume our students will emerge from them fully-developed.
Leadership is something that is practiced, varies by situation, and demonstrated in different ways. As a student affairs professional and the person developing your campus' learning outcomes, you're going to want to break the leadership skill down into different levels that can be achieved via different pathways.

For example, for someone to reach level 2 (understanding) of leadership, they may need to attend two leadership events and complete a reflection.
If you're not sure how to break down a competency into levels, consider aligning each level of a skill to match the various stages of learning outcomes of Bloom's taxonomy. (For help writing student learning outcomes, take a look at this post by Joe Levy)
How to develop leaders
When designing leadership programming, try to do so with the whole academic calendar in mind. You need to be able to allow students to develop their skills at a reasonable rate, not jumping from novice to expert over the course of two workshops. How can you integrate your programming into what is already happening around campus? When are major trainings, teambuilders, or seminars happening? Is there a student success course that you can partner up with?
Also, don't forget that skills develop from practice. Organization presidents, interns, and student mentors will all be improving their leadership skills by experience. By assigning reflections to skill-based competencies, you can recognize these students' development without forcing them to duplicate their efforts by attending programming with the same learning objectives.
If you're interested in using programming to supplement the leadership development work you're doing on campus, read on to learn how different programmatic structures can help foster leadership at all levels.
1. Retreats
Who is it for?
Since retreats are usually more intensive, you'll want to invite students who are already in leadership positions such as organization presidents, peer leaders, mentors, and RAs.
Associated costs:
Costs will depend on whether you are going to host your own retreat off-campus or on-campus or pay to send students to an unaffiliated event.
If you're hosting your own retreat, the biggest costs will come from booking a venue, travel, and purchasing food. Leadership activity costs can be kept to a minimum by using your own materials (paper, laptops, and games). Excursions like raft-building can be a great way to make the trip memorable, but they do add additional costs.
Ideal length of time:
A leadership retreat typically extends over two or three days and provides an intense look at the theories and skills of becoming and being a leader. The days will be mixed with workshops, team-building exercises, and purposeful reflection.
Sample learning objectives:
By the end of the retreat, the students will be able to evaluate the effectiveness of various styles of leadership.
By the end of the retreat, the students will have created a plan for how they can develop their leadership skills.
2. Workshops
Who is it for?
Workshops are a great way to introduce people to the different facets of leadership, so this could be an open invitation to all students or those who may have recently moved into leadership roles, such as club secretaries or orientation leaders.
Associated cost:
Materials used can vary but can add up quickly if you're buying everything new. Otherwise, workshops usually only cost the price of food, which should only be for around 20-25 people (that's around 6-8 large pizzas).
Ideal length of time
Workshops are usually 45 mins to an hour and a half in length. Any more than that, and you're going to lose people's attention. Consider breaking workshops into a series if you have a lot to cover. Don't forget to take into consideration any introductions and icebreakers you are going to run as they often cut into teaching time (as a rule, try not to spend more than 15 minutes on this).
Learning objectives:
During the workshop, students will have identified times when they observed leadership.
During the workshop, students will discuss the pros and cons of each leadership style theory.
3. General programming
Sometimes your programming will naturally develop student leaders. For example, if you're hosting a lunch & learn series where students deliver a speech on a topic, they're developing their public speaking and communication skills. By tagging events as such, you can use student attendance to contribute to their overall skill development (e.g. attend at least two communication events to achieve level 1 leadership).
Who is it for?
This type of programming will be typically open to all students unless it is convened for a particular organization.
Associated cost:
Little to no cost required. We even produced a guide to 100 budget-friendly programs so you don't even need to come up with your own!
Ideal length of time:
These work best as one-off events that could be over a lunchtime, for an hour in the evening, or on a weekend.
Learning objectives:
By the end of the event, students will have discussed instances of good and bad leadership.
By the end of the event, students will be able to explain steps they can take to improve their leadership.
4. Speaker presentations
We might not all consider ourselves experts in teaching leadership, but don't let that stop you from creating great opportunities. Inviting leaders from the local community, those who tour nationally, or even student leaders from your own institution can be an exciting way for students to learn from the best of the best. You could even consider hosting your own version of a TEDx event.
Who is it for?
Any student can benefit from listening to speakers. Sometimes it's helpful to find speakers whose expertise relate to the majors of a specific group of students, but more often than not, the lessons are universal.
Associated cost:
Speakers costs can vary from $250-$10,000 — so know your budget in advance and start your search from there.
Ideal length of time:
Speakers will usually present for anywhere from 45 minutes to 2 hours, but sometimes that can last longer if you schedule post-event networking.
Learning objectives:
By the end of the event, students will be able to list three new things they learned about leadership.
By the end of the event, students will be able to paraphrase the lessons they took away from the speech.
And finally: the value of recognition
Recognition is important for two reasons. First, you want to congratulate the students for pursuing self-development. Second, you want the student to be able to understand all the steps they took from start to finish so that they can articulate how they achieved their skill. This is where a co-curricular transcript could come in handy.
Remember, no one goes from novice to expert overnight. Developing leadership skills takes time and practice. Experiment with your programming to see what works best for your campus, and don't forget to assess!
Hop over to Twitter (@themoderncampus) and let us know what leadership programming you have on your campus!
PS — Rubrics are a great way to assess using student learning outcomes. Take a look at the free downloadable we put together.