Type "liberal arts" into Google, and you'll be greeted with a hodgepodge of results, spanning from optimistic research to gloom-and-doom opinion pieces.
Some headlines will lead you to believe that a liberal arts education is as valueless as a Beanie Baby collection. Others make it seem like a liberal arts degree will be a student's automatic ticket to fame, fortune, and a Nobel Prize.
What's the truth?! As student affairs professionals, it's vital for us to see the connection between liberal arts education and workforce development. We need to create experiences for our students that foster essential skills and help them understand and articulate those skills to future employers.
It might sound like an insurmountable challenge, but with savvy decision-making and intentional planning, it's actually not that difficult! In fact, you're probably already halfway there. Let's explore together.
More than just majors and disciplines
I bet you associate the term "liberal arts" with the majors and disciplines that are given such a label — such as art, history, sociology, and English. But liberal arts colleges offer a lot more than just a few select majors. They provide a holistic approach to education that emphasizes the skills that are most essential to student success — in work, citizenship, and life.
I love this explanation from Willard Dix, former associate dean of admissions at Amherst College, in writing for Forbes: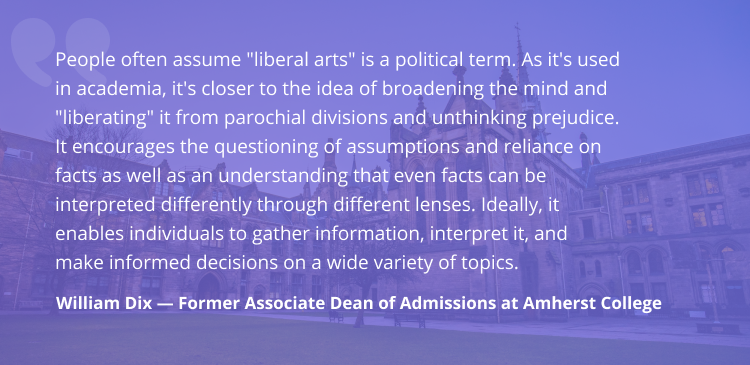 The liberal arts isn't just a random assortment of academic subjects, nor the antithesis of STEM fields. Programs that are guided by this form of education have a throughline — of humanistic inquiry and rational thinking — that all liberal arts grads can be proud of and that employers find highly desirable.
Liberal Arts Produce Top Graduates
As understood from the lens above, liberal arts programs are not niche. They're not frivolous, whimsical topics, only studied by idealistic scholars who are unconcerned with real-world implications.
On the contrary, liberal arts takes an inquisitive view of our complex world, both as it is and as it has the potential to become. The liberal arts programs encourage holistic thinking and emphasize connections between ideas. They set learners up to immerse themselves in the real world — to tackle challenges with both curiosity and healthy skepticism.
"The most effective career preparation at independent colleges and universities usually involves both curricular and co-curricular activities and the engagement of both faculty and staff members."

— The Council of Independent Colleges
Liberal arts graduates are the best-equipped, among graduates of all academic disciplines, to continually grow and evolve as professionals — which is essential to long-term career success. By developing a broad range of transferable skills and learning how to learn, they can adapt to many career changes throughout their lifetimes.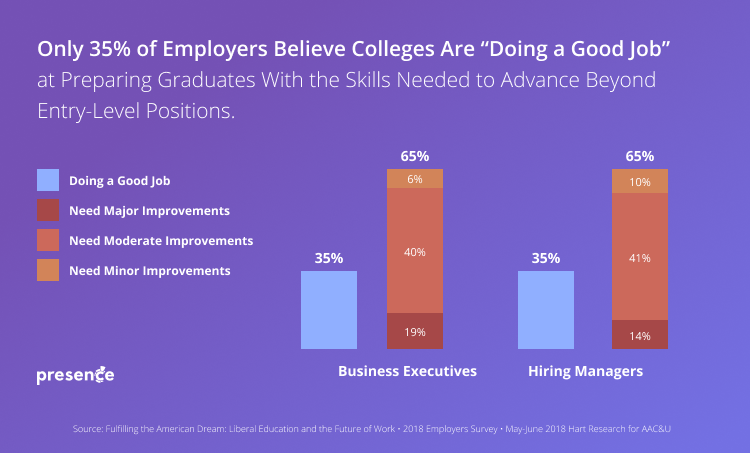 Liberal arts grads will also be well-suited to take on the jobs of the next several decades. They can adapt alongside society's unpredictable future challenges to tackle jobs that don't yet exist.
Skills Employers Want In Recent Graduates
But, you might be wondering, do employers actually care about any of this?! Are they looking for the skills liberal arts grads offer?
The answer is a resounding yes. A 2016 survey of employers found that employers value oral communication, critical thinking, ethical judgment, teamwork, self-motivation, and other essential skills most in prospective employees.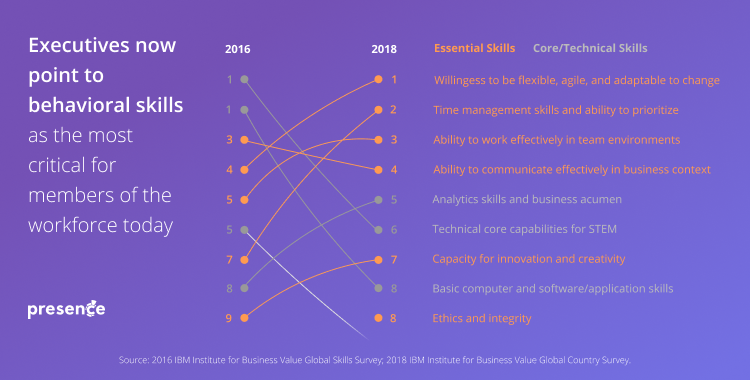 This is fantastic news for liberal arts institutions! Their curricular and co-curricular programs foster these skills through essential learning outcomes and high impact practices. For example:
First-year seminars and experiences develop writing, critical thinking, and evidence-based research skills.

Service-learning experiences challenge students to apply their learning to the real world.

Living-learning communities foster skills in teamwork, innovation, and communication.

Internships help develop critical workforce skills like time management, task prioritization, and teamwork.
Unlike job-based technical skills, employers can't easily create orientation modules or ongoing training programs to teach new hires these essential skills. Yet, top employers and senior higher ed administrators both assert that essential skills, as learned from liberal arts programs, are valuable for today's workforce.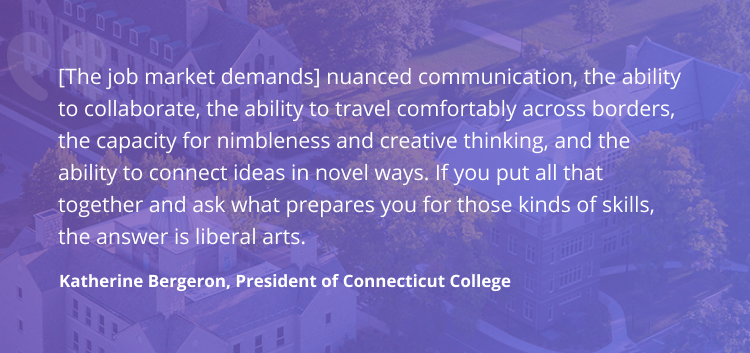 So, employers value the skills taught by liberal arts programs, and institutions worldwide are proud of this type of education. Yet, there's a disconnect: Employers often don't see evidence affirming that prospective hires have workforce-ready skills.
In other words, resumes, cover letters, interviews, and other application materials don't illustrate the qualifications employers are searching for.
What the Liberal Arts Are Missing
Essential skills are typically harder to quantify and prove than technical skills. An applicant could showcase their marketing skills, for example, by listing the number of marketing-qualified leads they generated over six months in their last job. Or, a recent graduate could prove their knowledge of Microsoft Office through an online testing score.
But an applicant can't say they have "five years experience of performing well under pressure" nor show off an online certificate to prove that they've "mastered" innovation and creativity.
Some researchers refer to this disconnect as an "Awareness Gap" between graduates and employers. Let's dive into some practical solutions for how this gap can be bridged from the institution's end.

Building a Co-Curricular Framework
Here's the good news: Students can indeed prove their mastery of essential skills.
Rob Sentz, chief innovation officer of Emsi, has a suggestion for how:
"Break down some of things that employers are asking for, and don't necessarily just teach and certify those things, but say, 'Now we're learning rhetoric, or we're writing an essay, and in the world of employment this is how you could use this skill.'"
Naming the skill and explaining its relevance to the workforce will allow students to see the direct value between their curricular studies and co-curricular experiences and their future work. They'll be able to match the skills requested in job ads to their everyday experiences and proudest accomplishments.
You can also use established industry standards for co-curricular competencies — such as NACE, DQP, and CAS. Each standard has a list of skills and knowledge sets that students should be competent in upon graduation. You can work backward to match those skills with opportunities and programming on your campus.
Here are some other connections that institutions can help liberal arts students make:
Participation in a language club, Model UN, or improv troupe can boost their communication skills, which is a part of the

Interpersonal

competency.

By holding a leadership position in a club, a student will gain leadership skills, which make up part of the

Teamwork

competency.

Studying abroad contributes to the

Global/Intercultural

competency.

A campus job or research position gains skills that fall under the

Professionalism/Work Ethic

competency.
For more essential learning outcomes, head to our list of 158 skills students gain from co-curricular opportunities. Building reflections into this process will help students self-assess their growth, plus allow staff to better understand how their students learn outside of the classroom.
Gamifying & Automating Essential Skill Development
Demonstrating the value of essential skills to students is crucial — and it must be done early and often. Students are busy, and much to our chagrins, they don't always show up ready and eager to participate in programming.
But by creating clear, tangible learning pathways, we've seen institutions engage up to 98% of their students in co-curricular opportunities.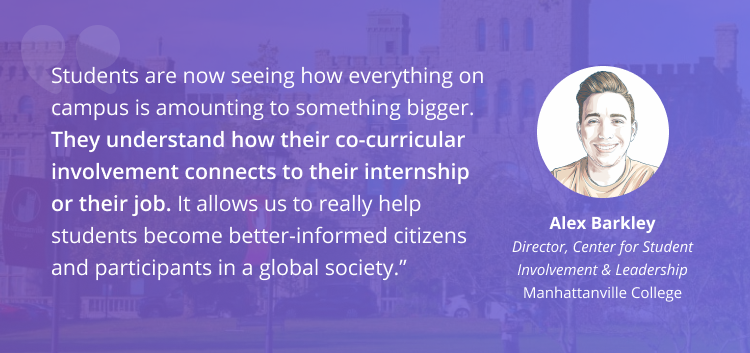 When students can see the progress they're making toward co-curricular competency, they are more likely to engage in opportunities to expand upon learned skills. And being able to choose between multiple pathways motivates students even further. Then, their essential skill development isn't akin to checking off mandatory boxes (snooze); it's like an interactive choose-your-own-adventure game!
Some student affairs departments have even tied their co-curricular programming to a rewards system by assigning points for involvement. Those points become even more valuable when they can be spent in campus bookstores or on tickets for premium events.
Articulating Skills
When it comes to articulating essential skills, it's not just students who struggle to communicate their qualifications; employers are mutually to blame for the disconnect.
"Employers are not always great about articulating the skills they are looking for. Even if they prioritize skills like communication, the job posting might mostly describe the technical skills."

– Michelle R. Weise, Chief Innovation Officer of the Strada Institute for the Future of Work
It's crucial then, that students are prepared to identify the essential skills required for job opportunities and able to articulate those skills to employers.
Encourage students to consult with a career advisor regarding how to best illustrate their skills on resumes and cover letters. You can also lead students through mock interviews, through which they'll gain the confidence to tackle the later stages of a job application.
You can even take this one step further by utilizing tech that will help students see the pathways they took to conquer those skills.
Presence has revolutionized the traditional co-curricular transcript with an innovative Smart Transcript. Students can now interact with their transcript to see which skills they've developed and drill down to the specific opportunities and experiences they had to get them there. This includes all the self-reflections exercises they completed at the time!
By guiding students in these ways, you can help close the "awareness gap" between graduates and employers and set your students up for success.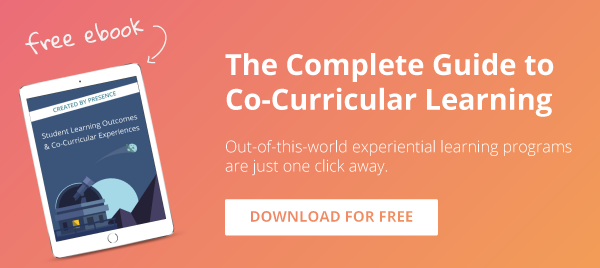 What can we conclude?
No need to prepare a gravestone; The liberal arts aren't dead. By diving into human complexities, this form of education instills students with essential abilities that — unlike many technical skills — cannot be learned on the job.
And as student affairs professionals, we cannot divorce ourselves from the responsibility of helping liberal arts learners become workforce ready. It's not all on faculty. Co-curricular engagement — our terrain — is a critical part of the formula; it's where students can apply, practice, and hone classroom lessons.
Plus, students need someone to help them understand, analyze, and be able to translate their skills. We can be those helpers.
How have you helped to advance the value of a liberal arts degree? What questions do you still have about this form of education? Connect with us on Twitter @themoderncampus.