Among the many superpowers we have working in higher education, one skill most people wish came with more ease is understanding which data and stats really matter.
While tracking data and measuring effectiveness isn't everyone's favorite responsibility, we can gain so much insight from measuring objectives and learning outcomes effectively. Student affairs professionals can view data in context, and can make informed decisions that will have a direct impact on the student experience.
If you're a student affairs professional, it's pretty much guaranteed that your supervisor, Dean of Students, or VPSA has asked to provide results showcasing your efforts. Whether in the form of a end-of-the-year (EOY) report or staff meeting, you may be wondering how to measure success outside of student attendance at events. Thankfully, that's where KPIs or key performance indicators become our most recently developed superpower, and we're excited to share our secrets here.
According to Google, a key performance indicator (KPI) is,
"a quantifiable measure used to evaluate the success of an organization, employee, etc., in meeting objectives for performance."
For student affairs purposes, we can better align the definition of a KPI with the definition provided by The Balance,
"help managers and employees gauge the effectiveness of various functions and processes important to achieving organizational goals."
In effort to understand KPIs (key performance indicators) more myself, I've done research on the subject to provide resources and a starting point for SA pro's who feel rather unfamiliar with KPI's or want a refresh.
Why it's important to know what you're tracking
What are you hoping to get from data analytics? Goals? KPIs?
It's fine to measure and track all of these things, but you need to have a defined purpose in order to create clarity around success. In fact, that's the first question you should answer before considering what you want to measure.
Put another way…
KPIs answer the questions, "Where do I want to go?" and "How will I know I'm getting there?"
More importantly, whatever is accurately measured can be improved upon. You can quantify your efforts over time and understand where to continue to put your efforts, rather than relying on a 'hunch', 'intuitive feeling' or solely qualitative data.
Your student affairs goals require data that helps decision-making around enhancing the student experience. Therefore, it's paramount you know what you're tracking and why.
Additionally, tracking KPIs are helpful for a few reasons. They help:
Communicate benchmarks to prospective students as they compare institutions
Understand how successful students will be in their courses, as they think about securing a job post-graduation
Justify budgetary increases, or restraints/cuts
Utilize some sort of evaluation system for staff members and departments, bringing teams together for a common purpose
Reduce bias in institutional processes, such as hiring or implementing new programs
Serve as a reminder not to rely too much on qualitative data, and intuitive or 'gut' feelings
Identifying Key Performance Indicators
KPIs give a birds-eye view to a department's efforts. It takes a lot of work to capture everything that a department does through the year, and let's face it, it's impossible. It's up to us to determine where should we focus our efforts, and how to accurately and effectively articulate them in a way that makes sense to us, stakeholders, and students.
For example:
Many institutions look to gain more clarity about how student attributes relate to overall student engagement on campus. Knowing your specific departmental and campus student breakdown when it comes to involvement and engagement can give you insight into 'high performing' events and programs, and which programs or campus spaces are most underutilized. What trends do you see at events and programs in terms of student attributes? First-year students? Transfer students? On-campus residents? Off-campus students?
As an example, let's say your objective is to increase perception of community in the residence halls this year. We're going to call this our Residence Life KPI for short.
Here are KPIs we may look at to measure changes in community:
Maintenance satisfaction (communication, how quickly they respond)
Number of community incidents
Roommate changes
Student concern forms submitted
The goal might be to have RA's hold more programming around a specific area in the first 2 weeks of the fall semester focused on community development (i.e. meet the maintainers, etc).
Another objective example would be increasing the diversity of the Student Life team to accurately represent the student diversity at your institution.
KPIs for increasing diversity may look like measuring current student attributes:
Number of first-generation college students
Diverse students in leadership roles
Diverse employees/staff in Director roles
Partnerships/trainings with Human Resources
While none of the KPIs on their own will tell us if the objective was achieved, all of them help determine the direction of success.
Ramapo College of New Jersey measures KPIs over the course of a few years in their 2013- 2018 strategic plan. Here's an overview of how they document and measure determining workplace support: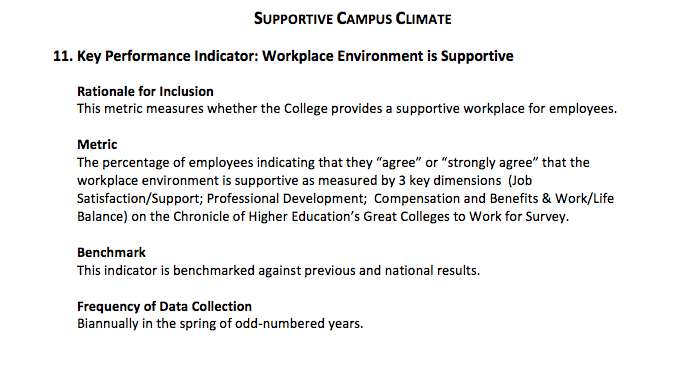 Brainstorm your own list of Key Performance Indicators on your own and with your team. Which KPI's matter most to your department? Which KPIs matter most to you? Why?
Creating a Space for Tracking KPIs
Now that we understand how KPIs allow for increased clarity, focus, and collaboration, let's dive into a tool that will help organize and continuously iterate and measure them throughout the year.
Trello is a great student affairs tool to keep help keep your KPIs in order with analytics, while delegating tasks to your team of student affairs gurus. Best part? It's free. A project management tool like Trello will help your team stay on track with deadlines and you can notify them in real-time (cutting down on e-mails is a plus)!
If you're looking to jumpstart your organization and collaboration, (like… yesterday) then consider checking out this blog post by Trello that gives you an entire overview of how to incorporate assessment and KPIs into a Trello board.
Looking for more collaboration tools? Here are more project management tools to consider.
Additional KPI Takeaways
Ensure KPIs will accurately measure your progress towards overarching departmental and institutional goals
Less is more – focus on 5-7 KPIs at a time
Consider your programmatic, campus or departmental priorities from past assessment – what exactly should you be focusing on in the next month?
Reference student affairs KPIs from other institutions, but remember that you should choose KPIs that are most relevant to your department or institution
Your Thoughts!
Which metrics and goals matter to you? Have you reframed them in the form of KPIs for your office or department?
It's been great to share examples of KPIs, and we'd love to hear which you may use or already use in your data strategies!
Share your favorite KPIs with us on Twitter @hellopresence and give this article a share! It'd be awesome to keep the conversation going.
P.S. If you enjoyed this post, you may also like Partnering Across Campus for Better Assessment, What Your Student Affairs Data Is Not Telling You, and Inspirational Polls for Digital Assessment.
Looking for a tool to help you manage, organize, and track data? Set up a free demo with Presence, the complete student engagement platform today.