Student affairs professionals should be focusing now, more than ever, on preparing students to be leaders in their communities.
Fortunately, the same tools that deliver remote classroom instruction can be used to offer leadership training. Regardless of whether you use these tools to replace your in-person programs or as supplements to your existing lineup, these eight leadership training ideas can improve your students' experiences.
Each training idea aligns with one of the competency clusters that was developed by Dr. Corey Seemiller.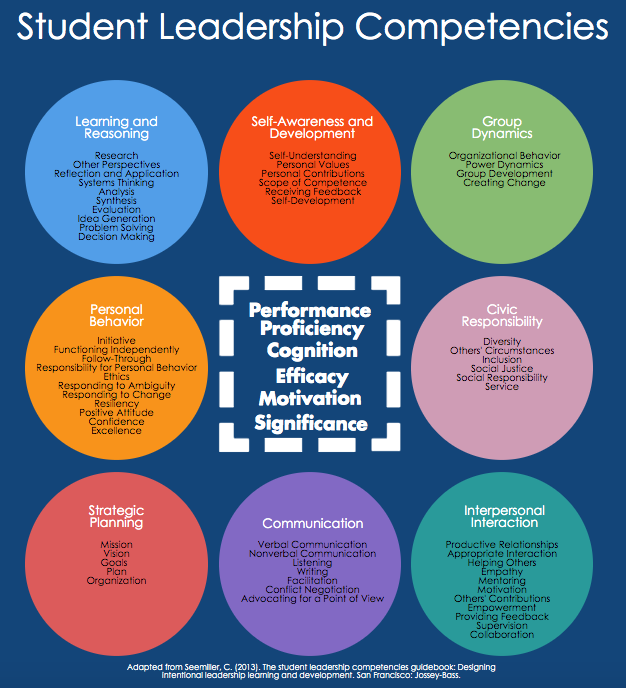 To learn more about the individual competencies within each cluster, check out The Student Leadership Competencies Guidebook.
Learning

& Reasoning

How do you get students to reflect and critically analyze their thought processes? Ask them to draw toast!

Draw Toast is an activity that was developed by Tom Wujec to demonstrate the power of design thinking.

Here is one way to do the activity:

Have students log onto an online whiteboard platform (like Miro, Mural, or Lucidchart). Tell them that they have five minutes to draw the process of making toast. They may use numbers but not words in their drawings and must assume that anyone who will view these drawings has never made toast before. When the five minutes are up, give the students some time to look at each other's drawings.

By observing the different ways that people approach the same problem, students can develop a greater understanding of their own thought processes and learn how to think outside of the box when problem-solving. You can also watch the Draw Toast TED Talk after the activity to help clarify the concept of design thinking.
Self-Awareness

& Development

Activities that are rooted in strength-based approaches can provide a roadmap for students' self-development.

If student leaders take an inventory that uses a strength-based approach, such as CliftonStrenghts, VIA Character Strengths, or the High 5 Test, they can learn about their strengths and possible areas of improvement. Using worksheets and virtual meeting times, have students create a self-development plan based on their assessment results.

You can help students create a self-development plan by identifying opportunities to further hone their strengths. Class projects, new leadership roles, and unexplored hobbies can all help students intentionally improve their skills.

Both VIA Character Strengths and the High 5 Test even have free (limited) versions of their assessments.
Group

Dynamics

Personality assessments that explain why team members interact with each other in a particular manner, such as True Colors and DISC, can help students learn about group dynamics. Students can use their results as a foundation for understanding the culture, politics, and structures of other groups that they join.

There are several free versions of these assessments online. Have student leaders take one and then share their results during their next virtual meeting.
Personal

Behavior

The Myers–Briggs Type Indicator (MBTI) provides a deep dive into understanding personal behavior. Inventories based on it can give insight into students' attitudes, as well as preferences related to information-gathering, decision-making, and lifestyle. Together, these characteristics make up each person's four-letter personality "type."

Students who understand their personality type are better positioned to maximize their leadership potential. For example, when setting expectations for their team or with their supervisors, students who know if they are a judger or a perceiver will be better able to articulate how they view deadlines, workflow, goal setting, and more.

16 Personalities is one of several free type-inventories that students can take online and then review during virtual retreats or one-on-one meetings.
Civic

Responsibility

Starting a discussion on social justice topics with students will always be daunting. But TED Talks can help make it a little less so.

One great way to help students better understand an issue is by watching a related TED Talk together. After, discuss what new things they learned or what new perspectives they've gained. Most importantly, students should be able to demonstrate how they will apply what they've learned to their personal, professional, and academic pursuits. Check out the TED Circles and TED-Ed websites for discussion questions and topic ideas.

Many video conferencing platforms will allow a group of participants to watch a video synchronously through screen sharing. If you go this route, remember to turn on the video's captions. This will improve accessibility, increase comprehension, and serve as a safeguard in case technical difficulties prevent a student from hearing the video.

If you need an asynchronous response method, try setting up a discussion board on your institution's learning management system and ask students to respond to discussion questions.
Strategic

Planning

Have you ever asked your students what kind of leader they want to be? Having them create a personal mission and vision statement can be a great activity to help ground their aspirations.

A mission statement focuses on today's actions; a vision statement focuses on tomorrow's goals.

Creating a personal mission statement can help a student clarify their priorities. Leaders who understand their life's purpose can more confidently lead others.

To create a mission statement, students should consider questions like: Why do I choose to lead? What unique skills do I bring to the table?

Here are some inspirational examples:
"Not merely to survive, but to thrive; and to do so with some passion, some compassion, some humor, and some style." – Maya Angelou

"I want to serve the people. And I want every girl, every child, to be educated." – Malala Yousafzai

"To be a teacher. And to be known for inspiring my students to be more than they thought they could be."

–

Oprah Winfrey
More mission statement examples can be found here.
A personal vision statement, on the other hand, is an aspirational description of what the student would like to achieve in the long-term and how they plan to get there.
To create a vision statement, students should consider questions like: What is my leadership style? How do my passions and values drive my actions?
Here are some hypothetical examples:
"I want to work with young people in the community as a social worker. My talent as an approachable person and my strong commitment to justice have inspired me to assist others who are less fortunate."

"My career goal is to become the CEO of a technology company. I am driven by technology's ability to affect global communication, and I am dedicated to providing technological solutions to empower underrepresented populations."
More vision statement examples can be seen here. Try asking student leaders to create mission and vision statements to share with their peers at the beginning of the school year,.
Communication
Reading body language is a skill that doesn't come naturally for everyone, but your student leaders can learn how to get better at it with the help of several research-backed tools.
The Emotional Intelligence Quiz was created by the Greater Good Science Center at the University of California at Berkeley. Taking the quiz allows students to test how well they interpret facial expressions.
To check for comprehension of this material, you can have students give a one-minute speech over a video call.
Students can prepare for the activity by reviewing these resources:
After each student presents, ask the audience and speaker what they noticed about each others' body language.
These resources can provide additional information about body language:
Interpersonal

Interaction

Student leaders can be effective peer mentors… if they are taught the appropriate language and tools.

Use this Mentoring Skills Checklist to help students reflect on what their strongest mentorship skills are and which skills they would like to improve on. Then, have your students identify current or anticipated future opportunities to mentor someone within their student organization, Greek life chapter, or place of employment.

A great time to review these opportunities is during virtual executive board retreats, leadership conferences, and one-on-one meetings. As with any skill-building activity, plan a time to check in with students about how their mentorship skills are progressing.

These resources can help guide students through this reflection activity:

Consider hiring a trained facilitator who specializes in some of these techniques and tools. There may already be someone from your institution's career development or academic advising offices who is certified! Or, here are some sources for locating trained facilitators:

Committing to transitioning some of your leadership activities into a virtual format promotes greater access. It is also great to have the flexibility of a virtual contingency plan should an in-person meeting no longer be feasible.

Because these activities are all aligned with research-back competencies, you can be confident that you can provide your students with high-quality leadership development.

What leadership training activities have you run virtually? Connect with us @themoderncampus and @JustinTerlisner.