You've probably been hit one too many times with pangs of frustration when your programming board or campus activity board fails at the follow-through when it comes to planning events.
There are a lot of reasons why campus events fail. Students might overcommit themselves, lose interest partway through, or drown in the sea of red tape that often comes with event planning.
A lot of times, though, both students and staff members struggle when it comes to planning and executing a successful event marketing strategy. This is normal! Students don't arrive to your campus as marketing experts, and student affairs professionals aren't required to be masters of public relations.
With that in mind, think back to an event you organized with your programming board that should have gone really well but didn't. It's entirely possible that given the right marketing strategy, that event should have been well-attended.
Hang on to that event in your mind as you read this blog post. I want you to use the tips you're about to read as a mental checklist to learn where you might have performance gaps in the marketing for that event and others on your campus.
Empower

Your Activities Board
1. Generate ideas like pros
Here at Presence, we regularly turn our team into an idea factory. When it comes to brainstorming, we have three philosophies. The first is that quantity is better than quality. That goes along with our second philosophy, which is that a wild idea is better than a reasonable idea. These might seem at odds to everything you've been taught, but it's easier to take many different ideas and refine them into a few great ones.
Our third philosophy is to suspend judgment. All ideas are written down with no positive or negative feedback. This means the creative process isn't influenced by the opinions of other people in the room. Take a look at the creative problem-solving process for more details on how to do this.
A great technique to use with students is to spend 10 minutes writing as many ideas possible on sticky notes. Afterward, categorize the sticky notes on a wall or whiteboard in categories like event size, budget, time of year, location, or target audience. You'll be able to spot areas that need more attention while getting the students to think creatively outside of their own experience.
2. Create a marketing calendar
The most effective marketing strategies are those which are planned ahead of time. But with the number of events we plan on campus, it can be hard to keep track of every phase of the marketing process. Putting all this into a calendar will keep things organized and responsibilities clearly laid out.
Students often respond better when they're able to visualize the marketing process. Tools like AirTable are a great (and free) way to collaborate on projects. Tasks can even be viewed as a spreadsheet, kanban board, or calendar.
When designing a marketing calendar, make sure to include:
Type of promotional activity —

social media, email, posters etc.

Date of deployment —

A specific day, week, or throughout a month

Specify the platform

— Twitter, Student Newsletter, Bus Shelter, Quad

Responsible party

— CAB Exec, Student A, Student Volunteers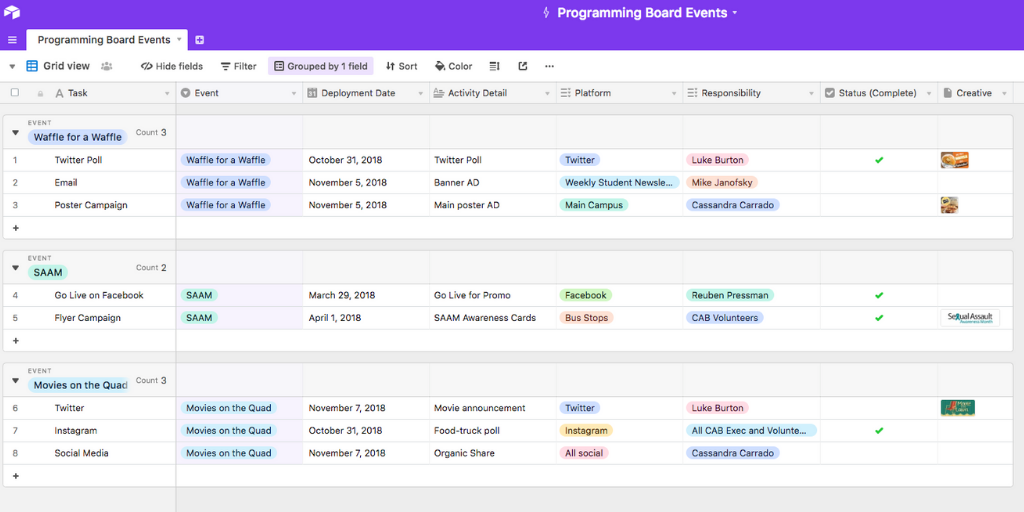 3. Schedule your social
There are so many free social media scheduling tools available that there's really no reason why you and students shouldn't be planning ahead of time. Platforms like Buffer, Tweetdeck, and Hootsuite are all great platforms that allow cross-platform scheduling.
Dedicate 10 minutes of each programming meeting for students to schedule their social media postings for the next event. If they don't want to post anything, just interacting with a post will help increase its reach to a larger audience. We talked a lot about the dos and don'ts of social media in our blog about using Facebook.
Getting students to schedule social media posts ahead of time gives you peace of mind and keeps forgetful students feeling guilt-free.
Need some ideas for promoting events? Here are a few:
Go live on a social platform to promote the event and answer questions

Hold an online giveaway that students can tag friends in to win free tickets or swag

Create polls to decide event details like artists, food, and themes.
4. Analyze attendance
I can't stress enough how important attendance tracking is for perfecting a marketing strategy. Gathering this data over time will paint a picture of which events do well and why. If you use a check-in system that is hooked up with your student information system, you can even see which students are attending (or not attending).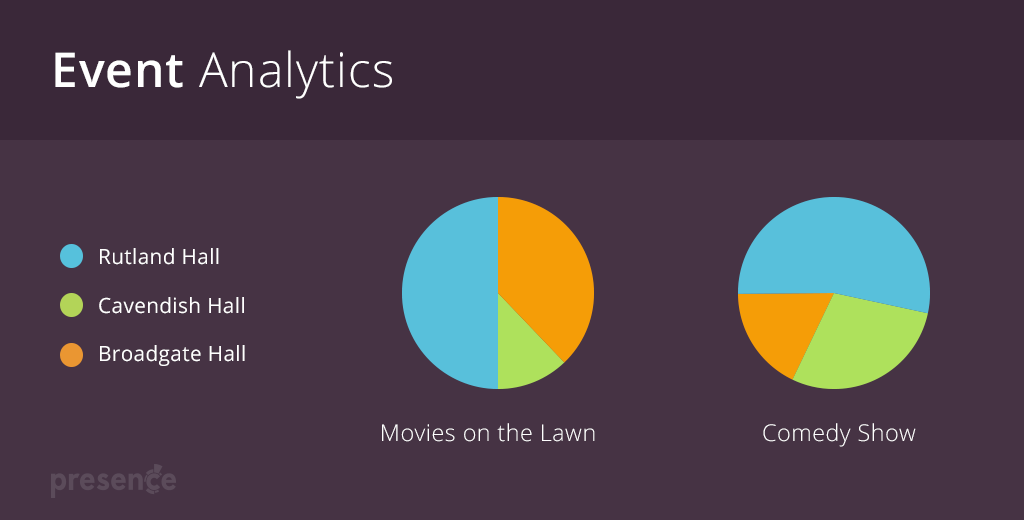 Then, let your student organizers see these numbers. It's a great development opportunity for them to figure out what went well and what didn't. When you put the evaluation process into the students' hands, they're more likely to buy-in to the process and commit to future events. When we evaluated programming at my last institution we asked the students what they would stop, start, and continue to do.
5. Benchmark your events
Once you've gathered data about your programming, use it to benchmark against other departments' programming — or even another institution's programming board. Benchmarking helps find performance gaps, areas for improvement, and opportunities to share best practice when it comes to promotion. If you're not sure how to get started with benchmarking, take a look at this great blog post from Ruben Mercado.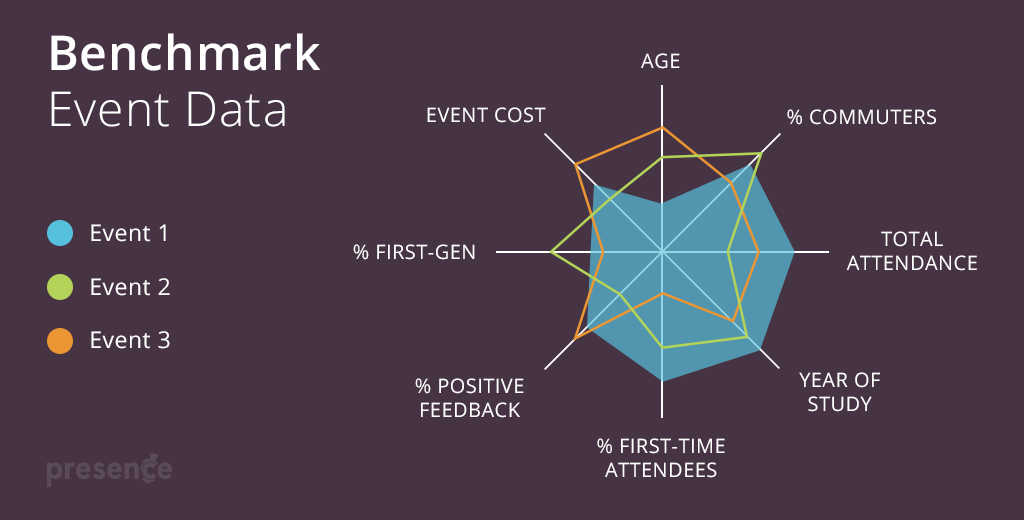 Things to think about when benchmarking events:
Cost of the event and marketing promotion

Overall attendance numbers

Attendee demographics — year of study, age, commuter status etc.

Event feedback
6. Conduct a campus listening exercise
A great marketing strategy tries to seek out new and unique audiences. If your executive team all belong to a similar student segment, chances are their marketing efforts will only appeal to students that are a reflection of themselves. Diversifying the team is a great way to break out of that echo chamber, but conducting proactive campus listening exercises will expand that reach even further.
Task your programming board to talk with students who they usually wouldn't, ask them what types of events they'd like to see, where they go to find out about events, or barriers that prevent them from attending.
Afterward, have the students report back on what they've learned and start to build profiles of the wider student audience. In student affairs, we have a habit of segmenting our student audience into broad categories that often incorrectly homogenize large student groups. Yes, commuter students will largely need events organized at a certain time, but that doesn't mean they also only attend food-related events. Segment your students based on interest and activity.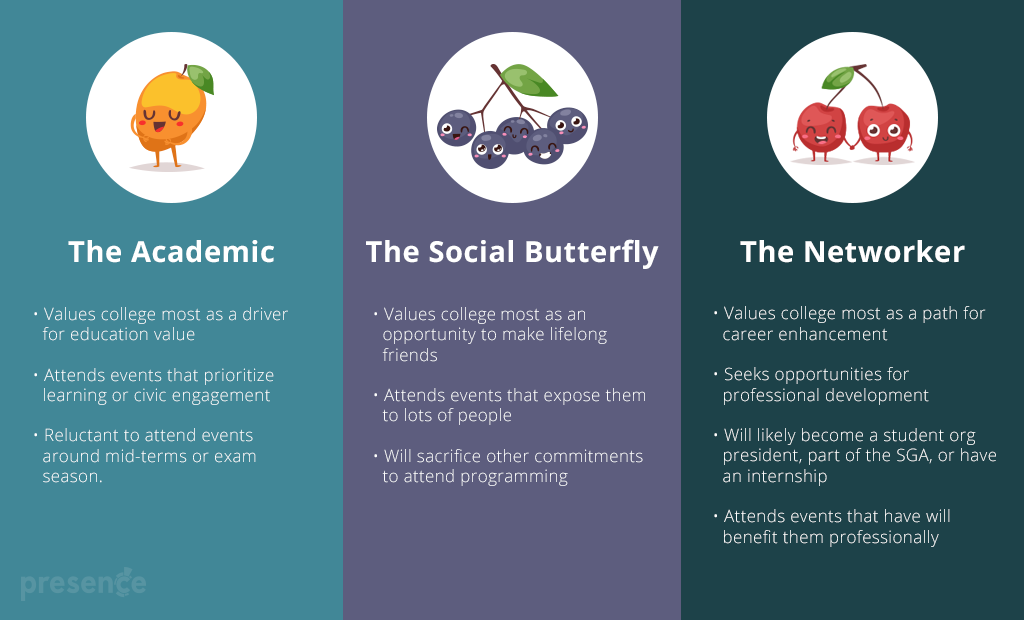 Thinking back to your programming, how evenly are your events appealing to the interests of these example students? Is your programming board more likely to create events that only attract the social butterflies?
While conducting a listening exercise, you can use that time to scope out where the hotspots are on campus so you can plan some exciting guerilla marketing techniques. Places with high foot traffic or lounge areas are a great place to start!
7. Deliver marketing masterclasses
Treat the programming board as an opportunity to develop your students. Deliver marketing masterclasses before or after your scheduled meeting, or hold drop-in classes. You could teach your students how to use Photoshop or Canva to design flyers, posters, and social media graphics for upcoming events.
Ask your campus' marketing team to come in and deliver workshops on things like maximizing your social media reach or the secret to creating memorable ad campaigns.
If you have a co-curricular strategy, create a marketing pathway or certificate track to formalize the process and incentivize students. Break down the skills of marketing into different levels so students can see what they have to do to achieve a competency. If you are just starting out with student learning outcomes, we wrote a basic introduction to get you started.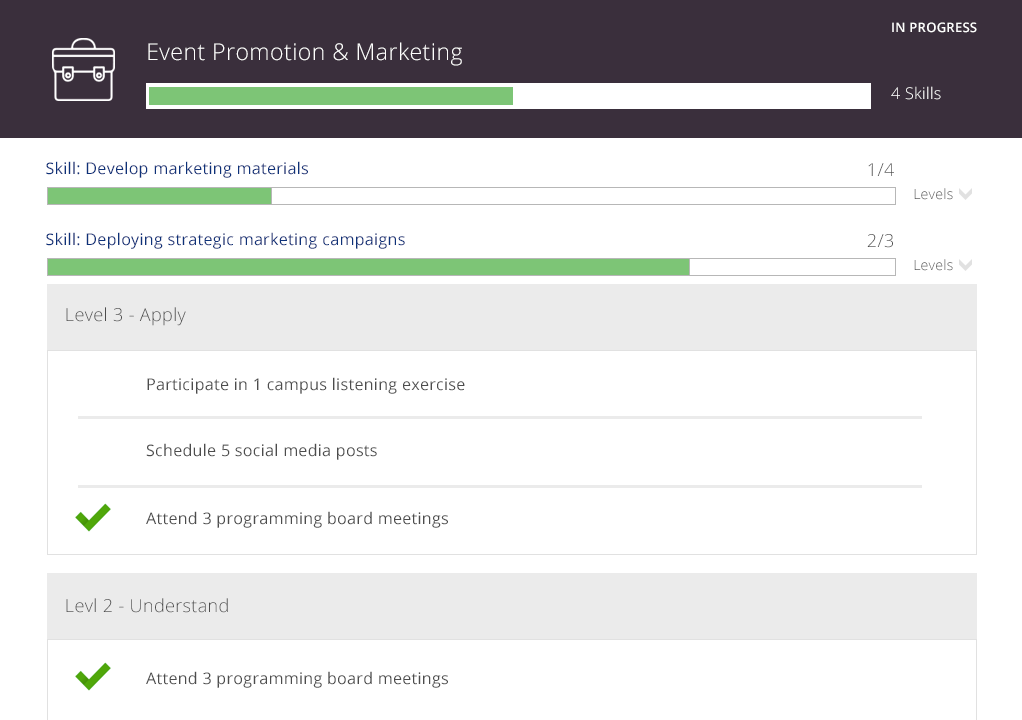 Bonus: Resources you can give your programming board
Don't forget that you don't need to do all the teaching yourself. There are plenty of helpful resources that you can point students to if they want to develop further. We pulled together a few of our favorite books on this topic:
Motivating the Middle: Fighting Apathy in College Student Organizations
Made to Stick: Why Some Ideas Survive and Others Die
The Leadership Secrets of Santa Claus: How to Get Big Things Done in YOUR "Workshop"…All Year Long
The key to supporting a programming board is to be both agile and adaptive to the students you're working with, but that doesn't mean you can't create consistency in your marketing strategies. By creating a well-defined marketing structure, you can build a framework for the students to dream up wonderful and exciting marketing ideas without them biting off more than they can chew.
Let us know what techniques you use to empower your programming board via Twitter @themoderncampus and @LucasBurh!