As student affairs professionals, there are many ways we can prepare students for their upcoming transition from college to the next phase in their lives.
Through their involvement or on-campus employment, our students do a lot! When I talk to friends outside of student affairs about what the students on our programming board do, they are amazed.
In so much of the work we do with students, they are managing their time, conflict, budgeting, scheduling and running meetings, responding to emergency situations, and the famed "other duties as assigned" that can encompass thousands of things.
Students: Put that stuff on your resume!
The National Association of Colleges and Employers identified the top skills employers are looking for from recent college graduates in 2018: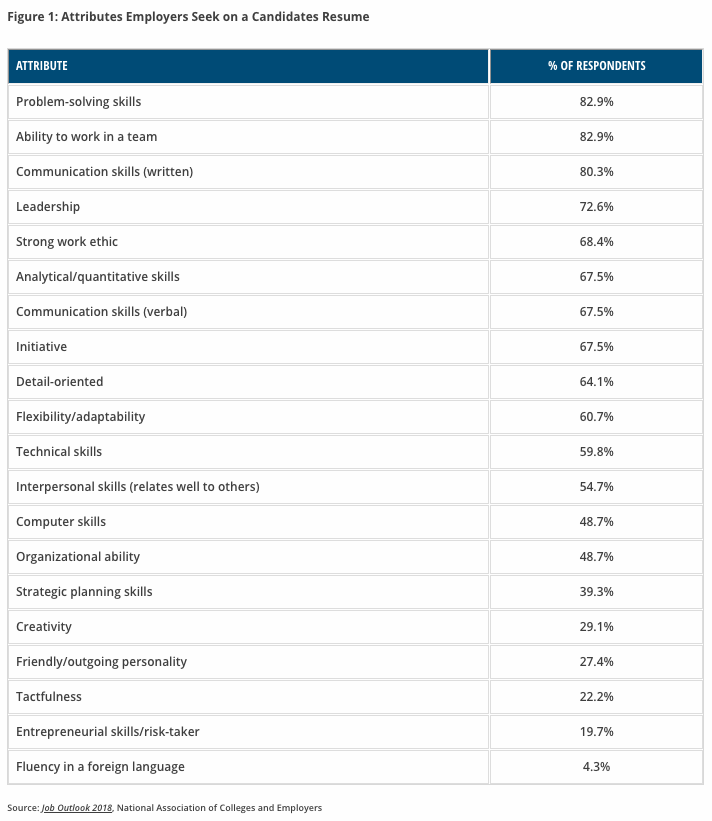 Look at that top five: Problem-solving skills, ability to work in a team, written communication skills, leadership, and a strong work ethic.
The students who we work with in our roles practice these skills all the time! Work with your students to identify which of their responsibilities to highlight to address these points. A fresh set of eyes can make a huge difference!
Here are some ways that student affairs professionals can help students feel ready for life after graduation:
1. Help them recognize their skills
Problem-solving skills
In any role students take part in, something is going to go wrong at some point. How students deal with those roadblocks is critical to their success, and helping them develop that skill is so important.
It's hard to teach problem-solving, as it is something most often acquired by trial, but devoting meeting times to some professional development in this area can be very beneficial.
A helpful exercise to develop this skill is creating hypothetical scenarios and having students work on them during 1:1 or group meetings. This creates a controlled environment in which you can create some potential scenarios relevant to your work and see how students respond before such an issue happens on the job.
For instance, if you work in campus programming, you could create a scenario in which students have exceeded their budget and still short on some supplies for an event. Identify the ways in which students solve problems and address any issues — it will support their professional development and help make your team more effective in the area of problem-solving.
Ability to work in a team
I think every student affairs professional has heard a student complain about group projects at some point (and maybe has some bad memories of their own from undergrad!). But working on a team is something that is going to be an aspect of their life moving forward, so it's best to learn how to do that now!
As you work with your students, find opportunities for them to collaborate with their peers as much as possible. Some things they could work on as a team could include planning an event, planning a training session, running a meeting, mediating a conflict, or planning a social event for your team.
Following up and getting feedback is an important part of this process. Ask critical questions: What was their teamwork experience like? How did individual members of the group do as a team? How did you do as part of the team?
Following up on this and gauging their level of comfort in a team setting can help them prepare for their life after college when teamwork is such a desired and important skill.
Written communication skills
This can be a huge learning area for students. Depending on their field of study, students may not be getting much writing experience academically beyond their entry-level courses.
Even then, academic writing is very different than professional written communication, like reports or correspondence with supervisors.
Try to create as many opportunities as possible for students to work on their professional writing skills. See if there are any reports they can work on or have them narratively summarize their performance at the end of the semester.
Taking time to work on this now can save them critical conversations later!
Leadership
It is important to recognize that by simply participating in a co-curricular activity beyond the classroom during their time in college, our students are already displaying leadership capabilities. The key now is intentionally developing those skills further.
Find ways to give your students more responsibility and leadership experiences. Take a step back and delegate tasks out to students can be an effective tool. Is there a meeting they can manage? Is there a training session they can develop and run? Are you familiar with organizations they might be interested in getting involved with?
Get creative with things they can put on their resume as tangible leadership experiences.
Strong work ethic
This can be harder to teach, but it is important for students to start working on it now. As student affairs professionals, we're interacting with students during a highly developmental phase of their lives. That means that we have the unique opportunity of being able to identify and instill values that will help them in the workforce.
Taking time during meetings with students to check-in, see how they feel about the work they are doing, and offer critical feedback can help set good work habits early on.
2. Utilize your network
Student affairs professionals are always joking about how small our field is, but it's true. We all know someone who knows someone at some such place.
If you have a student interested in applying for jobs in a certain geographic region, ask around. Chances are, you'll find someone who is in the area and may know of job boards that are less easily found. If a student is interested in a particular field, see if you can connect them to someone you know in that particular field. An informal interview, shadowing opportunities, or even an internship can go a long way to help them prepare for that next step in their career.
Steven Rothberg of CollegeRecruiter.com identified 7 networking tips for college students and recent graduates that included: Volunteering, interning, getting a part-time job, adopting a mentor, getting to know their teachers, and joining professional student organizations. We can help with all of these!
Taking the extra step and helping students make that connection is important.
3. Review their writing
Many students come into college without a resume or having ever written a cover letter. Sitting down with students and helping them with their writing can help get them in the door for an interview and help reduce the anxiety around applications.
Provide examples of cover letters you may have successfully used in the past that students can use for reference. When reviewing their resume, make sure they have identified all of the important aspects of the role you have worked with them in and are highlighting relevant points.
Helping them understand the difference between the resume and the cover letter can also be necessary — cover letters shouldn't just restate your listed experience! If your campus has a career services department, they may be able to offer more in-depth advice. If you have a large student staff, career services may even be interested in offering an "in-service" just for your student staff during one of your team meetings.
4. Interview them
Interviewing is tough, even when you're a seasoned professional. Setting aside some time to do a mock interview can really go a long way for students leaving college for professional roles.
Volunteering to do a practice interview with your students can help them anticipate questions, identify any nervous habits they have that may come out during an interview, and work on their response delivery.
Your career services office may offer mock interviews and other tips to prepare for the job search. Getting to know people in these offices and being able to connect students to them can be extremely valuable. This also helps with establishing campus partnerships!
5. Call them out (gently)
Sometimes in their roles as student workers or volunteers, students may not think of what they're doing as a "real" job or as important as their eventual full-time job.
It is important to instill in students the value of treating their roles seriously now to prepare them for when they have their first full-time job out of college. Make sure they are showing up on time, following any office or organization rules, and following through on commitments. If you notice any areas they can improve upon, make sure to let them know.
Having those developmental conversations now can help with their transition into the professional world later.
6. Keep them encouraged!
Job searching in and of itself can be a full-time job. The process can be long and discouraging for college students who are going through it for the first time. Be sure to help them stay encouraged and motivated!
Check-in about how it's going, offer advice, send funny memes to cheer them up — whatever it takes. Being there with them throughout the application journey is just as important as the rest of the process.
As student affairs professionals, we guide students during their time at our institutions and help them find their place and grow as individuals. But our work doesn't stop at graduation! As they get ready for that next step, make sure to follow these steps to help prepare them for this life transition, because the day they tell you that they got their dream job or got into their ideal grad school will be so rewarding.