Imposter syndrome was originally named the imposter phenomenon in 1978 by psychologists Pauline Rose Clance and Suzanne Imes.
It's loosely defined as doubting your abilities and feeling like a fraud. It disproportionately affects high-achieving people, especially women and people of color, who find it difficult to accept their accomplishments based on their own merits.
How does imposter syndrome affect students?
College students especially may feel like imposters as they navigate internships, research opportunities, and leadership positions in their higher education institutions.

Imposter syndrome is notable for not affecting all students' experiences similarly. One student may feel alienated in their class, while another may feel dishonest or unworthy when seated among other bright and deserving peers.
Despite the fact that it is far from the truth, experiencing imposter syndrome can make students feel unimportant.

Even if they were previously bright students, those who experience such stress may see their confidence crumble and their academic performance decline when they fail in separating feelings from facts. They begin to doubt themselves constantly and hold themselves accountable for everything they do, affecting their mental health and their academic success.s.
So, how do we help students suffering from self-doubt and self-criticism overcome imposter syndrome and feel more confident in reaching their goals — inside the classroom out of it?
Build a supportive foundation
1. Create and/or advise a student group to support students who are interested in pursuing careers in which they may hold a minority identity among other professionals. The University of Connecticut's Women in Math, Science, and Engineering club and the University of Nevada's Black Business Student Association are great examples.
2. Start a mentoring program to support students of underrepresented backgrounds — like University of Cincinnati's SABER Latinx Mentoring Program. Mentoring can combat imposter syndrome by modeling success, creating networking opportunities, and addressing challenges the mentor has faced in their professional life.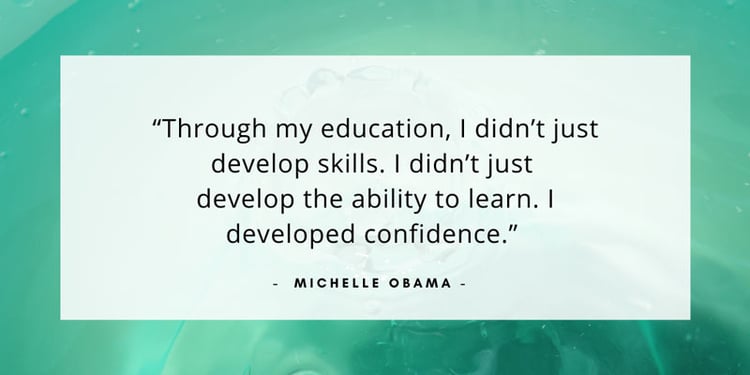 3. Invite a guest speaker to discuss how certain ideologies of professionalism are harmful and how students and staff can combat them. Look for a speaker with a background in human resources, equity and inclusion, and/or a field that will resonate with your campus's academic emphasis. As writer Ariel Blaser put it, "Guidelines for how to be more professional are really just rules for how to seem more like the privileged."
4. Create a FAQ or how-to guide for students to address the daunting early-career questions they may have, such as "when should I start looking for an internship?", "how do I ask my professor for a recommendation?", or "how do I get involved in research on campus?".
Emphasize support resources for students in internships, leadership roles, and alumni
5. If your institution does not already do so, offer workshops or coaching sessions about commonly intimidating workplace concepts such — as interview preparation, dressing for success, and salary negotiation. At Goodwin University, alumni are encouraged to attend workshops like these to continue to grow professionally.
6. Invite alumni to talk to current students about their professional experiences. Connecticut College's Sundays with Alumni provides students with opportunities to learn from those who have walked in their shoes, including working through imposter syndrome.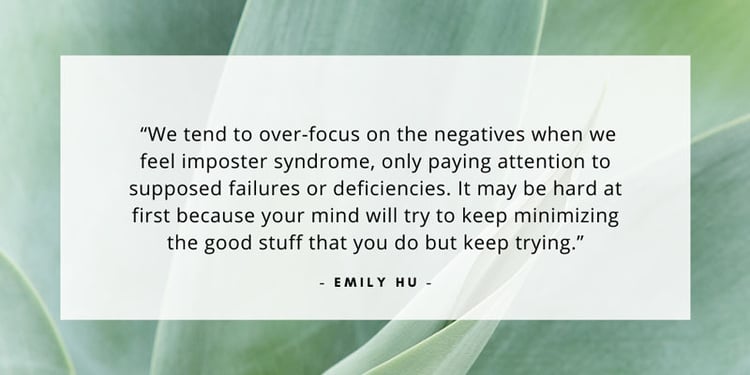 7. Create a campus alumni network. I'm highly invested in my alma mater's Mentor Network. Each month, I'm matched with someone in my field to connect with via instant message or LinkedIn or to schedule a meet-up. It has been empowering connecting on social media with earlier alumni who have followed a similar career trajectory to mine.
Analyze and address campus culture norms that contribute to student imposter syndrome
Campus culture can affect how and if students envision themselves as leaders. Cultural norms can be inherent within large initiatives, the background of campus staff, and institutional policies. And, even if you don't realize it, cultural norms likely influence how you interact with students of different backgrounds.
8. Get involved in diversity, equity, and inclusion efforts. This could look like starting a book club, volunteering with a student activism group, or asking your DEI coordinator how you can contribute towards bettering the campus community towards marginalized students.
9. Further your department's — and your own — education regarding issues of equity by attending a leadership-focused or national conference, such as NASPA 2021 Virtual, the Yale Women's Leadership Program, or the Global Leadership Network Summit. Look for sessions that offer practical takeaways you can bring back to campus.
10. Have a conversation with your supervisor and/or coworkers about diversity in your department. Discuss how to improve professional or student staff development, hiring practices, programming, and marketing materials. Although student enrollment has become increasingly more diverse, many colleges continue to hire primarily white and affluent educators and administrators.
11. Identify and improve upon your own biases related to professionalism that may be influencing our relationships with students. White supremacy culture explicitly and implicitly privileges whiteness and discriminates against non-white professionalism standards related to dress code, speech, work style, and timeliness. Check out these eight tactics to identify and reduce your implicit biases.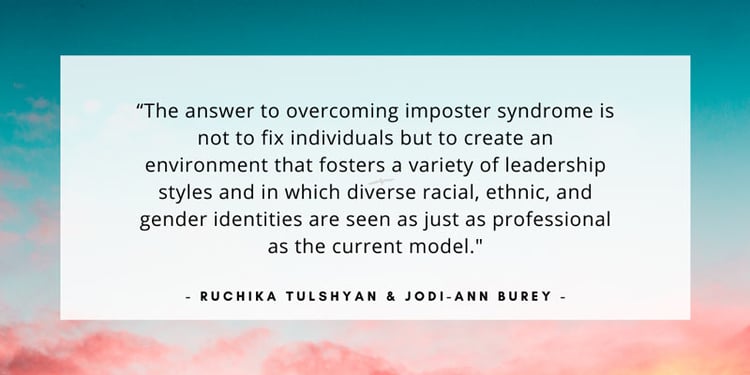 I hope that these methods help your students imposter feelings, think less of themselves as imposters and more as trailblazers.
How are you combatting imposter syndrome on your campus? Connect with us on Twitter @themoderncampus.