Juneteenth has been celebrated since 1865, but the holiday is still largely unknown to many Americans.
To explain what the holiday is about, we need to refer back to the Civil War. Abraham Lincoln's Emancipation Proclamation was an executive order issued on September 22, 1862 and made effective on January 1, 1863, but it did not end slavery in the United States for two reasons: First, the language was limited and excluded many states and areas; and second, it relied upon enforcement.
A more concrete end to slavery occurred more than two years later, in April 1865, when the Confederacy surrendered to the Union. Then, on June 19 of that year, Union Major General Gordon Granger read General Order 3 to the people of Galveston, Texas:
"The people of Texas are informed that in accordance with a Proclamation from the Executive of the United States, all slaves are free. This involves an absolute equality of rights and rights of property between former masters and slaves, and the connection heretofore existing between them becomes that between employer and hired laborer."
Celebrations broke out amongst newly freed African Americans, and June 19th was thereafter known as "Juneteenth" or "Black Independence Day." Juneteenth represents a celebration of the ending of slavery in the United States as well as a celebration of the achievements and perseverance of African Americans. It is important to note that General Order 3 occurred prior to the ratification of the 13th amendment and did not completely end slavery even in Texas.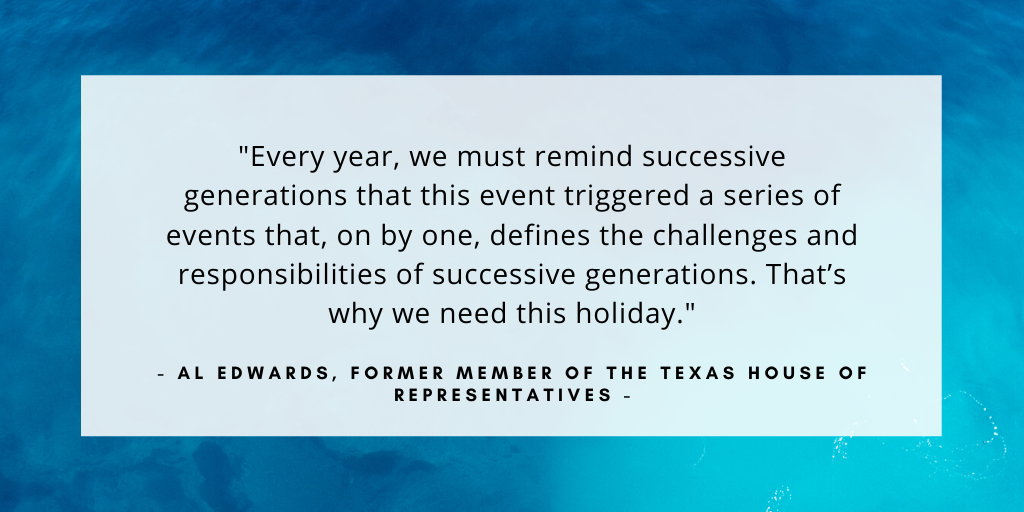 Juneteenth is now officially recognized in 46 of 50 states. It's even celebrated in areas of northern Mexico, where enslaved people escaped to prior to the end of slavery in the U.S.
Juneteenth is a meaningful holiday that highlights the African American experience. As a student affairs professional, you can celebrate Juneteenth by thinking about who you can involve, how you can collaborate and engage with students and coworkers, and how you can celebrate it — on campus and beyond.
Who can you involve?
Juneteenth is a celebration of the vast African American experience. Many campuses have faculty and staff with knowledge and expertise of the African American experience with respect to history, political science, economics, art, dance, music, sociology, religion, and more.
You could also invite African American alumni to talk about their experiences at your institution and to take part in the celebration. That personal experience and connection is essential.
Additionally, seek out individuals in your community for knowledge and a personal, localized experience. There are likely many people in your community who've experienced struggles and triumphs that will resonate with students.
You can start by searching for a local affiliate of the Urban League, Black Chamber of Commerce, Association of African American Museums, NAACP, or other prominent African American organizations. You can also seek out help from local chapters of historical African American sororities and fraternities, as well as churches and social justice organizations.
What are some ways to collaborate and engage with others?
Because Juneteenth involves so many topics related to African American history, celebrating it is a great opportunity for cross-campus collaborations.
Partnering with faculty allows you to emphasize learning outside of the classroom and further your commitment to celebrating diversity. Faculty can lead programs that highlight the importance of the African American experience in their fields of study while building rapport and working on ways to engage with students.
Additionally, faculty can use this celebration as an opportunity for reflection and to evaluate their courses. It is important that faculty take an intersectional approach to their teaching that incorporates race, ethnicity, gender, sexuality, and other aspects of identity.
Juneteenth celebrations can also be used as a recruitment tool by working with your institution's admissions team and the local community. Invite African American high school students to your institution to learn about and celebrate Juneteenth while also giving them an opportunity to meet with current students, alumni, faculty, staff, and community members.
Juneteenth celebrations can be used to engage students in person or online. Because Juneteenth occurs in the summer, your programming will depend upon your student demographics. If you have a significant number of students on campus, you can work with them to create in-person programming for Juneteenth.
Online programming allows you to keep students engaged no matter where they are. You can create programming utilizing the voices and ideas of people who might not be able to appear in person. This is especially helpful right now, during the COVID-19 pandemic, and can even be great once students return to campus — if you have limited funds and can't afford to provide travel or lodging to guests.
What are some programming ideas for Juneteenth?
Juneteenth is for everyone, and there are numerous ways that student affairs professionals can engage with incoming students, current students, alumni, and the community.
Some ways that you can celebrate Juneteenth include:
Utilizing faculty and staff on campus to hold lectures, panels, and discussions, either online or in-person. Here are some topic ideas:

Slavery (pre-Juneteenth) and events after Juneteenth that are essential to African American history (such as Reconstruction, the Great Migration, the Civil Rights movement, and redlining)

Contemporary ideas that impact African Americans today, including the racial-wealth gap, reparations, housing, jobs, prison reform, drug reform, policing, and health care disparities

How the law and medicine affects African Americans (would be a great opportunity to partner with your law or medical school)

The intersections of identity in the African American community across gender, sexuality, religion, socioeconomics, and more

Highlighting important African American figures and events, especially those in your community, through social media. Provide links with more information about people and events, as well as organizations to support their causes and interests. For instance, in addition to an artist or musician, you can also highlight a local art or music company that's owned, supported, or run by African Americans in your area, and encourage students to support or donate to them.

Creating games related to

African American history

that can be played in-person or online, such as trivia or two truths and a lie.

Working with your library staff to create a list of literary works that highlight African American culture and experiences. Set up in-person or virtual discussions that analyze the work, a specific character, or a specific excerpt from the work.

Screening

television shows

,

movies

, or

documentaries

about the African American experience. Also, consider hosting a group listening session of

podcasts about race

and/or

podcasts produced by African Americans

. It is important to hold discussions after so that everyone can process the content together.

Partnering with religious groups/organizations on campus to create programming that highlights the role that religion has played in African American culture and events, such as the Civil Rights movement. One example of a creative option is a

Juneteenth seder

.

Partnering with

cultural centers

, African American performing arts centers, and theatre, dance, music, and art departments at your institution to host events and programs.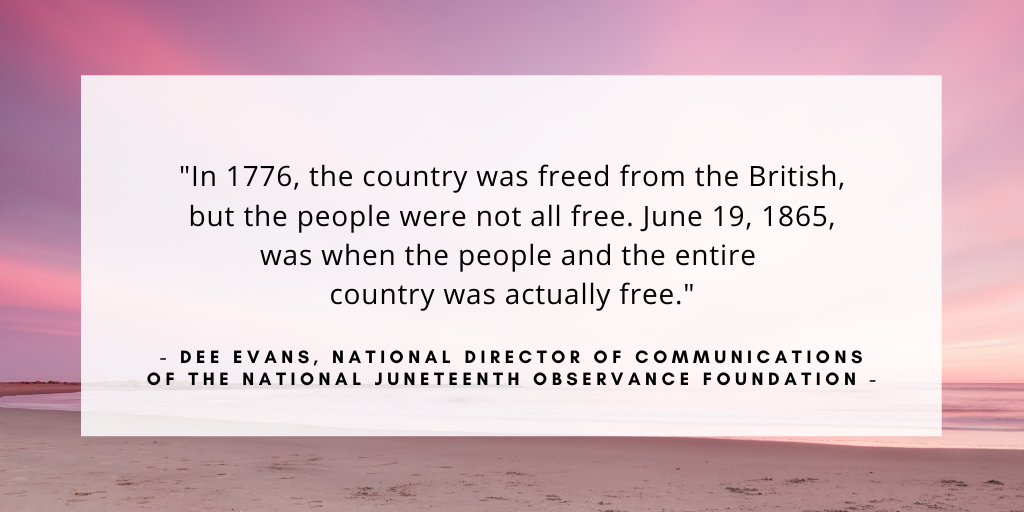 Juneteenth is the oldest known U.S. holiday celebrating the end of slavery, and while it is acknowledged at most state levels, it is still not widely known among the general public.
As student affairs professionals, we have an opportunity to celebrate Juneteenth and make sure that our campuses understand that the African American experience is a crucial part of the entire American experience.
Do you plan to celebrate Juneteenth? We'd love to hear about your programming ideas! Tweet us at @themoderncampus and @MarceliusB.