On November 3, all 435 seats of the United States House of Representatives, 35 seats of the Senate, and the office of President of the United States will be contested.
Many other state and local elections will also be held that day.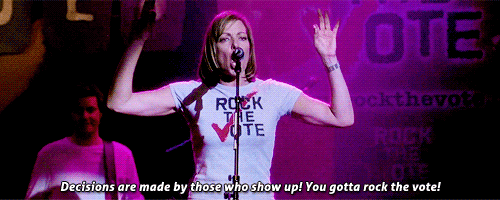 Yet, democracy does not end after election day. State and local elections occur at other dates and years, and political decisions are made every single day. With social media allowing political conversations to happen between anyone, anywhere, at any time, it's vital to foster environments that allow students to explore critical political issues and the importance of getting and staying involved in civics — even after election day.
In 2016, only 46.1% of registered voters 46.1% ages 18-29 showed up to the polls. However, college students are increasingly exercising the right to vote; the number of eligible college students voting in 2018 increased by 19% from 2014.
So how do you encourage students to not only vote but spark interest in political involvement and a lifetime of democratic participation and education?
Start by taking an inventory of the student democratic involvement already happening on campus
Many campuses have student groups directly or indirectly related to democracy and political advocacy.
Direct groups include:
College Democrats/Republicans/Libertarians

Young Americans for Liberty

Political Science Associations

Young Democratic Socialists for America
Additionally, indirect groups may also play a large role in encouraging students to vote.
These include:
Human rights interest groups

Environmental advocates

Service groups

Model United Nations

Student newspapers
Although these groups are not directly focused on democracy, they often seek to educate, discuss, or fundraise towards a certain area of policy.
Next, identify student needs and interests
You may already have a feel as to what issues resonate most deeply with your students. However, taking the time to collect data can provide support from higher administration for taking action to address student body needs.
Utilize surveys and forms to find out which issues, programs, or educational opportunities students on your campus are missing or would be excited to learn more about.
Ask the following questions:
Are you registered to vote in the district where you currently reside?

Would you be interested in attending a program or virtual event series about how to register to vote or request a mail-in ballot?

Do you know where your polling location is?

Do you have reliable transportation to the polls?

Would you like to get involved in political engagement? (Such as volunteering at a polling station, helping others register to vote, or joining a club on campus)

What are the top political issues that matter most to you?

What issues would you like to learn more about?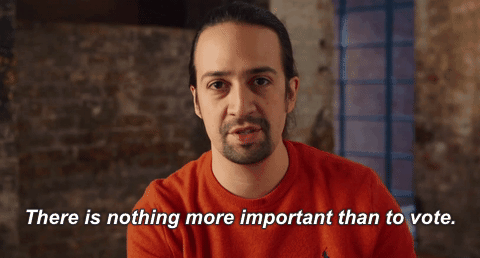 If your office does not have the time or resources to create and send a mass survey, utilize your institutional research office, assessment staff, or other resources available across the nation.
For example, Tufts' Institute for Democracy and Higher Education examines data on student voting and shares it with participating campuses. Membership is completely free. The growing database includes more than 1,100 campuses and 10 million student records across every state and institutional type.
Utilize the resources already available to you
Once you have narrowed down what your students need, make a plan for what your office or department can do to support student democratic engagement.
Developing political engagement is certainly not reserved for any single office, so none of these ideas are restricted to one individual focus area within student affairs. Rather, we should all work together!
Build student government

through advising, support, and opportunities for leadership development. Many experts

believe that

student governments build campus community and teach students about democracy.

Encourage student leaders to

create campaigns

to boost student voter registration and democratic education.

Make academic advising a one-stop-shop for registering for classes and registering to vote. Similarly, your financial aid office may be able to provide students information on voting when renewing their FAFSA or student services may add a link to their website,

like National Louis University has done

.

Decorate the campus union or your office with election theme decor — for elections large or small, including student government elections. Think red, white, and blue.

Provide transportation to polls and other political events on or near campus.

Make democracy and civic engagement an official institutional value by including it in vision statements, institutional goals, and departmental missions.

Invite speakers to campus (or your virtual programming) to talk with students about the value of politics and civic engagement. Local politicians, such as city council people, can be great choices.

Include a module or session about civic engagement in your new student orientation.

Encourage resident advisors to promote civic engagement through bulletin boards and programming on local and federal elections, or issues students are passionate about.

Recruit alumni to talk with current students about their careers or volunteer work in politics, governments, or nonprofits.

Share internships, volunteer opportunities, and political

job openings

through the career center.

Support and promote Greek organization's

philanthropies

, which are often focused on social issues.

Have

clear guidelines

on permitted forms of student flyers, protest, and other forms of speech.

Promote equity and inclusion by making all of these events and opportunities

accessible

to all students.
Again, having the data to prove the needs of your students can help when it comes time to discuss the budgeting for these initiatives.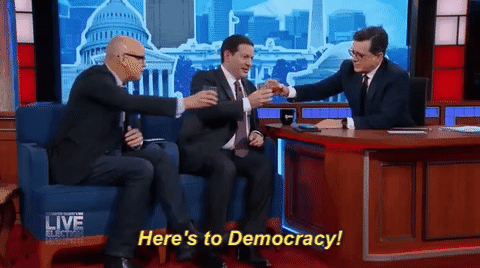 Collaborate with outside groups
There are a number of non-profit organizations that frequently collaborate with campuses to encourage democratic engagement. They include:
In addition to benefiting from their expertise, utilizing these nonprofits and government resources can help departments with tight budgets save on monetary resources.
Promote democracy after the election
Democratic engagement is about so much more than voting for president once every four years. By promoting civic involvement outside of voting, you'll include international students, students under the age of 18, and formerly incarcerated students. Plus, you'll support democratic engagement after graduation and boost student interest in local politics.
Some ideas for promoting democratic engagement outside of the federal election include:
Advertising state and local elections during campus events and in student newsletters

Promoting speakers, representing a variety of viewpoints regarding issues that are important to students

Highlighting students who are involved in politics or nonprofits through social media shout outs, volunteer spotlights, or

award nominations

Encouraging voter registration year-round rather than solely during election season

Inviting elected and campaigning officials to campus

Promoting student government to take actions that focus on student issues on and off campus such as hosting both food drives on campus and service trips battling hunger off campus

Espousing institution-wide values of democracy and critical thinking
With empathy, resourcefulness, and communication, you can build a campus community that supports lifelong student democratic engagement.
Whether it's voting, advocating for climate change awareness, or protesting racial justice, students are using their voices to fight for the issues that will affect generations to come. With many campuses seeing a recent rise in student protests, Forbes has named 2020 "the year of the student protest.
By uplifting civic engagement, institutions can further support the development of the leaders and critical thinkers of tomorrow.
How are you promoting student voter turnout and yearlong democratic engagement? Connect with us on Twitter @themoderncampus.