I first learned about Bloom's Taxonomy in graduate school.
As an undergraduate English major, I remember being fascinated by the colorful wheel and all the verbiage that fell into each category. All of these synonyms for create, evaluate, analyze, apply, understand, and remember? Nifty!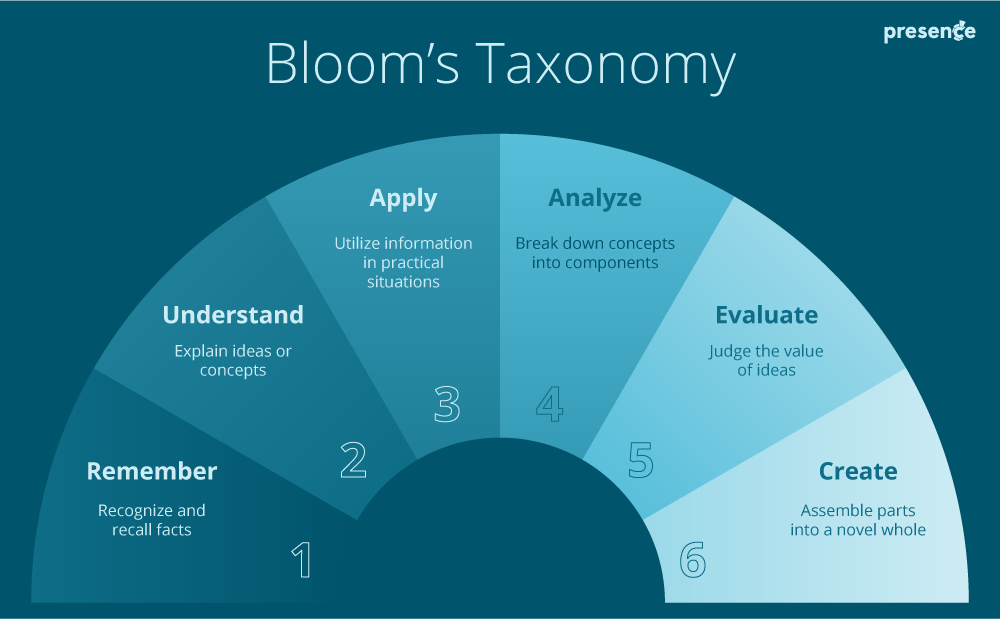 I knew the framework could help me write meaningful learning outcomes for my programs and maybe even give me some strong verbs to use on my resume. But what I didn't realize at the time was how helpful it could be in designing niche programs that would help students master each level of knowledge. In other words, I'd really underestimated just how proactively and intentionally Bloom's Taxonomy was meant to be utilized.
I don't want you to make the same mistake I did, so I'm going to equip you with program ideas that will help your students work through Bloom's Taxonomy's six cognitive processes. But first, let's start by breaking down what, exactly, Bloom's Taxonomy is.
In 1956, a group of collaborators established a framework that would help educators categorize their teaching goals. It consisted of six categories: knowledge, comprehension, application, analysis, synthesis, and evaluation. Since then, knowledge, comprehension, and synthesis have been replaced with understand, remember, and create in order to utilize dynamic action words rather than nouns.
It's important to note, too, that each category is meant to follow the main objective: knowledge. Knowledge is broken down into four components: factual knowledge, conceptual knowledge, procedural knowledge, and metacognitive knowledge. The goal is for students to hit all four.
So, what does this mean for you? Well, it means that you have the opportunity, and the ability, to bring this in-classroom framework into co-curricular programming. Here are some ideas to get you started.
Remember
When students reach this level, they're able to successfully recall facts and basic concepts. You can help students remember by:
Mapping out a scavenger hunt in which students are challenged to find locations on campus and answer a question about institutional resources at each stop

Establishing a study-pal program wherein you connect students with similar class schedules to study for exams or prepare research papers together

Hosting a

Jeopard

y-style game night for students to answer questions about residence hall policies
Understand
The goal here is for students to be able to explain ideas and concepts. You can help students demonstrate their understanding by:
Creating a dialogue space wherein students can discuss and process their feelings and thoughts on current events

Spearheading affinity groups that empower (and provide funding for) students to host needs-based programs

Starting a book club that meets to discuss themes and reflections
Apply
Here, students are able to utilize their existing knowledge within new situations. You can help students tactically apply their knowledge by:
Coordinating a career fair for students to participate in mock interviews

Championing a cause on campus or in the community that your students work to address

Taking students on a trip to a local state park and challenging them to navigate their way through the woods
Analyze
To become great analyzers, students must draw connections among ideas. You can empower them to do so by:
Distributing free reflection journals at the start of the semester, then asking students to assess how they evolved throughout the year

Posing thoughtful Questions of the Day, via a newsletter, bulletin board, or another type of passive program, which get more complex as the days go on

Moderating a debate wherein students have to argue on behalf of an opinion they do not personally hold
Evaluate
When students move to this phase of Bloom's Taxonomy, they're able to justify a stand or decision. You can help them feel confident in their thought processes by:
Striking up a "change my mind" conversation on topics ranging from whether pineapple should be on pizza to whether students should be given letter grades for coursework

Allowing your students to revamp your programming model by presenting persuasive data and evidence

Bringing in a guest speaker or designing a simulation that highlights the impact of implicit bias, then challenging students to make a plan for how they will mitigate its harmful consequences in their own lives
Create
Finally, students should be able to produce new or original work. You can tap into their entrepreneurial spirit by:
Asking student leaders or employees to write letters to their successors about what they've learned and the kinds of advice they'd give their younger selves

Supporting their ideas for new initiatives or legacies they'd like to leave behind

Challenging students to rebrand your organization in a way that better captures its mission and vision
Bloom's Taxonomy was intended for educators. Therefore, it was intended for you, someone who works tirelessly to ensure that your students leave college with a greater sense of self-awareness, agency, and conviction.
That kind of development does not happen accidentally. It happens when you remember who you're serving, understand their needs, apply that knowledge, analyze the impact of said application, evaluate ways to continue growing, and create sustainable change.
Tell us: how will you help your students learn this year? Connect with us on Twitter @themoderncampus.