"Providing good customer service to students has become an expectation in today's higher education environment, yet customer service in higher education is still new and few are certain how to do it well." — Sarah Siegle
Although the words customer service may give you visions of call centers or restaurant service, its foundations should actually apply to higher education. Customer service philosophies and practices should come in the form of valuing students' time, having positive student-staff interactions, and providing helpful resources in a timely manner.
Make no mistake: today's students value good customer service and even expect it from their colleges and universities. In a 2016 survey of students who left an institution of higher education that year, 24% said that "poor service" was their primary reason.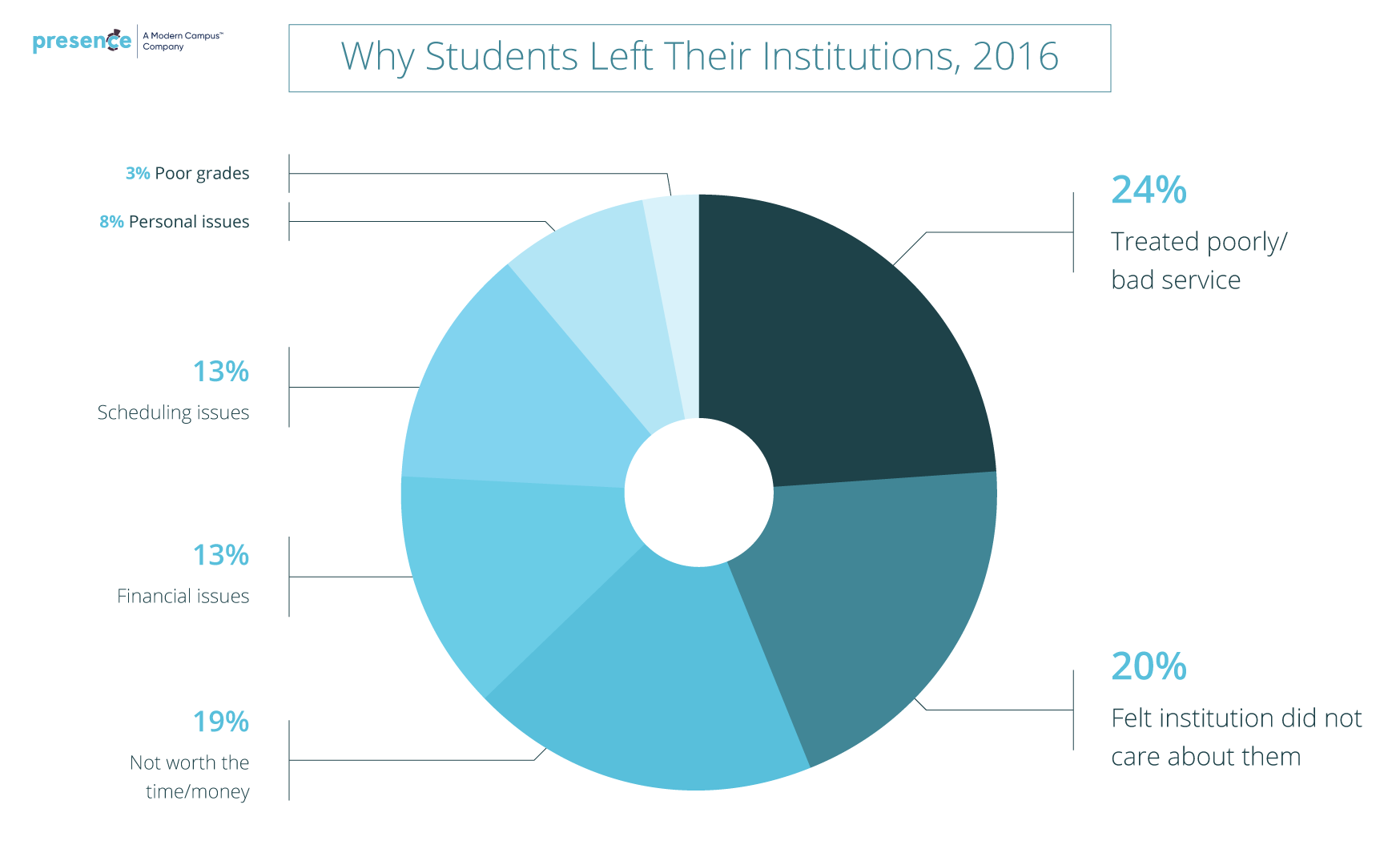 Results of a 2016 survey conducted by NRaisman & Associates
With college enrollment numbers declining nationwide, many institutions are looking at customer service models to attract and retain students. This means expecting faculty and staff to go above and beyond to exceed students' needs, rather than just meeting bare minimum student expectations.
So, how can SA pros play a part? How can we bring aspects of customer service into our work, while utilizing a limited budget and maintaining work-life boundaries? Here are eight tips.
1. Know your campus inside and out
Knowing your campus comes in two parts. First, understand where a customer service mindset can be improved on your campus.
Ask yourself:
Who is student-facing?

Think beyond just SA pros to include faculty, janitorial staff, cafeteria workers, campus police, admissions officers, and any other else students may visit throughout their time at your institution

Where and how are these interactions happening?

Are they online, in certain buildings, or on the campus green?

Why and when are these interactions happening?

Are students proactively asking for help, or are they seeking services only after a crisis or a disappointing result, such as a bad test grade or an unwanted roommate assignment?
Knowing the answers to these questions can help you identify who should be trained on customer service mindsets and how to proactively address student concerns.
Secondly, get to know all the ins and outs of your institution.
In your interactions with students and their families, you may get asked some specific, confusing, and downright bizarre questions. So, take the time to get to know your campus map, common resources, and answers to commonly asked questions — like "where's the nearest coffee shop?" and "how do I find my mailbox?". Your students will surely thank you for it.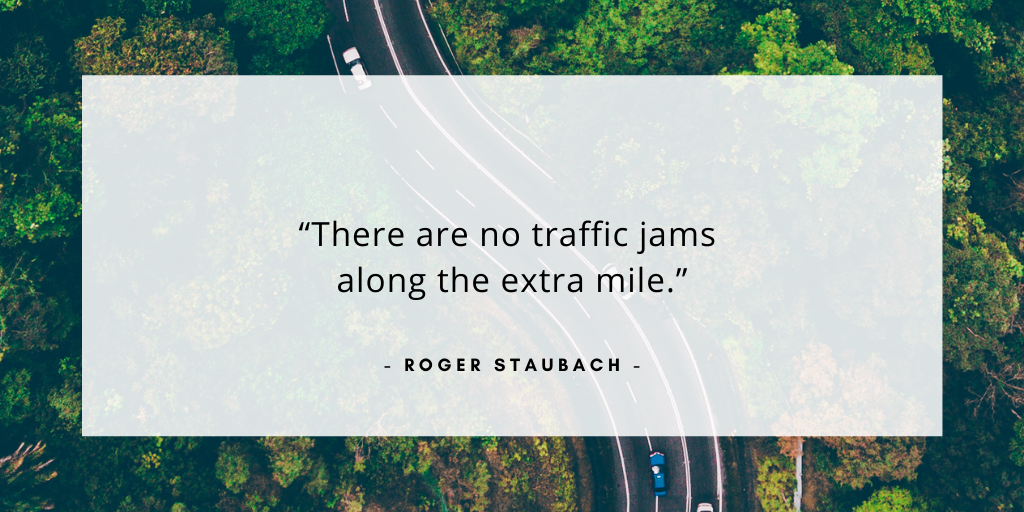 2. Don't hesitate to ask for help
No matter how well you know your campus, you're likely to one day be confronted with a question that you've never heard before.
If you don't know the answer, best customer service practices dictate that you:
Be honest: Start by admitting that you aren't sure of the answer.

Follow up: Offer to research the answer and follow up with the asker once you have done so. You might consult a supervisor, course catalog, or campus mentor.

Don't make something up! This could come back to harm you and the student if they are given the wrong information.

Close gracefully: Continue the conversation where it left off before the question was asked or end the conversation with an estimated time to get back to the question. Either way, finish with a "thank you."
3. Set boundaries early

Good customer service does not necessitate being available to students 24/7 nor answering every email and phone call within minutes.
Set boundaries early, not only with students but also with fellow faculty and staff.

Customer service can certainly come in the form of efficient and professional interdepartmental communication when working on multi-faceted student concerns. Practice this by:
Having communication practices clearly written on your department's website, social media pages, and

student engagement portal

. For example, you could write "all emails and phone messages will be returned within one business day".

Setting up out-of-office email replies and voice messages that detail when the sender is likely to hear a response and what actions they can take in the meantime.

Have a FAQ webpage or pamphlet that tells students where they can find time-sensitive resources – such as mental health counseling, transportation services, campus police, or the food pantry.

Sticking to your away message: When you're taking time off, avoid the temptation to answer emails and phone calls. Maintaining your own boundaries will set students up to not be surprised, nor disappointed, if you don't reply immediately the next time.
4. Work with your marketing department
An important part of the customer service mindset involves building a recognizable, professional brand. Work with your marketing and communications department on the following:
Creating a professional and campus-consistent email signature

Running your department's social media accounts in line with best student engagement practices

Branding flyers, webpages, posts, swag, and any other item handed out to or seen by students

Communicating with prospective and current students and families in line with institutional messaging
5. Prioritize customer service from the top-down

Customer service can also be a core facet of your campus, akin to other values your institution adheres to. Developing customer service as a core value should start with campus leaders and can come in these forms:
Praising and rewarding staff and faculty who go above and beyond their basic job duties

Inviting students to participate in decisions that affect the campus

Having a means for which students can petition or argue a campus policy or ruling (which many campuses call

petition forms

)

Practicing professional timely communication between staff, faculty, and their departments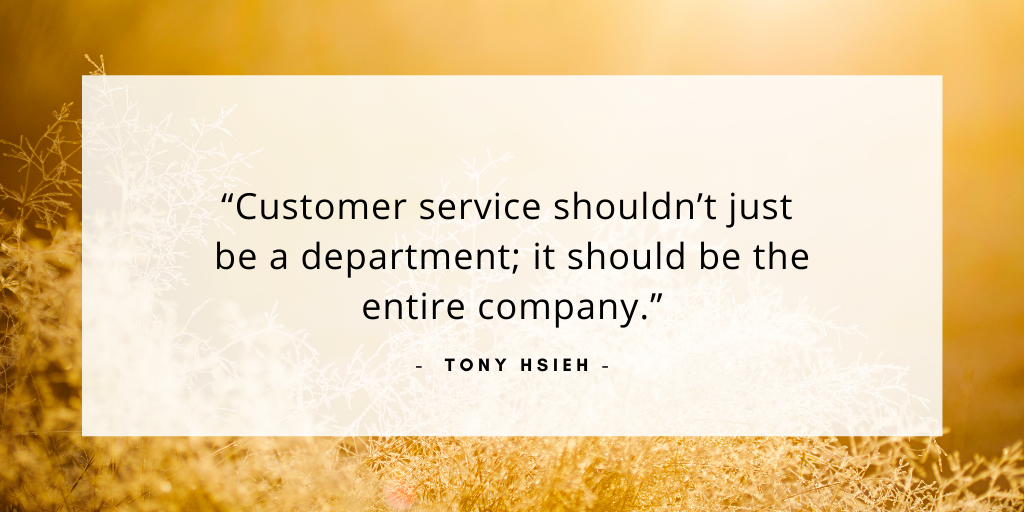 6. Exude your value

Students and families are increasingly wondering if college is worth its price tag. Even The US News and World Report understands this and produces its own annual list of "best value schools" in response.
A customer service mindset can not only increase students' perceived value of your institution but also improve results. These results may come in many different forms, including:
Use of resources and services, such as how many and how frequently students engage with the career center, academic advising offices, the campus recreation center, and other services.

Student engagement with campus co-curricular programs, student organizations, and

learning pathways

Student happiness and wellbeing (

yes, you can measure this

)

Retention and graduation rates

Acquisition of skills by major

Post-graduation

job and internship placement rates
The overarching idea is to show students your campus' value, rather than just telling them. Display data using charts, graphs, and photographs to make the most impactful statements.
7. Practice and train

Customer service shouldn't be a one-time activity; it's something that is practiced and improved upon every day, throughout all aspects of campus.
At Coastal Carolina University, the Feel the Teal Service Excellence Initiative helps faculty, staff, and even student employees brush up on their customer service practices through fun and engaging modules.
Consider adding a segment on customer service to your next staff professional development seminar or department retreat. Check out this list of resources on improving customer service skills.
8. Assess, evaluate, and improve
It wouldn't be a Presence post if we didn't talk about assessment and data-informed decision-making!
You don't have to just ask students to "rate our service" all the time. Instead, work with your campus assessment experts to ask pointed questions and utilize feedback to gauge the following:
What services are students under-utilizing and over-utilizing

Where staff are needed more (or less)

How much time faculty and staff are devoting to answering calls and emails, rather than interacting with students in more proactive, engaging ways

Which administrative procedures provide unnecessary challenges and burdens to students and why

What FAQs from current and prospective students you could answer through your webpage

What services the campus doesn't have that students are searching for or could benefit from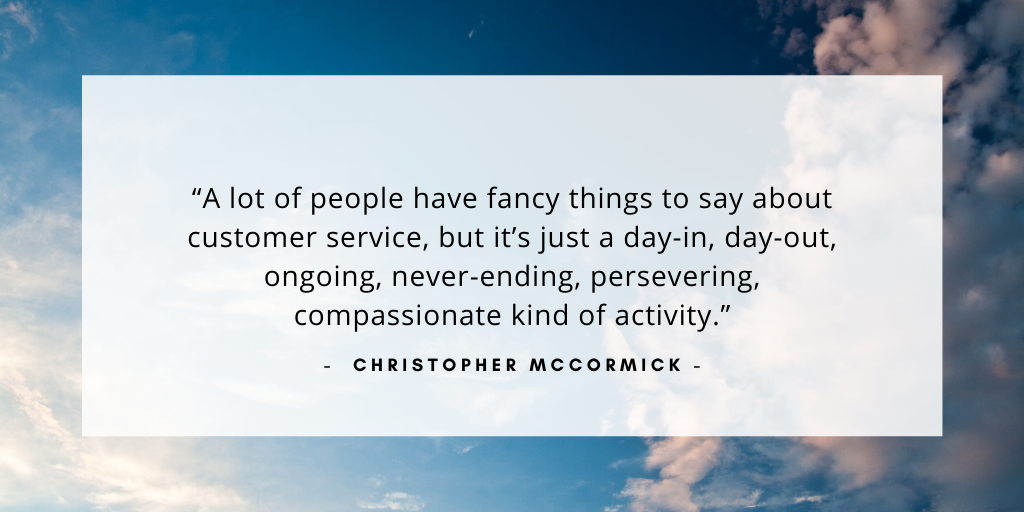 ---
As SA pros, it's our mission to make all students, families, and campus guests feel welcome, included, and valued on campus. Practicing and exuding a customer service mindset is a fantastic way to embody that mission.
What additional advice do you have about giving students an above and beyond customer service-oriented experience? Connect with us on Twitter @themoderncampus.