I was browsing through the Student Affairs Professionals Facebook group the other day and stumbled upon a post that essentially asked, "How can we re-energize our spaces to draw students back to our offices again?"
The answers were astounding. I read in awe at the innovative and intentional ways student affairs professionals are redesigning their spaces to be welcoming to students and aligned with their institutional values.
However, I wanted to know more. I started by exploring research that asks and answers the question "What exactly makes a space appealing to students?"
Well, according to the authors of Mission and Place: Strengthening Learning and Community through Campus, a successful student space "supplies an environment conducive for community building and provides space and opportunities for individuals to make connections with their peers."
I found these themes, practices, and tips throughout my research.
13 Tips
1. Engagement should not only be encouraged but cultivated
Researchers found that students desire spaces that can be sources of pride and impromptu gathering, as well as places to attend social and cultural events. Therefore, key spaces — such as dining areas, multicultural centers, and multipurpose rooms — must be particularly well-funded and accessible to all students.
2. Placement of key services is critical
Practical services are vital to meeting students' core needs. These include postal services, banking/ATMs, information desks, grab-and-go food services, water fountains, convenience stores, and mobile charging stations. Although these features may not draw students to social events, they meet students' core needs, and thus, promote the area as being student-focused.
3. The space needs to make an impression
Making an impression was something many students ranked as a high priority on their list of needs for campus spaces, often citing these student-centered spaces as key factors in choosing what institutions to apply to or enroll in. Decor and color choices, the use of technology, and unique amenities — like the University of Missouri's indoor lazy river — can all make a huge difference to students' first and lasting impressions.
4. The space needs to be built with inclusivity and accessibility in mind
Your campus space cannot be welcoming to all students if it's not inclusive and accessible.
Spaces could feel more inclusive by featuring multicultural centers in prominent locations. Supportive, uplifting quotes and murals, like those featured in Princeton University's Fields Center, can also affirm student belonging.
Making the space accessible should go well beyond installing wheelchair ramps. Include seating options that are comfortable for students of all abilities and body types, signs that are labeled with braille, and rooms that are soundproofed to support students with sensory issues.
Check out this comprehensive list of ways to make buildings accessible to individuals of all abilities.
5. Budget wisely
In the Facebook post I mentioned earlier, one SA pro shared that by cutting ties with their campus' cable provider — which the majority of students weren't using anyway — they were able to find the funds for gaming consoles, streaming services, and renovations that students were much more interested in.
6. Customize spaces for your students
Hang up and proudly display student artwork. Additionally, you could showcase engineering or architectural projects, clothing or poetry created by students, or pictures of student performances. Large canvas photos of student events are also a great way to connect the space to your students.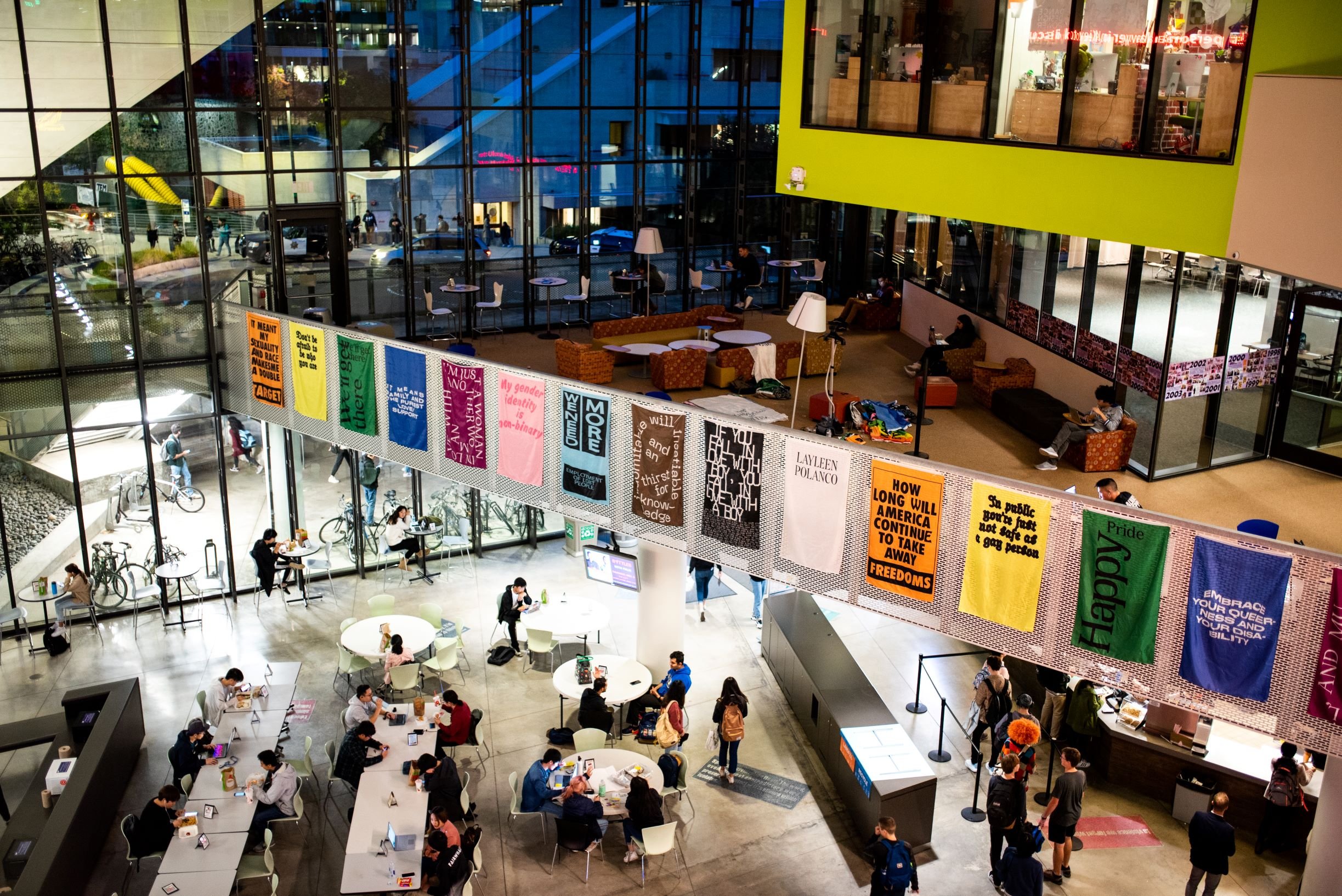 Art installation "inspired by the many sacrifices and accomplishments made by LGBTQ+ people since the Stonewall Uprising in 1969"
7. Think critically about the small things
In the same Facebook discussion, a respondent raised the question: Would a student space benefit more from a coffee maker or from a popcorn machine? Fellow SA pros resoundingly said coffee, arguing that students are more likely to use it at all hours of the day. Plus, the smell of fresh popcorn might be distracting. So, while a popcorn machine may sound fun and exciting, coffee machines are the far more practical choice for most campuses.
8. Pick easy-to-clean gadgets and furniture
Pick out utilities, carpeting, and seating materials that can be easily wiped up after a spill. Check out these lists of easy-to-clean appliances, carpet fabrics, and upholstery.
9. Promote the space with what you have
Save money on your budget by hosting events that introduce new students to the space and utilize what's already there. For example, you could host a DIY hot cocoa event using the coffee machine or start a gaming tournament with your consoles. It'll be far more budget-friendly than contracting food trucks or paying movie licensing fees.
10. Encourage students to get cozy
Nothing says relaxation like bean bag chairs and plush lounge chairs. Or look for soft, comfortable couches that students can melt into. Add in some easy-care houseplants, twinkly lights, and an herbal tea bar to enhance the stress-free zone.
11. Bring marketing and branding into play
Work with your institution's marketing team to make your campus spaces epitomize campus spirit. Purchase decor and furniture with your institution's colors, incorporate logos and emblems into the space or even feature pictures or stuffed animals of your beloved mascot.
12. Get modern
Make your campus space feel state-of-the-art with the latest gadgets and trends in interior design. Modular furniture is always great as students can rearrange it to their needs. Adjustable lighting, wireless chargers, temperature control sensors, moveable outlets, smart boards, and more can help boost students' productivity. Check out this list of more ways you can bring tech into your student spaces.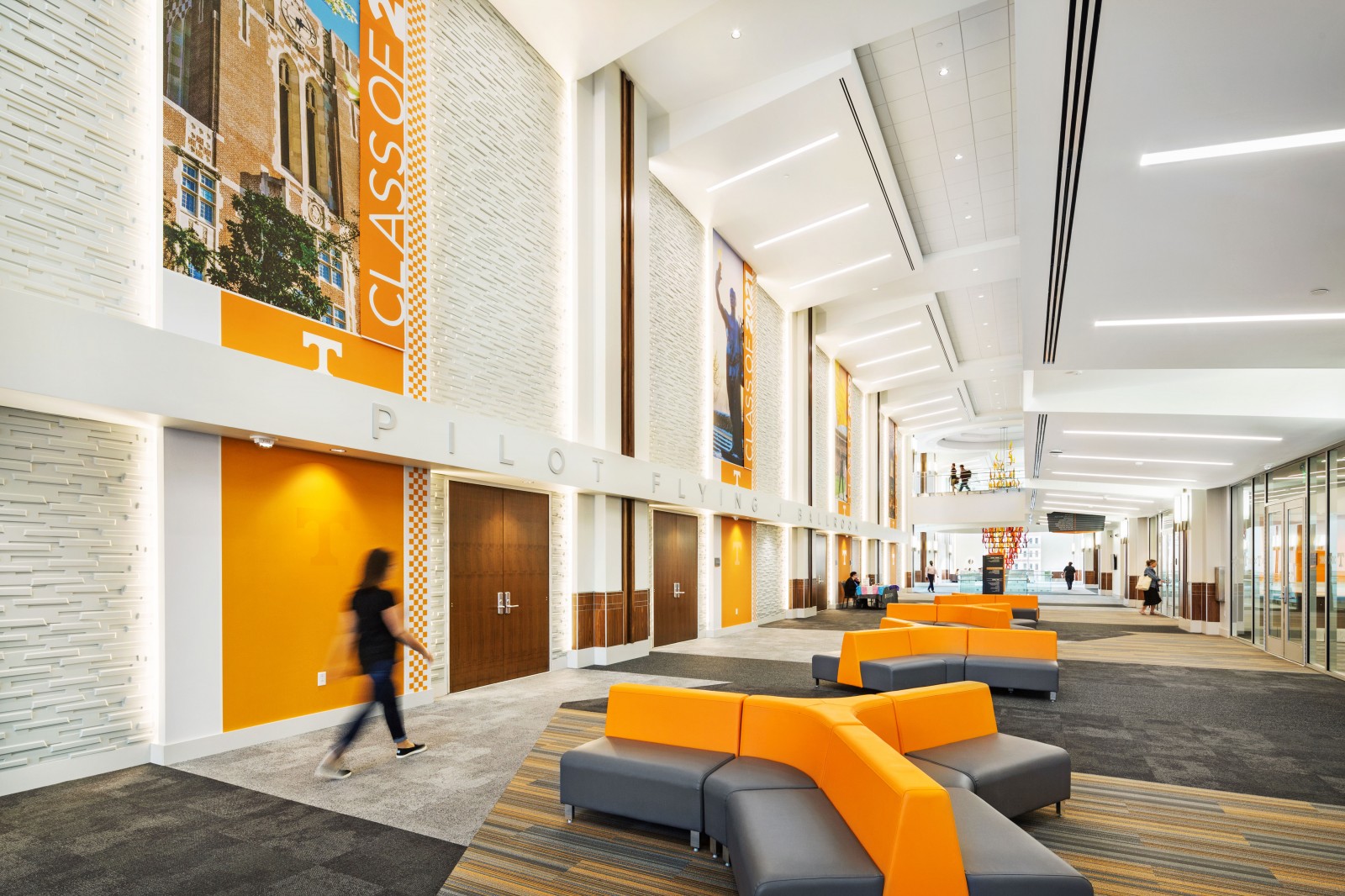 The University of Tennessee's student union
13. Don't forget the oldies but goodies
In all this innovation, don't forget about board games, televisions, conference rooms, desk stations, and more classic features that students may still like to use. Remember that not all students are tech-savvy, and having all complicated gadgets and seating may challenge students with disabilities or those who come from communities without such tech.
---
All the research I found indicated that the longer a student remains on campus, building positive relationships with their peers and their staff, the greater their chance for academic growth and success. Intentional design can help students see that their needs have been met and make them feel comfortable and welcome on campus.