"One-time programming will likely have a limited impact on college students, so our efforts must be ongoing, systemic, and multi-pronged."
This quote is originally from the text Masculinities in Higher Education: Theoretical and Practical Considerations. Although it's from the perspective of understanding men and intersecting identities of men from a social justice framework, it holds true for many efforts implemented surrounding diversity and inclusion at institutions of higher education.
Diversity trainings and dialogue need to be incorporated into our lives as educators, in a developmental way. The revised Social Justice and Inclusion NASPA/ACPA competency is grounded in Bell's (2013) work. This competency is defined as,
"Both a process and a goal which includes the knowledge, skills, and dispositions needed to create learning environments that foster equitable participation of all groups while seeking to address and acknowledge issues of oppression, privilege, and power. This competency involves student affairs educators who have a sense of their own agency and social responsibility that includes others in their community and the larger global context."
We need to review the NASPA/ACPA competencies in full and realize that the Social Justice and Inclusion (SJI) competency permeates throughout all competencies listed: the SJI competency provides a foundation to help us excel at other competencies which are reflected in our professional roles. We need this competency to be better advisors, facilitators and support our students in navigating our own institutions and the workplaces they're about to enter. Even at a higher ed tech startup company, we're making the time and the space to have conversations around areas of inclusion and we hope you're creating the space too.
According to The National Center for Education Statistics, college enrollment rates among marginalized groups continue to rise over the past two decades:
Hispanic students had an increase in enrollment from 4% to 14%
Asian and Pacific Islanders had an increase in enrollment from 2% to 6%
Black students had an increase in enrollment 10% to 15%
Native American students had an increase in enrollment from 0.7% to 0.9%
Institutions nationwide continue to increase funding and heighten awareness of the need for inclusivity initiatives: more and more of college administrators continue to search for appropriate resources to help facilitate conversations with students and staff alike.
As we reflect on our own awareness, knowledge, and skills in the areas of Social Justice and Inclusion, we must bring attention to the responsibility we have as educators to pass on foundational, relevant, and timely information that will aid in building an environment of inclusion at institutions worldwide.
Student Support Trainings & Resources
The resources below serve as a starting point in your search for foundational trainings, student organizations, and speakers you'd like to bring to campus. While many are national organizations, realize that there are many local resources you could bring to your institution and by incorporating local facilitators it could help strengthen town-gown relationships. For example, sexual assault and violence support centers may be able to provide additional resources to students.
*Please note: trainings around diversity, inclusion, and social justice can produce triggering events and feelings, particularly as they relate to sexual or racial violence, that may require support from counseling staff, community support, or student advocates. It may be helpful to have staff available during or after trainings to help students and student leaders process.
LGBTQIA/Gender & Sexuality Trainings
LGBT (lesbian, gay, bisexual, transgender) centers, as well as Gender and Sexuality centers have skyrocketed in making their appearance on college and university campuses, as free-standing centers or offering support services for the first time. Many campuses have limited resources when it comes to supporting LGBT students, for example, we often see institutions with only LGBT-related student groups and no budget for campus programming.
There are dozens of professionals associated with the Consortium of Higher Education LGBT Resource Professionals database, where knowledge is shared on best practices and new programming initiatives. The Campus Pride Index ranks institutions in the U.S. based on how LGBT-friendly they are. Prospective students are looking up your institution to see what the climate is like and if they'll feel safe on campus under the LGBTQ-Friendly Campus Search.
A program to consider implementing includes Lavender Graduation where LGBTQIA students are honored as they graduate from college. This graduation ceremony allows the community to celebrate the students who identify on the gender and sexuality spectrum to acknowledge their achievements and contributions to the institution. The graduation typically occurs a few weeks prior to an institution's undergraduate ceremony.
A program initiative called Safe Zone Training is often implemented with first-year students transitioning into the institution, student leaders, administrators and faculty on campus. The Safe Zone training aims to increase awareness and knowledge of LGBT individuals campus-wide to create a safer, supportive community. An example of some of the content the facilitator(s) go over, includes the Gender Unicorn, shared below. The image portrays how an individual may identify and it provides a way to understand how spectrums under gender and sexuality can intersect.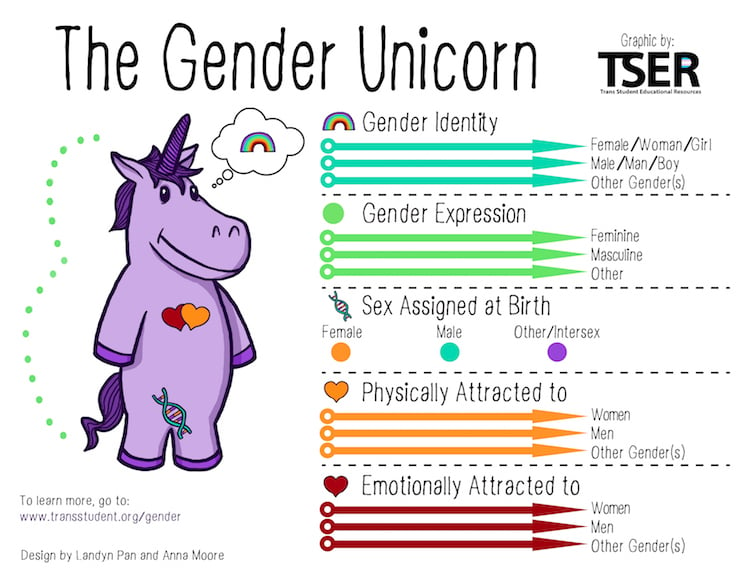 In the training, facilitators review LGBT-related terms and hold conversations about why the LGBT community is often discriminated against and how we can create a more equitable world. The Safe Zone Project is a great place to start compiling resources as well as connecting and benchmarking with various institutions to see what aspects of LGBT trainings are appropriate for your institution.
Safe Zone Trainings can include different advanced 'tracks' where the facilitator focuses on intersecting identities such as Trans* identities and what it means to have them intersect with identities around spirituality and religion, race and ethnicity, and fluid and non-binary identities. The University of Rhode Island is an institution with examples of these various Safe Zone tracks.
Race & Ethnicity Trainings
This year, the Black Lives Matter movement turned three and national conversations around systemic racism and race relations only continue to increase and find their way into state and campus policies.
There's a need to intertwine national and world events with student leader trainings before students arrive to campus. Creating the space for student leaders to dialogue around issues of race, ethnicity, religion, and diverse cultures in a safe space is important as new students enter campuses (and as we reflect on how often they hold these crucial conversations with their peers).
For students of color, some of the most effective trainings are when students perceive themselves as agents of change and educate peers rather than feeling like a recipient of a 'top-down' approach. Specifically, at Predominantly White Institutions (PWIs) research shows that black students in student leadership positions wanted to be agents of change and move forward social justice conversations. It's important to include students of color in on training conversations to understand the deeper dynamic of institutional inequities for marginalized groups.
This year, we're seeing professional staff providing student leaders with case studies around racial tensions on campus and holding discussions around them. For example, the Student Government Association's Vice President at University of Houston was facing calls to resign after posting on social media, "Forget #BlackLivesMatter; More Like #AllLivesMatter."
Missouri had recent legislation (now withdrawn) related to campus boycotts with students who voiced concerns about how President Wolfe handled racial harassment at University of Missouri. The article explains that more than 30 black Missouri football players said they would not participate in football-related activities until university Wolfe resigned.
The University of Tennesee recently had funding for it's Diversity and Inclusion Center re-allocated to a scholarship for minority engineering students. Although the proposed scholarship seems helpful, House Bill 2248 re-allocates their entire budget of $436,000 and bans the University of Tennessee to use state funds towards to celebrate religious holidays, support 'Sex Week', or utilize gender inclusive pronouns on campus.
Chancellor Jimmy Cheek emailed the campus community about the cut for the center,
"It saddens me to share with you that a new state law requires us to defund the Office of Diversity and Inclusion from July 1, 2016, to June 30, 2017. This means no funds can go to operate the office."
Many campus administrators want to adopt policies and messaging to properly support students, staff and faculty, however, there are systemic changes that seem out of our hands. How can we communicate to students that diverse initiatives are important to their education if resources are continually taken away?
Saby Labor, higher education consultant, educator, and founder of Resilient Campus, recently released a Social Justice Toolkit consisting of 25 weekly reference sheets packed with tools, resources, and tips that cover topic areas like intersectionality, Islamaphobia, white privilege, and racism. You can download the Social Justice Toolkit and additional resources on Saby's website here.
Many institutions utilize the Sustained Dialogue Institute which incorporates identity-based trainings that cover the eight facets of identity and how they intersect to help students understand power, privilege, and oppression. The group published case studies looking at various student learning outcomes post-graduation. Some of the outcomes included, "Involvement in diversity decisions, more open to others, changed values about social issues, and an increase in accommodative feelings towards students of other ethnicities leading to resulting positive relationships."
Sexual Assault & Violence Trainings
National statistics hover around 25% of college women and 20% of women being sexually assaulted and we're facing what some are calling an epidemic on campuses.
According to the Center for Disease Control and Prevention (CDC), LGBT people experience more sexual harassment and violence at higher rates than people who identify as heterosexual. Society tends to hypersexualize LGBT people and their relationships which often leads to homophobia, increased partner violence, and shame.
Students are calling upon other students for help and we know that peers of college students are one of the most influential and important groups for student success. If our students and student leaders don't have a strong foundation of resources to respond appropriately to their friends or peers, they may do more harm rather than good – and risk the possibility of underreporting serious incidents.
When I worked in residence life, I vividly remember speaking with other staff and faculty about how students were reporting more incidents of sexual assault. I realized after they asked a few questions about the topic, that not everyone on campus is necessarily trained on how to support college students through the reporting process. It was scary for me to think about how a professor or administrator who wasn't trained on how to respond to students who've been through a crisis situation.
Along the same lines, many students (and staff) who are untrained in the area of sexual assault and/or violence are unsure what to say to a survivor. Survivors don't feel supported because they believe that the act was their fault. When people don't believe the survivor, it validates threats of the perpetrator and makes the survivor feel worthless. Only 2-8% of sexual assault reports are proven false because many survivors do not report at all for the fear of not being believed.
The website, Know Your IX, also delves into 'do's and don't's' of how to support a survivor and if someone opens up about their experience. Providing students with support and reviewing institutional policies around Title IX is important whether a student leader, staff or faculty member.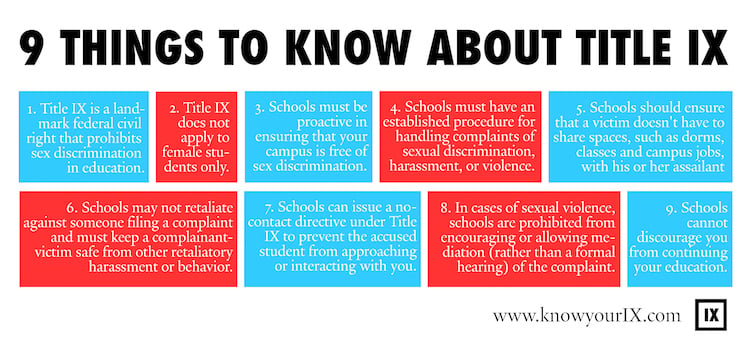 It's important to host preventative education trainings so we can continue to break down the power of institutionalized rape culture and empower students to be agents for change. That said, culture change takes time, so we must provide students with the resources they need to support themselves and each other in the case of an assault or other events that fall under Title IX.
In my previous workplace, they implemented the Green Dot Program: a research-based training that works to educate students about the foundations of violence that create and sustain rape culture. The Green Dot training overview discusses violence prevention strategies in relation to each individual. We must be able to identify our 'personal or professional connections to violence prevention' and engage in a violence prevention process that we believe in and willing to engage in ourselves. Research shows that when people feel a level of personal connection they also feel like they have some level of responsibility. Green Dot facilitators encourage a new set of behaviors through safe spaces and a strong connection to 'hope to propel cultural change' on college campuses.
One of the most powerful ways to educate students and broadening awareness is through storytelling. In our blog post called Reflections on My ACPA Pecha Kucha Talk on Sexual Violence, speaker Kristen Perry shares her story of sexual assault as an undergraduate student and how it impacts the work she does now. She talks about the importance of sharing survivor stories in her YouTube video and how it can benefit college students who are afraid to report or talk to someone.
Additional Resources
Many student affairs practitioners or educators in the field feel if their primary role is not sharing knowledge on issues of diversity, they may not feel prepared to teach others about diversity and social justice. Some don't feel qualified at all. Not everyone should be teaching on this work, but we believe that the work must be done by everyone.
Dr. Maura Cullen, a diversity and inclusion speaker and author who wrote the book 35 Dumb Things Well-Intended People Say, explains the notion that none of us is just one dimension of ourselves. We're all multidimensional: our identities intersect, yet sometimes we get stuck on only one element of an individual when we're interacting with them. This is just one of the reasons why we need to update resources with student leader trainings and understand the work that we do isn't going to be perfect, but can be much better if we have great resources.
Diversity, social justice, and inclusion trainings can work if implemented in the right way among the groups you aim to work with. Oregon State University- Cascades Campus and Central Oregon Community College provide measurement tools, learning outcomes, strategies, and goals when it comes to planning diversity initiatives in their published document. As your institution aligns visions to goals, it's helpful to put together a document like this to stay on track. Using this document as part of an assessment cycle in the long term will determine what type of impact inclusion practices are having at your institution.
Your Thoughts
As we leave you to explore these resources, we also encourage you to continue to critically reflect on how bringing these trainings or utilizing these resources will inform your practice with students. We need to continue to grow our mindset of how we can support groups of diverse students who continue to study at our campuses. In being proactive with our approach to challenges surrounding diversity and inclusion, we inherently take responsibility for our actions in perpetuating discrimination or oppressing students through the services we offer.
Consider reflecting on these questions:
How do you aim to incorporate social justice and inclusion work in your everyday practice?
How do you or the humans on your team create equitable experiences for students and staff at your institution? How do you unintentionally/intentionally create inequitable experiences?
In what ways has your team come together to discuss access to resources on campus and what navigating offices on campus may look like for marginalized students?
How are you utilizing the Social Justice and Inclusion NASPA/ACPA competency?
Reach out to us @CheckImHere with comments and thoughts! Thanks for reading.
Lindsay Murdock, Campus Outreach Coordinator and Inclusion Strategist made significant contributions to this post. Thank you, Lindsay!
References
Maldonado, D. E., Rhoads, R., & Buenavista, T. L. (2005). The student-initiated retention project: theoretical contributions and the role of self-empowerment. American Educational Research Journal, 42(4), 605-638