Listen, I know: Assessment in student affairs is not always exciting.
But it can be if we tap into our creativity and the technology that is already being used by students today.
It is a fact that we can no longer do what we have always done. Assessment can be exciting and interactive! We are living in a digital society where our students — and even professionals — have some type of digital identity.
Each year, new students with new expectations around communication are joining our campus communities. With the growing diverse population of students, so is technology. As student affairs professionals, we must get connected with how our students stay connected. In 2015, the Pew Research Center found that 24% of teens reported being on the phones "almost constantly."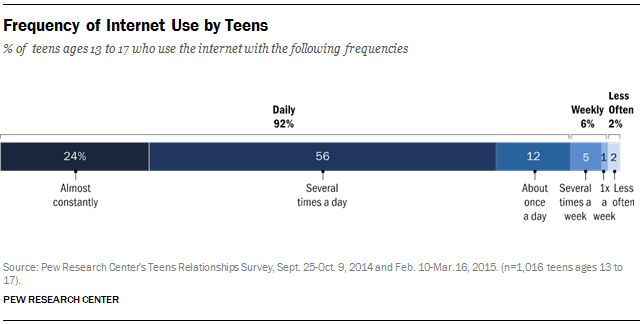 So why not tap into that connection to update our assessment practices and increase student feedback?
Top social media platforms such as Twitter, Facebook, and Instagram now have "poll" options. This feature will allow users to use assessment in a creative way to connect with our students now. We need to experiment with new ways of assessing for this generation of students, and social media should be one of those methods. Here's what you need to know.
The Basics
According to a survey conducted in February 2017 on the use of social media sites by teenagers and young adults, 79% of teens and young adults use Snapchat, 76% use Facebook, 73% use Instagram, 40% use Twitter, 31% use Pinterest, 16% use Tumblr, 15% use WhatsApp, 11% use Musical.ly, and only 9% use LinkedIn.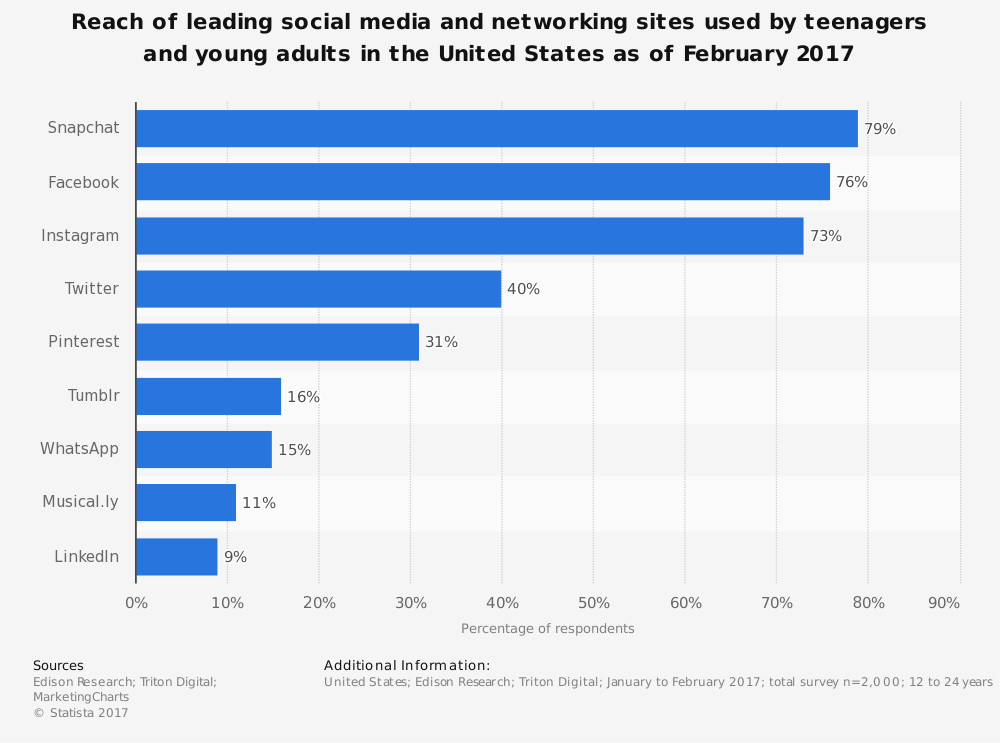 The survey was conducted from January to February 2017 with 2,000 survey respondents aged 12-24 years. Given the top four social media platforms utilized, it's important to understand their significance as you prepare to choose the right platform for your assessment needs.
Here's the short and sweet version of what each of these platforms does:
Snapchat: Snapchat taps into FOMO (fear of missing out) through its disappearing content. "Snaps" can be sent to individuals or groups, and can be posted as a personal story or on a community story. Snaps posted as stories disappear after 24 hours, and snaps sent to specific people previously were time-restricted and could only be replayed once (Snapchat has since added an "infinity" option, which allows people to view an image for greater than 10 seconds).
Facebook: Facebook is seemingly ubiquitous in our lives. It was originally started as a social media platform exclusively form college students, and later expanded to be open to the public. Now, Facebook owns Instagram and is in the process of developing a robust video platform. You can post updates as text, images, or videos (live or pre-recorded).
Instagram: Now the child of Facebook, Instagram is a photo and video-sharing service that relies on visually-appealing content, hashtags, and follower loyalty. Instagram now features a stories option, as well as a live video option. Stories disappear after 24 hours.
Twitter: Twitter is one of the earliest update-sharing platforms. Tweets should be concise (now, under 280 characters — twice as long as its earlier limit) and hashtags should be used, though sparingly. You can also utilize GIFs, static images, and videos. Twitter also owns Periscope, which is a live-streaming video platform that predated Facebook's by a long shot.
Recently, some of these social media platforms have added basic assessment tools, including polling. Now, in an Instagram story, you can create a poll that allow viewers to respond. A tweet on Twitter can be used to poll followers with up to four options and customized duration of the poll (up to 7 days). Facebook's poll option is limited to 2 options for viewers and customized poll length and distribution. Emojis and GIFs can be used within the polls as well.
Building a Social Media and Assessment Relationship
Do comments + likes + shares = student engagement? It's not quite that simple. Audience engagement looks different for each platform that you use, so it's important to set KPIs to evaluate how you're engaging across each platform. Engagement is the name of the game whether it's IRL (in real life) or online, and there are ways to drive engagement while also gathering important feedback. Whether you take a structured approach (outlined below) or you opt to monitor your mentions and audience sentiments, social media offers you a glimpse into how your students are feeling about a variety of topics, both on- and off-campus.
Below are two simple ways that assessment can be conducted via social media to get feedback and increase student engagement. These mini-assessments are so simple to set-up, you can start trying them out today.
Twitter Polls
Use it for: One-question feedback with up to 4 options, social events, part of a presentation to students (allow use of phone during presentation), pre- and post-survey questions.
Thank you to all those who attended Meet the Greeks last night. We'd love to hear from you. What did you think of the event? #MTG2017 #NCAT

— NC A&T Greek Life (@NCAT_GreekLife) October 24, 2017
Learn how to use polls on Twitter here or here, if you have a Lynda account.
Another way to use Twitter as an assessment tool is through the "Today's Lesson Tweet" activity. This activity allows students to "tweet" (on paper or actually on Twitter) in response to three questions related to the program or service they've recently participated in. The questions are: (1) What did you learn today? (2) What did you find tricky? And (3) What can we do next time? The template is here! If you decide to do this activity on Twitter rather than on paper, make sure that you choose a hashtag that is unique to the program you are surveying.
Instagram Polls
Use it for: One-question feedback with up to 2 options, social events, part of a presentation to students (allow use of phone in presentation), pre- and post-survey questions.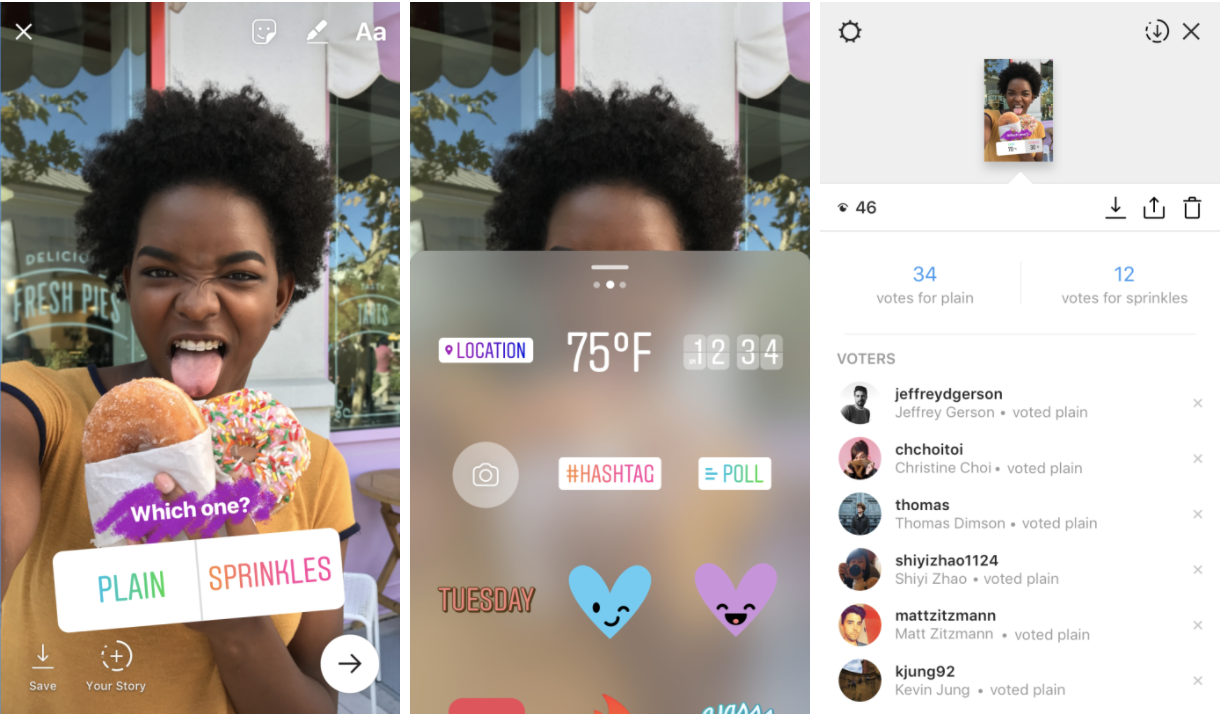 Remember to send out Instagram polls from your department's account, rather than from your own personal Instagram account. Learn how to set-up an Instagram poll here.
Using Social Media Analytics
For those looking to discover the influence that their departmental social media pages have on student engagement, you need to use social media analysis tools.
Social media analytics is the process of collecting data from social media platforms that companies use to assist with decision-making. It's beneficial for tracking the type of people who follow you, where they're from, and what people are interested in (or not).
Students affairs professionals can utilize social media analytics to discover the types of students who follow the institution's accounts, the times of day that posts are most likely to be seen, what's trending on campus, and more. Remember, a simple hashtag can change the way you do things!
There are so many different tools that you can use for social media analytics (here's a list of 25), but if you're on a budget, you can probably get by with using the ones that are available in-platform. Facebook and Instagram both offer insights if you have an official Facebook page or Instagram business account.
Twitter allows all users to have access to their account analytics — just click on your profile photo in the upper righthand corner and select "analytics."
Using social media to tell the story of your department can be one way to demonstrate overall effectiveness and engagement.
So, how will you use social media for your next assessment project? Or, how are you using social media currently for assessment purposes? Let us know on Twitter, @themoderncampus and @MissKellie_1!