"Four-year degree attainment for first-generation college students is at 27.4% compared to 42% of students with whose parents have college degrees." — DeAngelo, Franke, Hurtado, Pryor, & Tran, 2011
This post is created as a two-part series. The first post focused on definitions of first-generation college students and offered the first-gen mindset as a re-conceptualization of what it means to be a first-generation college (FGC) student. We were honored to share the stories of several student affairs professionals who navigated their own college experience as the first in their family and the impact their experiences have on their role serving FGC students today.
This post highlights strategies for higher education professionals to adopt the first-gen mindset. This mindset is a crucial ingredient for inclusive campus environments and for creating pathways for students who are the first in their family to attend college — students who arrive at our college campuses with more questions than answers.
Adopting

a first-gen lens

When we think of marginalized students, we often think about the financial and socioeconomic barriers first. We need to dig deeper and realize the full spectrum of implications for traditional campus systems and norms. For example, being first-gen may mean having less time to participate in co-curricular involvement activities, working longer hours, negatively impacting academic success, and decoding the confusion which is FAFSA (just to name a few) — in addition to other intersecting identities and experiences that may or may not be apparent.

Reading about first-gen mindsets, reflecting on our own experiences, and understanding how FGC students navigate institutions of higher education is incredibly important.
We need to challenge our way of thinking and the approaches we take in creating student solutions.
We were fortunate to learn about the many ways in which FGC student affairs professionals are implementing this mindset in their daily work. Tammie, a student affairs professional quoted in our last post, explains that practitioners need to be proactive about providing resources pre-admission and pre-orientation to ensure information reaches students. Connecting students with resources and engaging them before they arrive to the college admissions stage, as well as directly after their acceptance, initiates a smooth transition to the institution. She emphasized that students may not arrive with the language and often the self-efficacy needed to ask questions relevant to their success.
Saby Labor provides a reflection of how her own experience has influenced her approach to serving today's college student:
"I remember going to the financial aid office when applying to college and the person behind the desk telling me to fill out the "Fassfuh form." She stated this so matter-of-factly, so I was embarrassed to ask how to spell it. I had never heard of the the form before, so I went home and looked it up online. When I typed it in phonetically and searched a few times, I landed on a very official website only to find out it was not the one she was referring to. My mom's guidance very early in my college journey was that she didn't have the answers to anything and I needed to find out from the people on campus. Today, I have seen students get frustrated and embarrassed when we assume they speak our language. Some of them never return to campus because of this first impression and the corresponding feelings of shame and confusion. Luckily, I've always been stubborn enough not to give up."
From admitting a student into the college to the first day of classes, professionals often see the student experience as a linear path and structure student services and other resources accordingly. A first-generation student's reality is them trying to make sense of a complex system that the institution has set up, where students often don't know where to go or what to ask. As much as we attempt to build a blueprint for their college experience (admissions checklists, intrusive advising models, etc.), they are often left to navigate very non-linear pathways.
Here is an example of an on-boarding process at a community college as experienced by "20 secret shoppers" from the Education Advisory Board. Some major findings referred to the confusion of students with "administrator-speak" and conflicting information provided between departments. Their pathway was not linear as presumed by administrators, and in fact, their on-boarding experience was comparable to a game of Chutes and Ladders (see EAB article):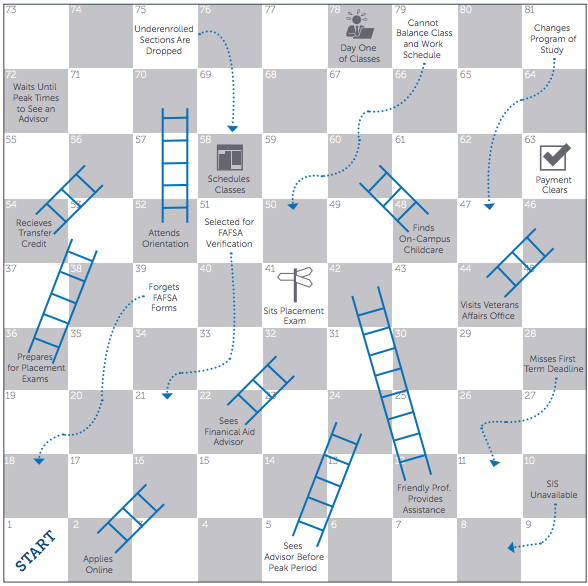 You can find the full PDF here comparing the administrator mindset to the student experience (student experience map below).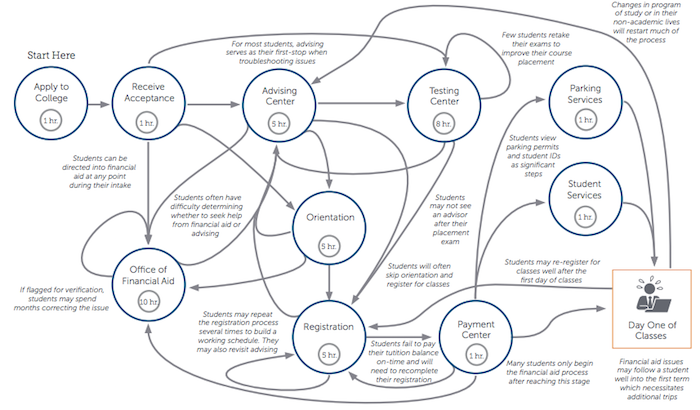 Implications

for higher ed

We need to challenge our assumptions of the linear higher education pathway and understand what it actually looks like for FGC students. Continuously engaging in reflexivity will move us — as practitioners and as a field — closer to understanding the complexity of FGC student experiences.
Reflexivity
The Associate Dean for Institutional Diversity at Harvey-Mudd College, Dr. Sumun (Sumi) Pendakur, builds upon this idea. Pendakur encourages an identity-conscious approach to our work, which involves continuous reflexivity on behalf of student affairs professionals.
She explains that maintaining critical consciousness is one essential facet of empowerment:
"Successful empowerment agents actively contemplate and examine their life, work, positionality, and relationships. They spend time thinking through beliefs, privilege, patterns of practice, and their own subjectivity. Reflexivity refers to the praxis-oriented, bidirectional relationship between reflection and action. An empowerment agent's reflexivity leads to greater recognition of his or her place in an equitable system and to further action against institutional hegemony. That action leads to reflection, and the cycle continues." (Pendakur, 2016, p. 118)
Pendakur provides a roadmap for student affairs professionals to support marginalized students and confront inequity in higher education as empowerment agents. At her institution specifically, administrators are passionate about educating the campus population through the awareness, action, and ally model of diversity and social justice education.
Dr. Pendakur further provides best practices for action to
"…actively embed identity – as well as the related facets of power, privilege, access, and assets – into their work as transformational agents in higher education." (2016, p. 111)
Question everything,

assume nothing

One of the mantras we kept coming back to after reviewing the Education Advisory Board's findings and the experiences of FGC professionals was "question everything and assume nothing." Meaning: we need to maintain a conscious awareness of ourselves and our identities so we don't make assumptions based on our own social capital when it comes to interpreting the experiences of FGC students. We need to map out FGC experiences and challenge how we think about the hurdles we create when it comes to navigating the college environment for the first time.

If we conceptualize students as arriving at college with more questions than answers, we can proactively embed information, support, and language into each stage of the college process. What if we elevate the stories of FGC students so they guide our student support services, orientation models, and parental engagement strategies?

All institutional types have FGC students and need to identify how to support them through adopting the first-gen mindset by capturing and understanding student stories. This process can be engaged through one-on-one relationships and small focus groups, as well as ongoing assessment and program evaluation.

One example, currently implemented at Harvey Mudd, recognizes that FGC students do not often come forward to seek help. On campus, Harvey Mudd has PALs (Peer Academic Liaisons) who live in the residence halls and receive trainings from both students affairs and academic affairs to best support the needs of students and help develop their help-seeking skills.

Students benefit from being connected to support groups like these to alleviate the pressure they place on themselves to succeed in the collegiate environment.
Reflection

questions

First-generation student affairs professionals are moving the needle on essential student success measures for FGC students. Informed by FGC stories, we've developed questions for you and your team to discuss and reflect on how to best support students at your institution. These questions are particularly helpful for professionals who aren't first-generation to reflect on their college experience.

1. How has your own college experience influenced the manner in which you support FGC students?

2. What are some ways in which you and your colleagues can implement a reflexive practice?

3. How do universities think students navigate higher education environments?

4. What is the reality of students' paths at your institution?

5. What are we assuming students know? Where did we get that information from?

6. How are we collecting input from FGC students regarding their access and success in college environments?

7. How can we leverage our identity-based experiences, skills, and assets to promote a thriving population of FGC students?

What models of practice are working on your campus?
Resources
Adopting a first-generation student mindset means adding new knowledge and perspectives to our paradigm to identify how to best support FGC students. We've provided a short list of resources below:
1. Podcast #JPSpeaks: Identity-Conscious Student Success Strategies in Higher Education Explored with Dr. Vijay Pendakur
This podcast is with host Jamie Piperato, higher education consultant, educator, and social justice advocate, and Dr. Vijay Pendakur, a higher education administrator, author, and speaker with passions for issues of multiculturalism, equity and social justice. Currently Dr. Pendakur serves as an Associate Vice President for Student Affairs at California State University – Fullerton. Check out his book called Closing the Opportunity Gap: Identity-Conscious Strategies for Retention and Student Success.
2. Institute on First-Generation College Students hosted by the National Resource Center for The First-Year Experience and Students Transition takes place this July 2016. They invite professionals and practitioners to come to individualized sessions to adapt various models to support first-generation students on their home campuses.
3. I'mFirst.org is an online community founded by Center for Student Opportunity (CSO) to provide first-generation college students—and those who advise them—with inspiration, information, and support on the road to and through college. Right now they are collecting YouTube videos from first-gen students to inspire and support the next generation of students entering the college environment.
4. Lumina Foundation's Goal 2025 places particular emphasis on growing first-generation college student enrollment and attainment as essential to meeting the enrollment goal. See the Lumina Foundation strategic plan here.
Interested in reading more on first-gen students and stories? Head over to Saby's blog and catch the latest resources on first-gen students. Thanks for reading!
About the Authors
Saby Labor is a higher education innovator and founder of a coaching and consulting organization called Resilient Campus, focused on issues of inclusion and leadership development. She has a master's degree in Postsecondary Administration and Student Affairs from the University of Southern California and is currently a doctoral candidate in the Higher Education Administration program at St. Cloud State University. Kayley Robsham is the Community Engagement Manager at Check I'm Here with a passion for the creation and promotion of inclusive campus cultures for college students. She has a master's degree in College Student Personnel from The University of Rhode Island. Follow them and tweet them at @ResilientCampus & @kayleyrobsham!
Catch the first post here.
References
Education Advisory Board. (April 22, 2015). Why being a new student can feel like playing 'Chutes and Ladders'. Retrieved from https://www.eab.com/daily-briefing/2015/04/22/three-challenges-facing-community-colleges
Pendakur, S.L. (2016). Empowerment agents: Developing staff and faculty to support students at the margins. In V. Pendakur (Ed.), Closing the opportunity gap: Identity-conscious strategies for retention and student success (p. 109-125). Sterling, VA: Stylus Publishing.