Many institutions of higher education state they value diversity, inclusion or multicultural values in their mission statement, motto or somewhere on their website. Although these values are espoused, or seem like they're supported, it's hard to see if they're implemented or enacted from an outside perspective.
It's important for student affairs professionals to bring diverse experiences to students rather than expecting only a few educators on campus to be called upon to facilitate critical conversations or provide diverse involvement opportunities. Inclusive campuses promote a strong sense of well being and make students feel safe, therefore increasing overall student success.
We're highlighting campuses who've taken it up a notch to provide their students with some of the best programs and services. We've also provided resources to help you bring new ideas to your role, department, or student life team.
The University of Rhode Island (URI)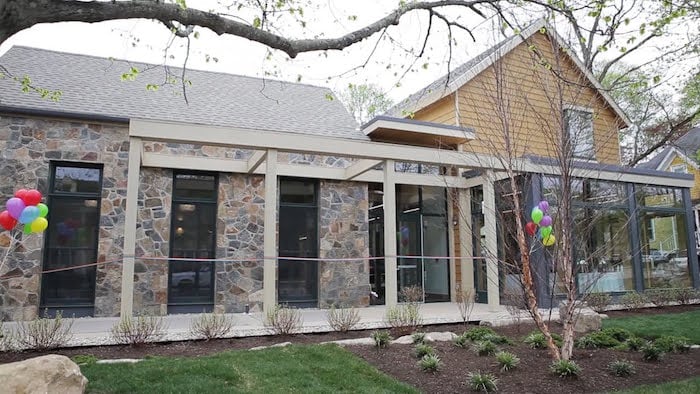 Their motto, "Think Big, We Do" is met with their new Gender and Sexuality Center which opened it's doors for the first time last May on the main street to campus. Positioning a building on the main road to campus speaks volumes: it's clear that the university has taken large steps to prioritize education around gender identity and sexual orientation, and concerned with creating safe spaces.
URI is the first institution in higher education in the country to design and build a free standing Gender and Sexuality Center. Check out more about the grand opening of the new center here.
Their center also offers top of the line trainings highlighted in their Safe Zone program which includes basic information on how to be an LGBT ally or advocate and advanced education including Trans* Identities, Race and Ethnicity, Spirituality and Religion, and Fluid and Non-Binary Identities.
LGBT Resources
There are many resources to help educators and students learn more about gender and sexuality resources. Just this past week, the Creating Change Conference brought together educators passionate about advocacy and advancing LGBT initiatives all over the country.
There are great online resources like the Gender Unicorn from Trans Student Educational Resources (shown below), the Campus Pride Index, and the Consortium of Higher Education Professionals which helps connect professionals and showcase work surrounding LGBT issues.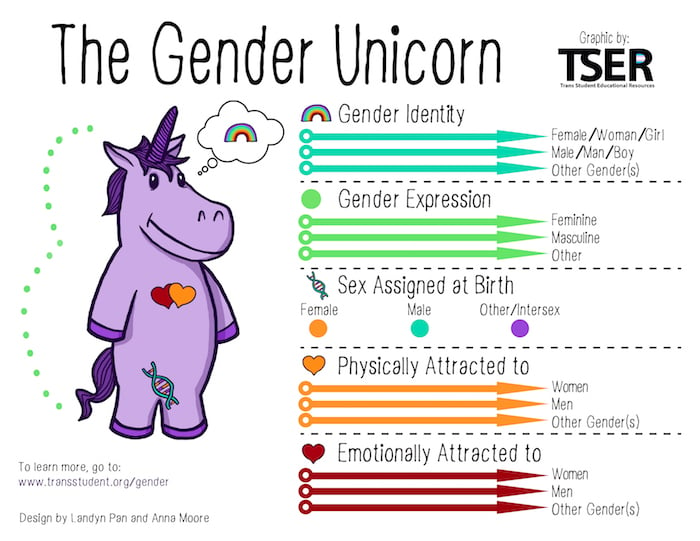 Consider using professional development funds to attend smaller conferences near you, or better yet, organize a group of professionals on campus who are interested in gaining more awareness, knowledge, or skills (Pope, Reynolds and Mueller anyone?) around LGBT topics.
Alma College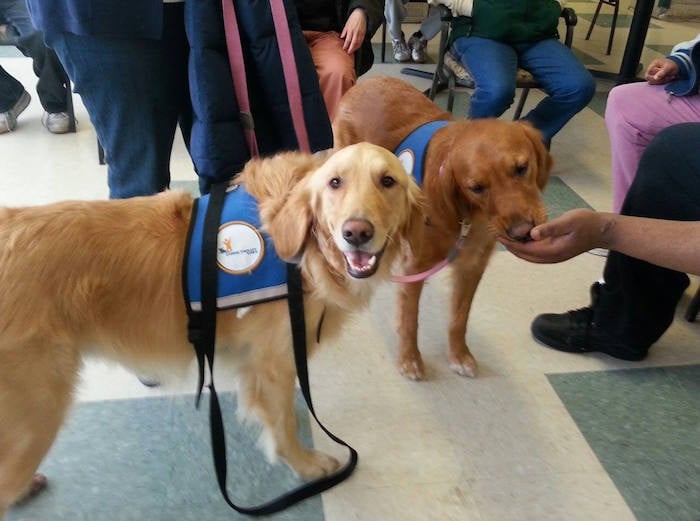 Alma is another school that prioritizes student health and engagement first. The student handbook on their website outlines definitions of disability, service animals, and emotional support animals. Sometimes it's easy to get terminology confused and it's important to post foundational information on your university website. When policies are available and accessible online for students and families of students they feel supported because they have appropriate resources when moving forward in making decisions around mental and emotional health.
Alma's Counseling and Wellness Center brings animals to campus almost every month which helps reduce the stress hormone, cortisol, and helps to increase the happiness chemical in our brains called oxytocin. Student owned pets on Alma's campus increase every semester to help with stress, emotional stress, or varying physical abilities. Administrators at Alma take lead on policy guidelines from the Association of Higher Education and Disability.
ADA Resources
Alma's initiatives only scratch the surface surrounding policies for students with varying ability levels. Whether you're a Dean of Students or a Residence Director, you should have an idea of how your institution measures up to the American with Disabilities Act. Many campuses conduct assessments around accessibility on campus, online classes, and course materials to measure inclusive practices and programs.
A project stemmed from the University of Washington, DO-IT (Disabilities, Opportunities, Internetworking, Technology), focuses on promoting student success and careers for individuals with disabilities. The program incorporates assistive technologies and provides professional development for educators and administrators.
If you don't know where to start, ask your supervisor or a mentor on campus about accessibility and any knowledge they have surrounding ability issues. Include ability topics as part of professional development, in team meetings, or find case studies to help student life professionals make better decisions and policies focused on improving quality of life for students.
Macalester College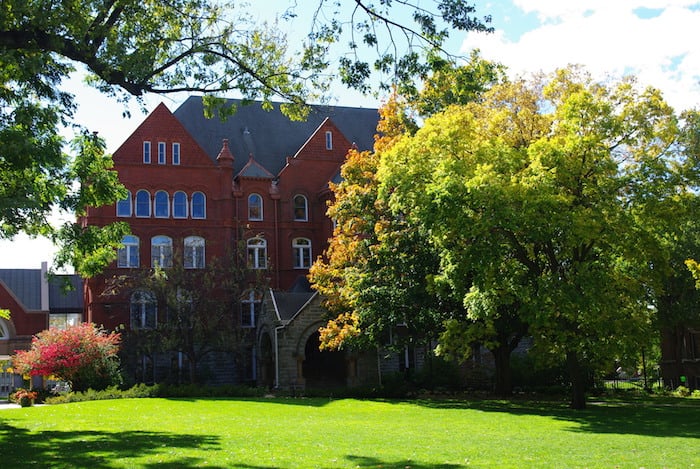 Through Macalester College's Lealtad-Suzuki Center, their staff offers an unique program called the Pluralism and Unity Program which offers space for first-year students to dive into conversations surrounding issues of diversity through exploring challenges of social justice, race, culture, identity, and multiculturalism. This program stands out in that it helps first-year students dive into critical conversations and create meaningful connections at the beginning of their college career.
Engaging students in a meaningful way with activities that motivate them to learn more about issues of diversity creates new opportunities to continue conversations with other educational activities. Not only does this type of experience extend and deepen student involvement and engagement, but it creates a one-of-a-kind experience that students won't forget.
Multicultural Education Resources
It's important to assess and reflect on your own awareness, knowledge, and skills as a student affairs professional before diving into educating others on various topics or issues of multiculturalism and diversity. Supervisors, mentors, and professional organizations can be great resources for acquiring more knowledge to build a foundation. NASPA and ACPA provides a list of professional competencies, including the Social Justice and Inclusion (SJI) competency, which outlines foundational, intermediate and advanced outcomes of incorporating inclusion practices into daily work for practitioners.
If you don't feel comfortable facilitating conversations on campus with students, call on colleagues, co-workers, or trained professionals in the field to help. The Sustained Dialogue Institute provides materials for leaders to build strong relationships through effective decision-making and creating opportunities to have conversations about pertinent topics on campus. Diversity education should be at the forefront of every student affairs professionals agenda as higher education continues to focus on issues of power, privilege and oppression on college campuses.
Some of the best ways to engage in critical thinking is find a mentor (on or off campus) you trust to talk with and putting aside time to reflect about your own identities.
Student Success
We encourage you to discover and connect with colleagues all over the U.S. and globally to share ideas about how to make campuses more inclusive. Upcoming conferences, social media, and picking up the phone make it easier than ever to connect with new humans and exchange ideas.
Here are important questions we pulled from the book Student Success in College: Creating Conditions That Matter by Kuh, Kinzie, Schuh, & Whitt (2010) that may help you reflect on programs and practices in your role:
1. To what extent are our programs and practices complementary and synergistic, thereby having a greater impact than the sum of each individual initiative?

2. To what extent are our initiatives sustainable in terms of financial and human resources?

3. What are we not doing that we should?
Keep in Mind
We don't claim that the institutions listed above are the "best of the best" or the most "educationally effective" for students more than other colleges or universities because every campus culture is vastly different. Although these examples may not work for you or your campus, we felt these examples have great potential to be adopted by student affairs professionals.
References:
Kuh, G. D. (2010). Student success in college: Creating conditions that matter. San Francisco: Jossey-Bass.
Pope, R. L., Reynolds, A. L., & Mueller, J. A. (2004). Multicultural competence in student affairs. San Francisco, CA.