Since last Pride Month, we elected the first openly transgender person to the U.S. state legislature, Moonlight became the first movie with a gay storyline to win Best Picture at The Oscars, and six governments around the world legalized same-sex marriage.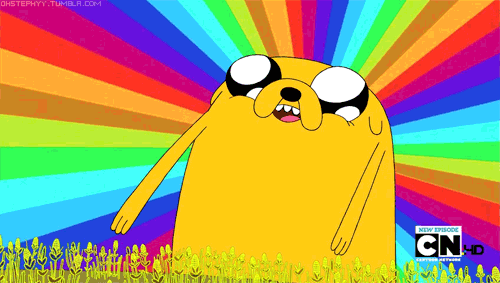 While these are obviously momentous milestones for the queer community as a whole, there is so much positive change being made in local communities that often go unnoticed but deserves to be shouted about.
This is especially true for institutions of higher education where faculty, student affairs professionals, and students are constantly working to change lives and futures for the better.
But despite all of the celebrations we have during Pride Month, one of the most important things to remember as student affairs professionals is that LGBTQ programming is a year-long endeavor, not something that just happens during June, Trans Day of Visibility, or other awareness-related days.
Restricting the work to only a few weeks of the year comes across as tokenizing. Obviously, we want to use Pride Month to celebrate how far we've come, but making real change is a year-long process.
In that spirit, we've put together a list of some of the amazing accomplishments that have happened on-campus over the past year or so.
The LGBTQ wins round-up
1. Leaving a legacy for LGBTQ students
A former University of Florida professor created a scholarship for LGBTQ students and activists after the Pulse nightclub shooting. The scholarship awarded its inaugural class in 2017.

Source: Professor Marc Gale and his dog, Oliver | University of Florida
2. Queer housing
Cornell University is creating housing for queer students that will be open by the fall 2019 semester. The proposed residence hall would hold roughly 22 students and comes after LGBTQ activists had previously requested a dedicated hall over 25 years ago!
3. A fraternity president who is out and proud
Daniel Greene, a junior from Michigan State University, was elected president of the Lambda Chi Alpha fraternity.
Source: Alexis Rankin | Michigan Daily
4. First LGBT Greek-lettered organization at an HBCU
The Eta Alpha chapter of Sigma Omega Phi Fraternity is the first African-American gay Greek-lettered fraternity to successfully establish at an HBCU. The chapter is based at Texas Southern University and is part of a national fraternity organization dedicated to lesbian women.
Source: sigmaomegaphi2008.org
5. An LGBTQ-friendly lettered organization
Students from Stony Brook University are trying to bring an all-inclusive Greek-lettered service organization dedicated to the LGBTQ community (and its allies) on campus. It's not a fraternity or a sorority, it's a diaternity.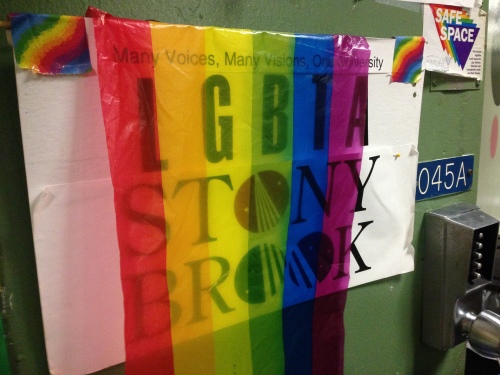 Source: Heather Khalifa | SB Statesman
6. Out of the closet and into the lounge
After starting in a utility closet, the LGBTQ lounge at Columbia University is moved (20 years later) into a beautiful open space.
Source: Facebook/Schapiro Lounge Opening Event Page
7. Showing pride through art
UC San Diego is designing a mural for its campus that centers around sexuality and identity. The details are still being worked out, but the campus hopes to have the design painted during the summer or fall quarter. The mural was originally going to be focused on the theme of sustainability but changed to sexuality after A.S. senators spoke with the college's LGBT Resource Center.
8. HBCU leaders came together to talk LGBTQ inclusivity
More than a dozen HBCUs were represented at an event hosted by the Human Rights Campaign where they discussed policies and practice. After group discussions, leaders were encouraged to come up with practical actions they could take back to their campuses.
9. A chosen family to be thankful for
The University of Maine hosted a thanksgiving dinner for LGBTQ students who didn't feel comfortable going home for the holidays.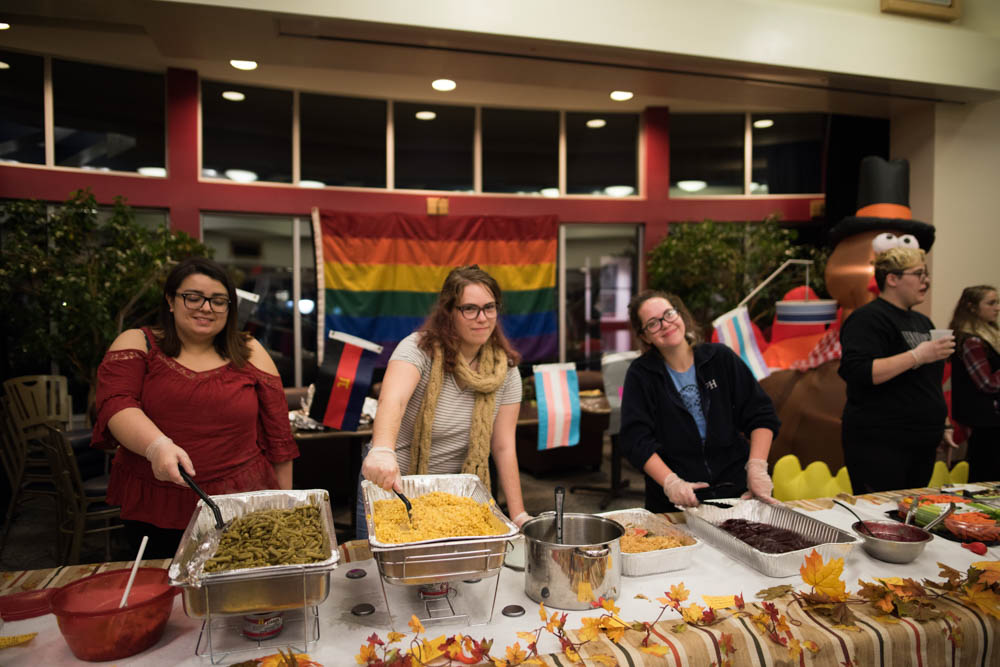 Source: Maggie Gautrau, Photo Editor | University of Maine
10. Meaningful mentoring
The University of Arkansas has created a mentoring program that connects LGBTQ students to out members of staff and faculty in order to provide advice and guidance on queer-related issues around campus.
11. Creating a voice for queer students
Disappointed by the lack of LGBTQ representation in Northwestern's student publications, Brock Colyar started his own "queer and radically feminist" magazine.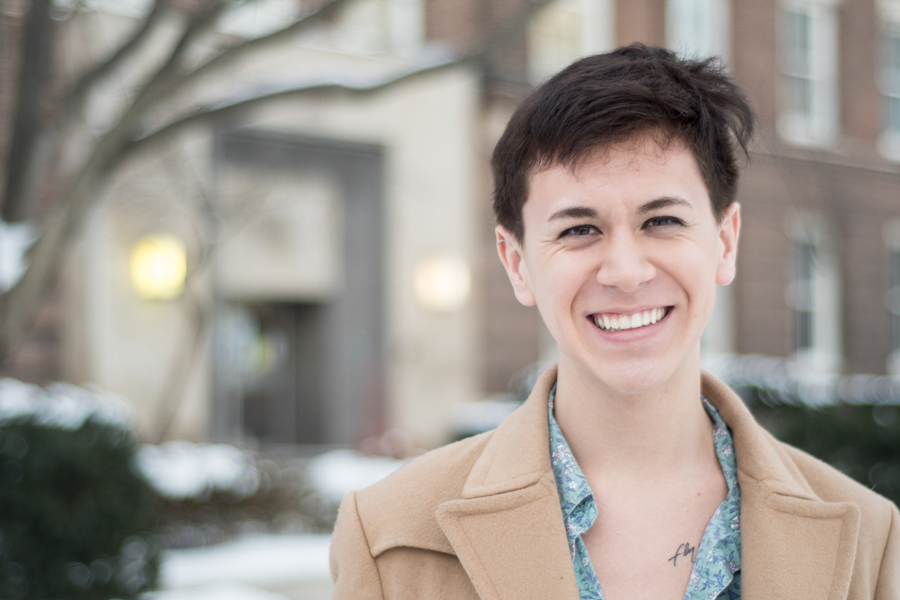 Source: Colin Boyle | Daily Northwestern
12. Shantay, your student org stays.
Robin O'Donoghue, from the University of Alaska —Anchorage, created a brand new drag student organization called Drag+ to fill in the gap of LGBTQ programming.
Source: Jian Bautista | Northern Light
13. An out and proud alumni group
Brigham Young University created an LGBTQ alumni group after an alumnus created a Facebook group with a few friends. The group now has over 130 members and works to bring together LGBTQ alumni who previously didn't feel connected to university events.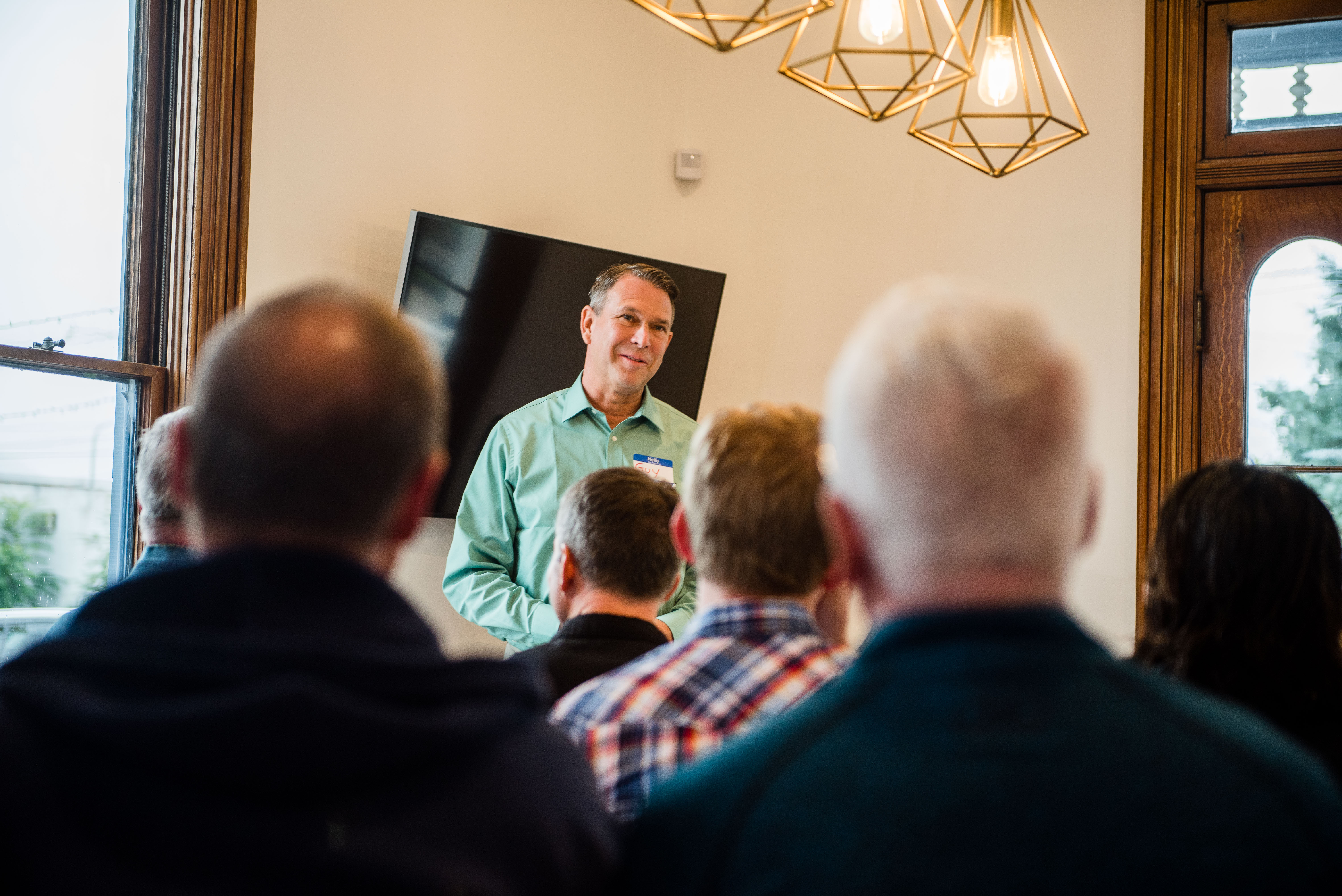 Source: Savannah Hopkinson | Brigham Young University
14. Housing that's gender-inclusive
Ball State University in Indiana is launching a gender-inclusive housing pilot. It will include 30 rooms which come with "bathroom privacy" in an effort to create safer spaces for transgender students.
Source: BallStateDaily | Facebook/BallStateDaily
15. L is for love (and lavender)
The College of William and Mary held its first lavender graduation ceremony to honor LGBTQ students. The first lavender graduation ceremony was held at the University of Michigan in 1995.
16. Gay, Republican, and proud
Alex Lucas, a gay conservative from the University of Texas — Austin, became the first openly-gay president of the UT College Republican student organization.
Source: Anthony Mireles | Daily Texan Staff
17. Penn State says goodbye to the monarchy
Penn State removes the homecoming king and queen titles to help embrace diversity and gender equality on their campus. Instead, two students will be recognized with the "Guide State Forward Award" which will be judged on the six core values of the university.
We need to be doing more to shout about the achievements on our campuses.
It not only is inspiring for student affairs professionals to see the work others are doing, but also helps inspire the work of other professionals, helps current students feel a sense of belonging, and is a great way to show future students that they are welcome at your institution.
Let us know on Twitter @themoderncampus if you have any great moments or stories that you'd like to share from your campus using the hashtag #PrideOnCampus2018!